Snap (NYSE:SNAP), which you may know as Snapchat has filed for an IPO to raise up to $3.2 billion. You may also know them as a technology and social media company, however they are self-described as a camera company. Regardless of what they call themselves, I call them not worthy of investors' money. The young company is overvalued with significant risk and huge losses in its future.
Their Balance Sheet Is Not a Disaster…. Yet
It's not uncommon to see a tech stock hit the market with an upside-down balance sheet - actually, we kind of expect it. Snap, on the other hand, is a different story. They have stockholders' equity of more than $1.5 billion. But give it some time and you'll see that number erode as they need more capital to fund their operations. The company was only founded in 2011 and they have a long road ahead of them. They pulled in just under $405 million in revenue for 2016, which is a huge jump from the $59 million the year prior, but a distance away from growing into their multibillion dollar valuation. As they try to grow their topline, their balance sheet will get hit hard.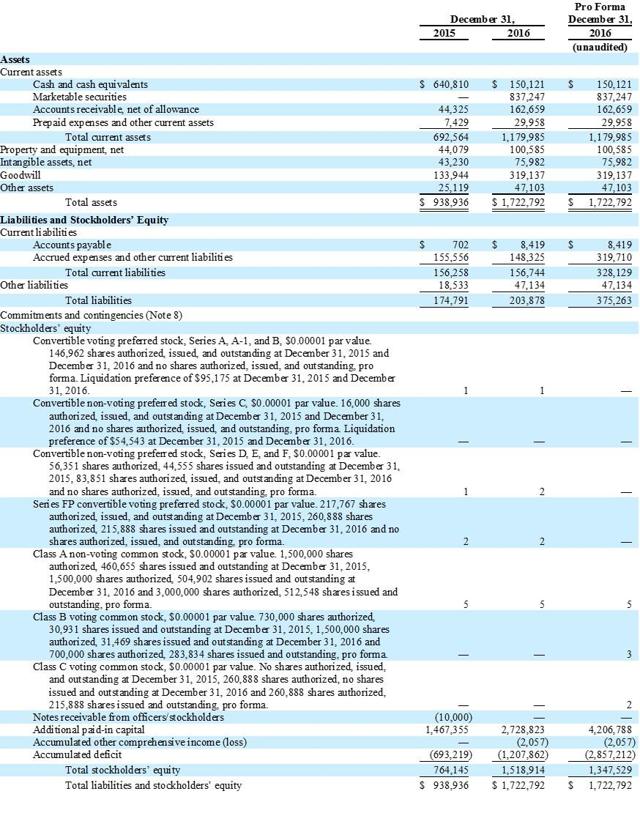 Source: Snap's S-1
There Is No Expectation of Profitability
This is a pure growth play, which means eyes are going to be looking across their topline. Most investors aren't expecting profitability from Snap anytime soon, but rather the opposite; huge losses. To justify the insane valuation, Snap must grow revenues substantially. While Snap saw their sales jump in 2016, they also saw their net loss grow from $373 million to $515 million. And their free cash flow loss was $163 million higher than that for 2016. When a company burns through cash like that it can catch up to them very quickly. Expect heavy money to be thrown into R&D, sales and marketing, and corporate development over the next several years. Continued losses will cause a need for more funding. This is not to say that Snap's investments and expenses can't pay off long-term, however the risk should not be completely ignored.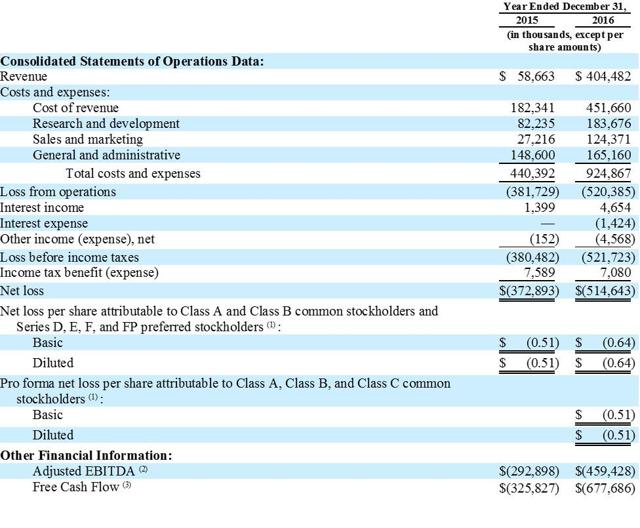 Source: Snap's S-1
There Is Plenty of Risk
For the quarter ending December 31, 2016, Snap had 158 million daily active users. There is no question that is an incredible accomplishment, however we have learned through Twitter (NYSE:TWTR) how the inability to grow active users and monetize on them can send a stock plummeting. They must keep their users engaged and provide constant innovation to their base.
Another risk lies in their revenue. Currently, their revenue is almost solely advertising. For 2015 and 2016, 98% and 96% of their revenue was from third parties advertising on Snapchat. The lack of diversity in their sales poses another risk to investors. Snap must be able to grow their advertising revenue by heaps and bounds, which will also be affected by growing and sustaining their daily active users.
And of course, let us not forget that the offering is for Class A common stock which have no voting rights. That's a smart move because it allows Snap to spread risk without having to give up any control. By maintaining control, they can move some of the risk by onboarding new silent investors without having to listen to what they say. Now they can do what's in their best interest, choose their board of directors, and set their compensation. M&A, asset sale, or any matter submitted to stockholders would be led by co-founders Evan Spiegel and Robert Murphy.
Conclusion
I haven't even ripped into the ridiculous $20 billion valuation because it's not necessary. The numbers and risk speak for themselves. Somehow, they are trying to convince investors that the valuation is on the low side, but I don't believe that to be true at all. I think they are worried about getting greedy with this IPO and then completely flopping on its first day of trading. I am not so sure they market is going to treat this IPO as kindly as they may be thinking. At least I know I won't be. This stock is too much of a gamble in its current state and I'd rather try my luck at a hand of blackjack.
Disclosure: I/we have no positions in any stocks mentioned, and no plans to initiate any positions within the next 72 hours.
I wrote this article myself, and it expresses my own opinions. I am not receiving compensation for it (other than from Seeking Alpha). I have no business relationship with any company whose stock is mentioned in this article.