Productivity in agriculture has been a significant driver of output, and we believe that productivity will need to continue increasing over the long term to satisfy global food needs. The global population is expected to increase from 7.3 billion in 2015 to 8.5 billion by 2030, according to the United Nations, while the size of the middle class should double to 5 billion by 2030. Productivity will play a crucial role in meeting this need. Over the last 100 years, U.S. corn yields have grown seven-fold even as planted acres declined (Exhibit 1). We expect continued gains in U.S. productivity and a replication in emerging markets to help drive food production.
Exhibit 1: Yields Keep Rising Over Less Acreage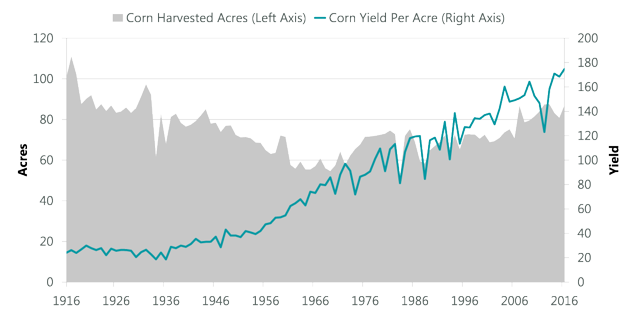 Source: USDA.
In the near term, however, the agriculture industry faces significant headwinds. Farming has been in an extended slump over the last four years. Favorable weather, increasing yields, and expanded acreage have all contributed to bumper corn and soybean crops. This increased output, combined with a low inflationary environment and stagnant demand growth, has caused crop prices to drop from peak levels.
Most U.S. farmers have suffered net losses as a result. Even as crop prices dropped, input costs such as land rents, labor and overhead remain stubbornly high (Exhibit 2). Rental rates remain elevated while input prices have dropped at a much slower pace.
Farmers are looking for ways to save, trading down to lower-priced seeds and adopting new technology that reduces fertilizer and crop chemical waste. This creates a tough operating environment for seed and crop chemical companies that have relied on annual price increases and seed upgrades to grow sales and fund research and development (R&D).
Exhibit 2: Revenue Has Not Kept Pace with Costs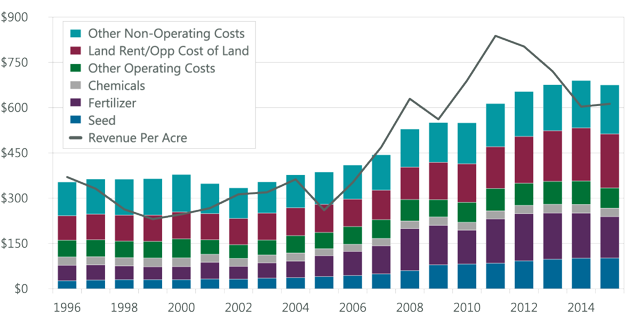 Source: USDA.
This lack of near-term growth drivers is part of the motivation for the flurry of merger & acquisition activity in the sector. Regulators are currently considering the mergers of diversified materials firms Dow Chemical (NYSE:DOW) and DuPont (NYSE:DD) - which together generate $16 billion in agriculture sales - as well as the pairing of Monsanto (NYSE:MON) and German chemicals firm Bayer (OTCPK:BAYRY). Swiss seed and pesticides firm Syngenta (NYSE:SYT), meanwhile, is awaiting regulatory approval of its acquisition by ChemChina, China's largest chemicals firm. The key concern among regulators is to ensure that research and innovation does not suffer as companies consolidate.
We believe industry consolidation will be accretive, allowing the combined entities to scale up R&D and reduce their cost structures. In addition, companies that are able to develop both seed and crop protection solutions in tandem will stand a much better chance of winning market share. Finally, we expect the long-term demand trends to remain intact, providing opportunities for agriculture companies to continue improving productivity.
Disclosure: I am/we are long DOW, DD, MON, SYT, BAYRY.
I wrote this article myself, and it expresses my own opinions. I am not receiving compensation for it. I have no business relationship with any company whose stock is mentioned in this article.
Additional disclosure: Past performance is no guarantee of future results. All opinions and data included in this commentary are as of February 21, 2017 and are subject to change. The opinions and views expressed herein are of the research analyst named above and may differ from other managers, or the firm as a whole, and are not intended to be a forecast of future events, a guarantee of future results or investment advice. This information should not be used as the sole basis to make any investment decision. The statistics have been obtained from sources believed to be reliable, but the accuracy and completeness of this information cannot be guaranteed. Neither ClearBridge Investments nor its information providers are responsible for any damages or losses arising from any use of this information.
Editor's Note: This article discusses one or more securities that do not trade on a major U.S. exchange. Please be aware of the risks associated with these stocks.