On Tuesday, November 29, Mechel OAO (NYSE: MTL) announced financial results for the first nine months of 2016. The losses for Q3 totaled 2.7 bln rubles. Proceeds of "Mechel" for 9 months decreased by 4% to 59.9 billion rubles, and its EBITDA increased by 20% to 23.9 billion rubles, while the EBITDA margin increased to 21%.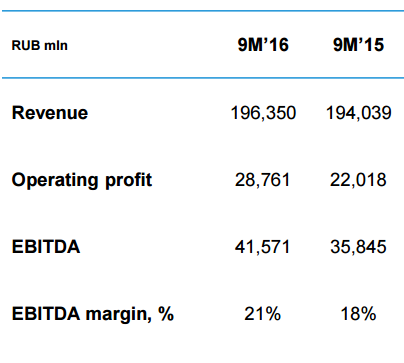 (Source: mechel.com)
Considering the causes of losses, one of them may be the fact that Mechel reduced its coal production by 5% to 5.56 mln tons, steel production by 5% to 1.02 mln tons and iron smelting by 7% to 986 thousand tons. For example, steel segment decreased its production volumes in the third quarter due to planned maintenance works in the domain subdivision, as it was explained by the company. The point is that these losses happened, to some extent, due to the temporary reduction of the production, so the situation can be improved soon.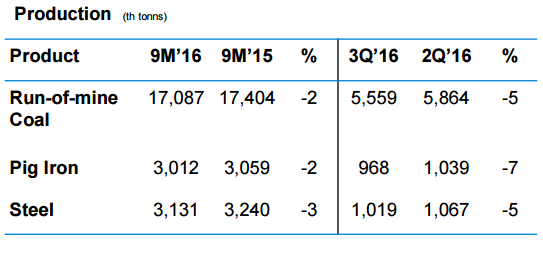 (Source: mechel.com)
What matters here is the payment of debts to creditors according to the schedule and the payment of percentage arrearages. As for payment of debts, Mechel is conducting negotiations with its creditors as to postponing the payments from the 4th quarter of 2016 to the first 9 months of 2017. VTB, Gazprombank and Sberbank have agreed with the company to put off the payments of principal debts for the years 2020-2023. Now Mechel should also reach an agreement with a pool of foreign creditors to restructure the debt by $1 billion. In the summer it was reported that Mechel compiled a list of assets for sale and money from the sale of these assets the company was intended to use in order to pay its debt. But the situation on the market has changed, so I think negotiating with creditors as to postponing the payments of debts is a very smart move. Why do I think so? Because from the beginning of the year, iron ore has risen by almost 2-fold to $73 per 1 ton, the price of coking coal has become three times higher, reaching $307 per 1 ton. With the rising prices of these resources the economic status of Mechel improved, so the company will not have to sell its assets in order to pay off its debt. Therefore, it is a good signal for possible future growth.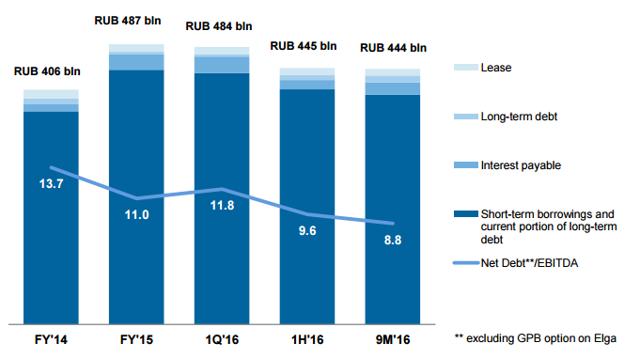 (Source: mechel.com)
It seems to me that Mechel will reach an agreement with a pool of foreign creditors in order to restructure its debt, because the company services the debts. With a smooth and successful debt restructuring, Mechel will spend $550-700 million on servicing and repaying its debts in 2017.
As far as we know, Mechel announced its plans to repay the outstanding percentage of the loan agreement with VTB. It is important to note that the company overstated interest payments to VTB in the amount of 897.6 million rubles on September 30. This is good news, because falling behind with interest payments may inflict penalties.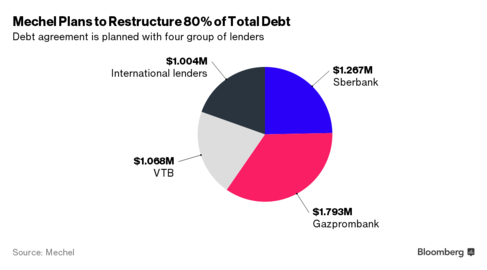 (Source: Bloomberg.com)
Conclusion
If prices for raw materials do not change in Q4 2016, Mechel's EBITDA can be around $1 billion. As mentioned above, the company can spend about $500-600 million on debt servicing including capital expenditures and taxes. If it happens, the company will not have free cash flow in the near future. But if the price of coal and metals remains unchanged for a longer period Mechel's EBITDA can reach $1.5-2 billion throughout the next year, and this will enable the company to repay the debt at a faster pace.
To sum up, the company has good potential for growth and loyalty on the part of creditors. Thanks to its business in several segments, Mechel is hedged against different market risks in particular possible reduction in steel prices and on my opinion is a great 'BUY' for a lot of investors who are interested in mining, metallurgical, energy and transport businesses. These are very important aspects, so I think it's a good idea to buy Mechel stock for the long-term.
Disclosure: I/we have no positions in any stocks mentioned, and no plans to initiate any positions within the next 72 hours.
I wrote this article myself, and it expresses my own opinions. I am not receiving compensation for it (other than from Seeking Alpha). I have no business relationship with any company whose stock is mentioned in this article.