HP Inc. (NYSE:HPQ) reported F1Q17 earnings this Wednesday, February 22nd, after the close. With another solid print under the belt, the stock was recently trading +2.5% premarket.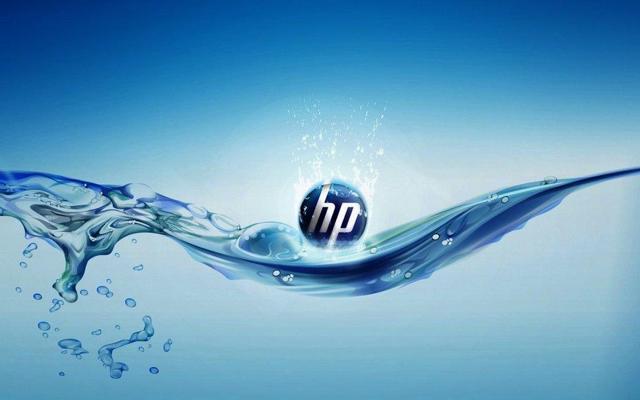 Credit: bsrl.org
Revenues of $12.68 billion in the quarter beat consensus of $11.85 billion, representing an unexpected but welcome increase of +5% YOY on a constant currency basis (+4% GAAP). Top-line growth this time was even better than last quarter's increase of +2%, which itself had been an improvement from the previous quarter's -4% contraction. Notebook computers (now 59% of Personal Systems) can be largely credited for the outperformance this quarter. EMEA led the pack from a geographic perspective, having improved 8% YOY on a constant currency basis.
With sales improving quarter after quarter, it seems like bearish concerns around weakness in personal computer and the skepticism around a recovery in the printer business may have been a bit overblown. At the very least, it looks like bulls have been winning the argument so far.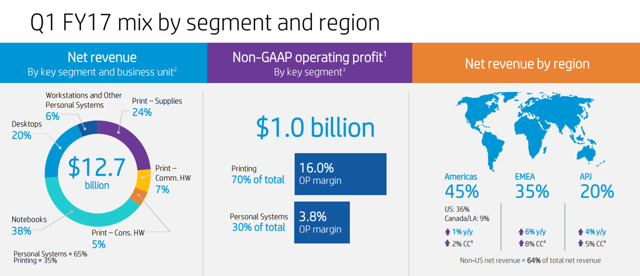 Source: HP's earnings presentation
Non-GAAP EPS of $0.38 inched ahead of expectations and reached the top end of the guided range of $0.35 to $0.38. F2Q17 EPS guidance range of $0.37 to $0.40 was high enough to accommodate Street consensus of $0.39.
Profitability, however, came in below my own expectations. Non-GAAP operating margins of 7.1% improved sequentially as expected, but decreased YOY by about 40 bps. The culprit seems to have been above the gross margin line, where cost of revenues was higher by a full percentage point in the YOY comparison.
Considering total printing hardware unit sales were up +6% and total personal system unit sales increased 8% (i.e. growth in units sold was higher than growth in total revenues), margin softness must have come from either lower pricing or higher component costs. Management later attributed the loss in profitability to the latter during the earnings call.
Although pricing remained resilient in the quarter, this will likely remain an area of concern for me in the longer run. Computing and printing have become very commoditized, and pricing pressures could be expected at some point in the future.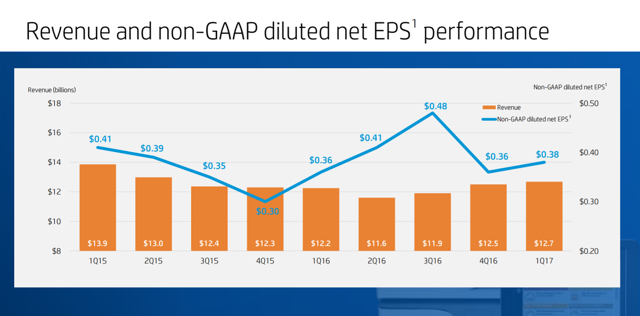 Source: HP's earnings presentation
On the cash side, net debt of only $500 million is a significant improvement from year-ago levels, but in line with F4Q16. FCF (free cash flow) of $735 million was 32% higher sequentially and significantly better than the cash burn generated in the early part of fiscal 2016. I find these results very encouraging, considering that HP's dividend yield of 3.2% is enticing and appears to be very well supported by dividend payments that represented only 22% of the free cash flow generated last fiscal year. I wouldn't even be surprised to see acceleration in dividend growth and/or share repurchases, maybe later this year.
Post-earnings thoughts
HP seems to have turned the corner, and has started to produce a much-anticipated and consistent top-line growth. I continue to see the stock with good eyes after the print, considering management also appears to be doing a solid job of containing expenses and generating large quantities of cash. As a result, the bottom line could see unexpected upside over the next couple of years, since the Street is projecting EPS growth of only 3.8% next year that I find highly conservative.
With HPQ trading at only 10.2x FY17 earnings and producing a rich dividend yield of 3.2%, I see the stock as a great value below $17 a piece.
Note from the author: follow me as I build a risk-diversified portfolio designed and back-tested to generate market-like returns with lower risk. I call it the Storm-Resistant Growth portfolio. The very early results have already exceeded my expectations. Take advantage of the 14-day free trial, and get immediate access to the community.
Disclosure: I/we have no positions in any stocks mentioned, but may initiate a long position in HPQ over the next 72 hours.
I wrote this article myself, and it expresses my own opinions. I am not receiving compensation for it (other than from Seeking Alpha). I have no business relationship with any company whose stock is mentioned in this article.