The high price in 2011 caused producers to increase output. Inventories grew and the price cascaded lower. Cotton went up fast - in August 2010 the price was under 91 cents and seven months later it was north of $2. It came down even faster. By July 2011, only five months after the highs, the price was back below $1 per pound.
Cotton reached a bottom in January 2016 when the price hit 55.66 cents per pound, the lowest level since August 2009 before the spectacular rally commenced. As of February 21 May cotton futures were trading at the 73.5 cents level, down from their recent high of 78.45 cents February 13 which was the highest since June 2014. The fiber has been making upside progress over recent months but is now taking another breather as it moves lower from its most recent peak.
Another cotton selloff
On September 1, 2016 cotton traded to lows of 66 cents per pound and since then the fiber has been making higher lows and higher highs on the active month May futures contract.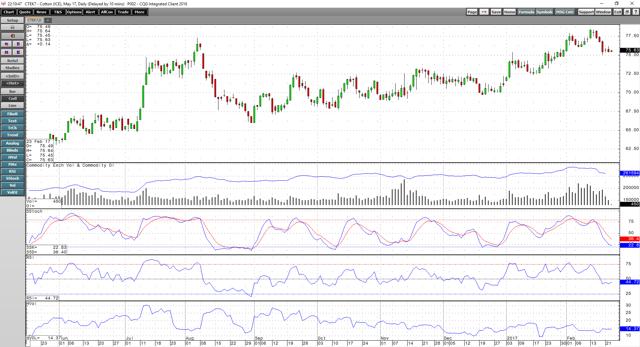 Source: CQG
As the daily chart highlights, cotton has been appreciating and it reached its most recent high on February 13. Over the past six months, after each new high a selloff followed and the price fell to a higher low, the sign of a strong bullish trend. On the daily chart, the slow stochastic which is a momentum indicator has been falling indicating that the current selloff has not yet come to an end. It appears that the pattern of higher highs continues but the price will need to remain above 74.80 per pound to keep the trend intact.
Higher lows should remain intact
The weekly chart looks more bullish than the daily as the fiber has been in rally mode since the March 2016 lows at 55.66 cents per pound.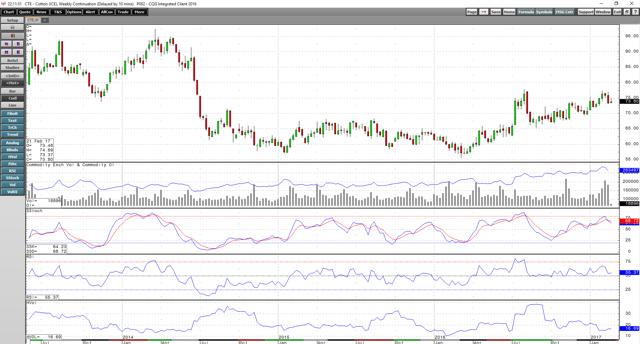 Source: CQG
As the weekly chart illustrates, the momentum indicator has crossed to the downside in overbought territory meaning that it is possible that the price will continue to correct to 70-72 cents per pound. I would view any decline to that price level as a buying opportunity given the current state of the monthly chart.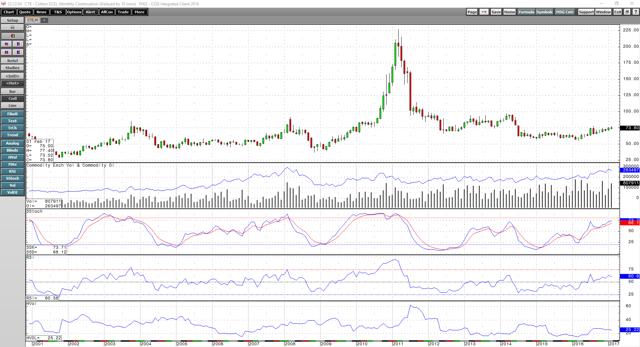 Source: CQG
The monthly picture of cotton is the most constructive when it comes to a continuation of price appreciation. The momentum indicator remains bullish with a strong up trend since April 2016. Moreover, open interest has been rising with price which is a technical validation of the positive price trend. Therefore, higher lows should remain intact. When it comes to term structure in the cotton market, the forward curve is also supportive of a higher price for the fiber in the weeks and months ahead.
The backwardation is attracting deferred buying
Term structure, or the differential between nearby and deferred cotton futures, displays a backwardation or a condition where nearby prices are higher than deferred prices.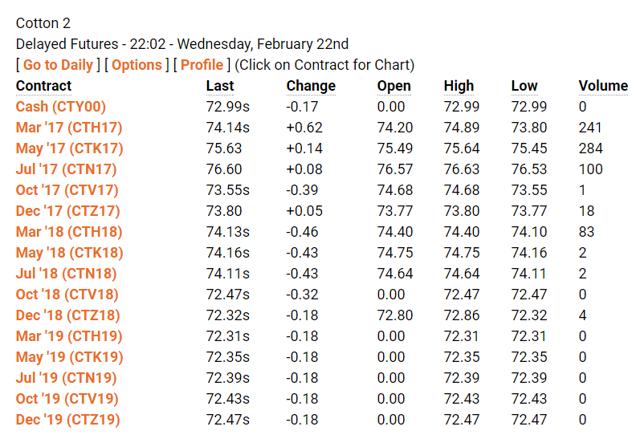 Source: ICE
As the closing prices of cotton futures on February, 21, 2017 shows, the active month May contract is trading at a premium to prices in 2018 and 2019. Backwardation is a sign of supply tightness in a market. When nearby supplies tighten, inventories tend to decline. Over recent weeks it appears that consumers worried about price increases in cotton have been taking advantage of the backwardation buying cotton for delivery in 2018 at a lower price than the nearby futures contract.
Inventories should continue to decline
In March of 2016 when cotton traded to lows below 56 cents per pound, massive inventories in China and the United States weighed on the price. In fact, there was enough cotton in warehouses to supply each man, woman, and child on planet Earth with two pairs of jeans. However, over the course of the past year as the price appreciated inventories began to decline. In recent World Agricultural Supply and Demand Estimates reports the U.S. Department of Agriculture has told markets that inventories have been declining and that trend should continue. Moreover, deferred buying from consumers to take advantage of the backwardation will continue to provide a floor for the price of the commodity. As buyers sense that inventories are falling and consumers are purchasing deferred materials the price will find support. Those consumers watching the price trend of higher lows will likely use any sell offs as an opportunity to lock in future requirements. Additionally, speculative interest is likely to come into the market on the long side to either add to or establish new long positions so long as the price remains above long support at around the 70 cents per pound level in the May futures contract.
80-90 cents in 2017 but sell on the first move above 80
All signs point to eventual new highs in cotton. The price has been trending higher since the March 2016 lows. Declining inventories, a backwardation in the forward curve, and increasing open interest all point to a price target in the 80-90 cent range for nearby cotton futures.
I have been long the cotton ETN since the price was well below the 70 cent level. I will look to take profits above 80 cents on a scale up basis. It is possible that cotton will experience a sharp upside move in the weeks and months ahead like the one that occurred during the weeks of July 5 and 11 when the price moved from just under 63 cents to highs of just over 75 cents.
Cotton is currently experiencing yet another downside price correction but if recent history repeats, we could be looking at a price above 80 cents per pound sooner rather than later.
I have introduced a new weekly service through Seeking Alpha Marketplace. Each Wednesday I will provide subscribers with a detailed report on the major commodity sectors covering over 30 individual commodity markets, most of which trade on U.S. futures markets. The report will give an up, down or neutral call on these markets for the coming week and will outline the technical and fundamental state of each market. At times, I will make recommendations for risk positions in the ETF and ETN markets as well as in commodity equities and related options. You can sign up for The Hecht Commodity Report on the Seeking Alpha Marketplace page. Additionally, check out my website for more information about commodities.
Disclosure: I am/we are long BAL.
I wrote this article myself, and it expresses my own opinions. I am not receiving compensation for it (other than from Seeking Alpha). I have no business relationship with any company whose stock is mentioned in this article.