The S&P 500 Index is overbought. This is a situation when stock prices have risen too fast over a short-term period of time and may be susceptible to a pullback as a result. And the S&P 500 Index is currently as overbought as it has been in over a decade. But just because stocks are overbought does not mean that a sustained decline is likely to follow. In fact, stocks can not only remain overbought for an extended time, but they often find themselves pushing even further to the upside through any fleeting pullbacks or periods of consolidation in the immediate days, weeks and months that follow.
Overbought? Says Who?
Sure, the S&P 500 Index (NYSEARCA:SPY) has been absolutely on fire lately. It has risen in 12 out of the first 15 trading days during the month of February. And it acts like a beach ball getting pushed underwater anytime it tries to move to the downside for a few hours.
But how exactly is overbought being measured by those that are making such claims? One measure that is commonly referenced is the technical analysis reading known as the Relative Strength Index, or RSI. This is a statistically derived reading that measures the pace of recent gains or losses over a recent time period, often 14 trading days. The RSI ranges from 0 to 100 with a reading below 30 indicating oversold conditions where a rebound higher may be overdue and a reading above 70 indicated overbought conditions where a correction to the downside may be overdue.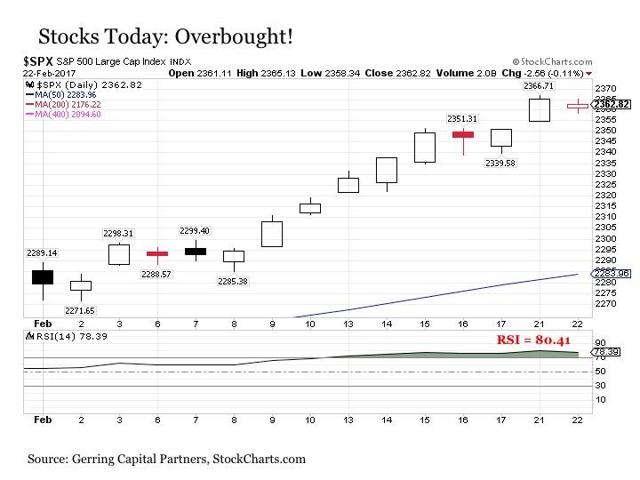 Putting Today's Overbought Into Perspective
So where does the S&P 500 Index measure from an RSI perspective today? On Tuesday, the S&P 500 Index registered an RSI reading of 80.41. Explaining this reading in the most simplest of terms, not only is the S&P 500 Index overbought today, it is REALLY overbought. In fact, the last time the S&P 500 Index registered an RSI reading over 80 was more than two decades ago on December 2, 1996 during a stretch from mid-November to early December that year where the RSI reached as high as 84.60 on November 25, 1996.
Given that it has been more than two decades since the stock market (NYSEARCA:DIA) has been this vastly overbought, it is worthwhile to consider its implications for stocks going forward.
In order to make this assessment, let's reflect back in time to some comparable overbought conditions in recent memory.
Consider October 2006 when the S&P 500 Index reached a comparably high RSI reading of 79.81. The subsequent correction lasted just six trading days and took -2.5% off of the benchmark index before it quickly found its footing and was back off to the races to the upside, setting new post tech bubble highs just seven trading days later.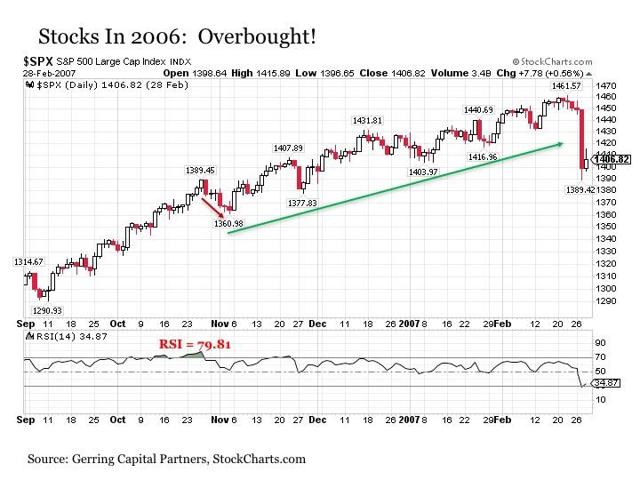 Next is November 1998 when the RSI on the S&P 500 Index reached as high as 79.22. Stocks subsequently corrected by -4.8% over just fourteen trading days before bottoming. Five quick trading days later, the S&P 500 Index had recovered all of its declines and were off to new highs.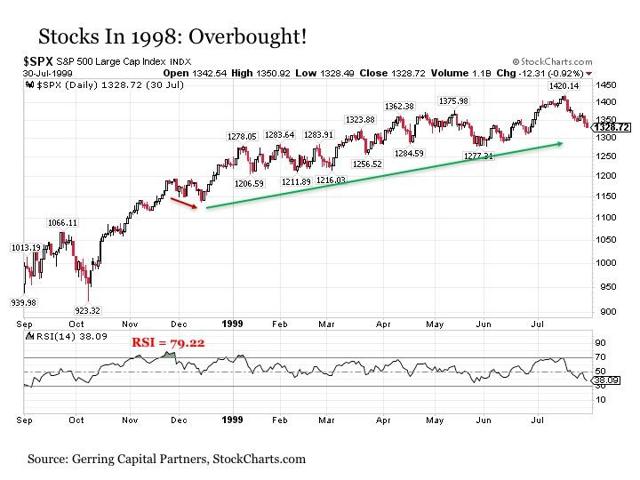 Let's continue back to June 1997 when the RSI hit 79.20. Stocks hardly even corrected in its wake with a peak decline of less than -2%, as it was instead a period of consolidation that lasted nine trading days before stocks were back off to the races to the upside.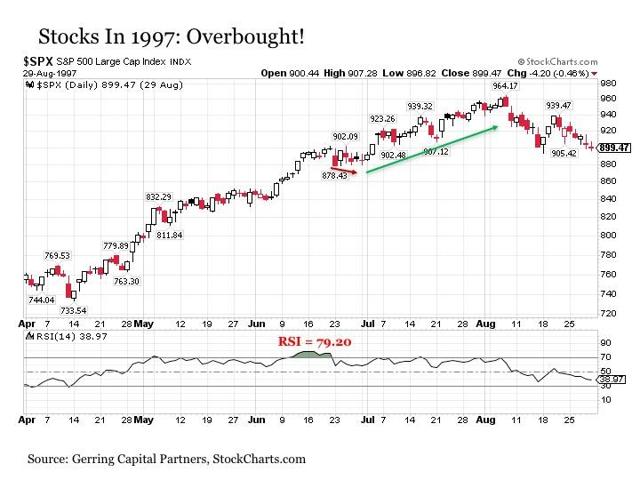 Next is the recent granddaddy of overbought conditions mentioned above in November 1996 when the RSI peaked at 84.60. Stocks proceeded to correct by -6% over the next fourteen trading days before bottoming in mid-December. And no sooner did the calendar flip to the New Year in 1997 and stocks were once again setting new highs.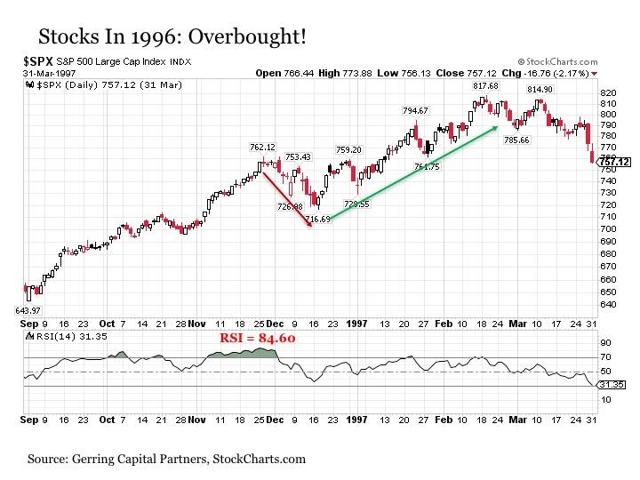 While a number of comparably high RSI instances occurred during the early 1990s, the last we will focus on here is the very start of 1992 when the RSI peaked at 83.16 following a remarkable six trading day run at the end of 1991 when stocks rallied by more than +8.5%. Stocks did enter into a corrective phase by falling as much as -6.8% over the next three months, but the S&P 500 Index managed to hold much of the end of 1991 burst higher. And by early April, stocks were once again off moving to the upside.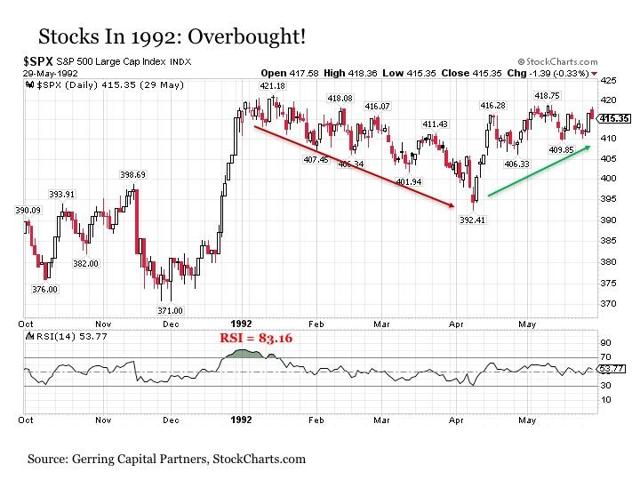 One could continue going further back over the decades to find other instances of comparably overbought conditions to what we are seeing in the markets today. And in almost every past instance, stocks were able to push through any short-term periods of consolidation or correction to quickly find their footing and continue their push to the upside.
The Bottom Line
Stocks (NASDAQ:QQQ) are indeed overbought today. But that does not mean that they are subsequently doomed to plunge to the downside. A short-term period of consolidation including a potential correction in as much as the -5% to -10% range should not be ruled out in the near-term. But if the history of overbought conditions according to the RSI is any guide, any such period of consolidation or correction is likely to be fairly quick and may very well be followed by a period of quickly renewed vigor to the upside for stocks in the trading days, weeks and even months that follow.
Disclosure: This article is for information purposes only. There are risks involved with investing including loss of principal. Gerring Capital Partners makes no explicit or implicit guarantee with respect to performance or the outcome of any investment or projections made. There is no guarantee that the goals of the strategies discussed by Gerring Capital Partners will be met.
Disclosure: I/we have no positions in any stocks mentioned, and no plans to initiate any positions within the next 72 hours.
I wrote this article myself, and it expresses my own opinions. I am not receiving compensation for it (other than from Seeking Alpha). I have no business relationship with any company whose stock is mentioned in this article.
Additional disclosure: I am long selected individual stocks as part of a broadly diversified asset allocation strategy.