Transocean (NYSE:RIG) released adjusted fourth quarter earnings on February 22 of $0.63/share, far higher than consensus estimates of $0.08/share. Revenues of $974 million were also far higher than the $810 consensus estimate. Sequentially, contract drilling revenues dropped $93 million, or 10.5% due to "reduced activity and lower dayrates". Revenue efficiency was 100.3% (compared to 100.7% in the previous quarter).
RIG blew away estimates, time to celebrate! Not so fast. Due to the extraordinary conservatism of analysts providing projections on a stock in a downward cycle, RIG almost always beats estimates. This quarter, as in Q1 2016, the "beat" was huge.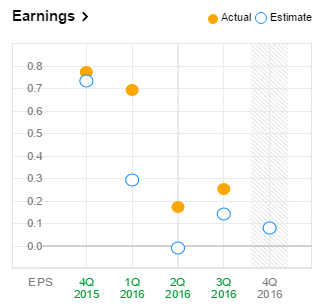 And while RIG, like the other underwater drillers, continues to show tremendous skill in managing costs and keeping rigs operating at maximum efficiency, the operating success does nothing to obscure the real storyline:
Lack of new contracting Declining dayrates (for any new contracts or extensions) Early terminations by customers What rigs should be scrapped (that were not)
Lack of New Contracting
RIG's backlog was $11.3 billion at the end of 2016, compared to $15.5 billion a year earlier and $12.2 billion just three months earlier.
Declining Dayrates
Dayrates continue to decline, with the average dayrate declining to $329K for the three months ended December 31, 2016 from $423K a year earlier and $332K for the quarter ended September 30, 2016. The decline would actually have been more pronounced except the Deepwater Conqueror entered service in December 2016 at a dayrate of $589K (executed with Chevron in 2013).

Source: Transocean
The utilization table below shows the slow-motion decent of revenues (and backlogs) as the contractual waterfall of contracts are either terminated or expire (with minimal backfill, and materially lower dayrates).

Early Terminations
In the fourth quarter, early termination fees totaled $169 million and were $396 million for all of 2016. In 2015, early termination fees totaled $433 million. Despite the partial recovery in oil prices, the major exploration and production companies continue to cut budgets for new projects and, when possible, exit non-profitable drilling arrangements.
For example, the contract for the Discoverer India, an ultra-deepwater rig operating at a dayrate of $457K for Reliance, was terminated effective December 2016 with an early termination fee of $160 million. Subsequent to Q4, CHV terminated the Deepwater Asgard's contract, which was due to run until June 2017; the dayrate was $615K ($79 million early termination fee).
Scrapped and Idle Rigs
As of the latest fleet status report, RIG had 31 rigs either classified as stacked or idle. The Company continues to be too passive in eliminating rigs that 1) will not work again and 2) that add to the supply overhang negatively impacting pricing on the few contracts that are being let. For 2016, in what may well be a source of future shareholder litigation, RIG only had impairment charges of $91 million ($66 million in the fourth quarter) compared to $1.71 billion in 2015. For a more detailed discussion of my thoughts on asset impairment see: " Transocean: Mr. Thigpen, 'Scrap Those Rigs!'".
Summary
RIG had another very nice operating quarter. However, operational strength cannot distract from the larger story of minimal new contracting and dayrates on new work that are essentially breakeven.
The new drilling contracts that are being let are heavily concentrated on-shore, or in low-risk shallow-water environments. No exploration and production firm is making "bets" on ultra-deepwater. Until the macro environment changes, there appear to be more risk than reward in RIG (and its peers) shares.
Disclosure: I/we have no positions in any stocks mentioned, and no plans to initiate any positions within the next 72 hours.
I wrote this article myself, and it expresses my own opinions. I am not receiving compensation for it (other than from Seeking Alpha). I have no business relationship with any company whose stock is mentioned in this article.