I've written a number of bullish articles on Adidas (OTCQX: OTCQX:ADDYY) on Seeking Alpha and have recommended the stock as a buy via StockTwits ever since it traded at $60. The stock now trades at around $80, and I believe it has continued upside potential. I'd like to highlight and reiterate several points I've made in prior articles, along with new, positive developments.
Valuation
On a valuation basis, Adidas has significant upside. Take a look at this industry comparison chart below: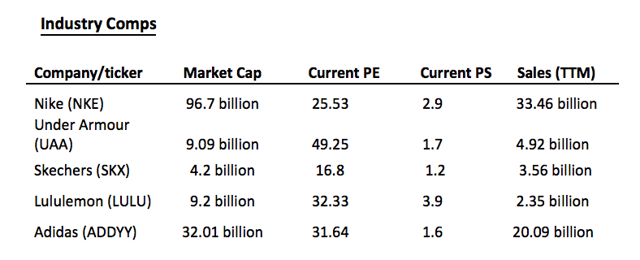 Nike (NYSE: NKE) makes about $13B more per year than Adidas, yet has a market cap that is $64B larger. This is mainly due to differences in profitability and operating margins between the two companies, as Adidas has typically struggled to maintain high profit margins.
However, this chart comparing Adidas's operating margins by region provides some very interesting details: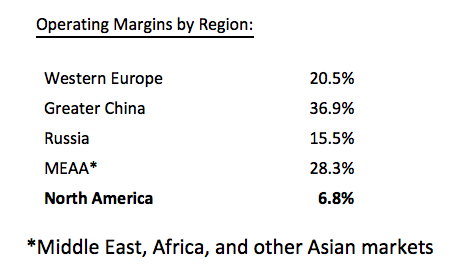 This data is for the nine months ended September 30, 2016 as per its nine months report. Adidas's margins are healthy in most of the regions in which it operates, except for North America. This is primarily due to the fact that Adidas has struggled to gain a foothold in North America, mostly due to Nike's dominance in the region.
If Adidas is able to improve operating margins in its North American operations, one could expect its valuation gap with Nike to narrow significantly. This remains the foundation for my bullish stance on Adidas, as I believe the company has begun to engineer a successful comeback in the United States.
US Momentum
There are a number of signs that demonstrate that Adidas's fortunes in North America and the US in particular are reversing. Sales in North America were up by 21.5% in the first nine months of 2016 compared to the first nine months of 2015, as per the company's last quarterly report. Adidas also took Under Armour's position as the #2 sports brand in the United States in October 2016, a sign of the company's continued momentum in the US.
Google Trends data continues to support the idea of an Adidas resurgence in the United States: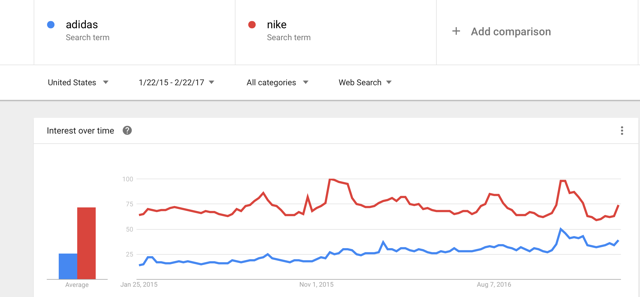 While there still is a large gap between search queries for Adidas and Nike, the gap has narrowed significantly in the past two years. This is a sign of Adidas's gradual and progressive momentum in the US, and evidence that the company's products are resonating with US consumers.
I also conducted an informal survey that was sent out to students at various universities around the United States, including UC Santa Barbara, Cornell University, University of Pennsylvania, UC Berkeley, and others. 30.7% of respondents answered that their next sneaker purchase would be from Adidas: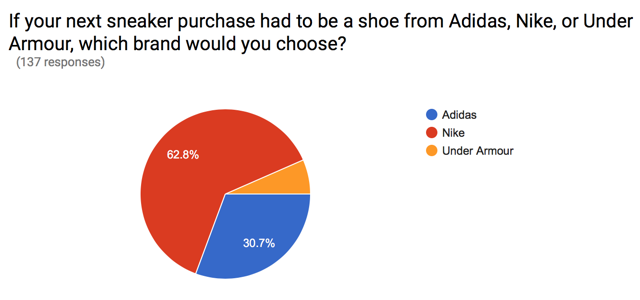 This is a good sign for Adidas as the company only has 7.1% market share in footwear in the US, according to Matt Powell, sports industry analyst at the NPD Group. The company has significant room to continue growing in the US, which should allow its market share and margins to continue increasing in the region.
As long as Adidas's momentum in the US continues (and all signs point to it continuing), it is reasonable to expect improvements in profitability. This should bring its price-sales ratio of 1.6 closer to that of Nike's, which is currently at 2.9. A price-sales multiple of 2 would be more than reasonable if the company is able to boost profitability, which would imply a $40B market cap and 30% upside in share price. I've mentioned this in past articles but I wanted to update readers and assure shareholders that Adidas's US momentum is continuing as strongly as ever.
Under Armour's recent struggles are also a positive sign for Adidas, as they imply that Adidas will mainly have to deal with Nike as its primary competition. Under Armour's US growth has slowed to the single digits as per its last quarterly report. Judging a company's future prospects from a single earnings report is admittedly premature; however, Under Armour has significant ongoing issues that limit its potential threat to both Adidas and Nike.
Concerns
The primary risk to this investment thesis would be if Adidas began to lose steam in the United States. The company has grown largely due to the Originals side of its business, which produces casual lifestyle products. I am closely watching Adidas's operations to see whether or not the company will be able to achieve similar success in selling its performance gear as it has with casual, fashion-oriented footwear and apparel.
However, all signs point to the company's North American momentum continuing, and I will update readers via articles on here if any of the positive trends I noted above show signs of a reversal.
Conclusion
The company's share price has moved largely sideways in 2017, mainly due to the huge run-up it experienced throughout 2016. I do expect share price to continue increasing as 2017 progresses, and further details of the company's progress will be revealed on March 8 when the company releases full-year 2016 results.
I will keep readers updated via articles on this site and am always welcome to any queries or disagreements either in the comments section or via email (email address is in my Seeking Alpha bio). Thanks for reading!
Disclosure: I am/we are long ADDYY.
I wrote this article myself, and it expresses my own opinions. I am not receiving compensation for it (other than from Seeking Alpha). I have no business relationship with any company whose stock is mentioned in this article.
Editor's Note: This article discusses one or more securities that do not trade on a major U.S. exchange. Please be aware of the risks associated with these stocks.