Investment Thesis
With oil prices depressed, the offshore industry is totally out of favor. I have been very bullish on Gulfmark Offshore (NYSE:GLF) for several months and continue to be so. With results from Gulfmark's peers coming out within the past month it appears to be increasingly difficult to know what the fair value will be for Gulfmark. But bankruptcy is becoming a less likely scenario.
Business Overview
GulfMark provides offshore marine support and transportation services primarily to companies involved in the offshore exploration of oil and gas. It has roughly a fleet of 70 owned or managed offshore supply vessels, OSVs. Its fleet is one of the world's youngest and high specification OSV fleets. Its owned vessels have an average age of nine years.
A further look into its vessels
As the vessels age they are worth significantly less. There are 11 vessels that Gulfmark has in its possession that are from 2012 or more recently.
In 2016 it sold 3 vessels aged, 1998 (at 7% of cost), 2005 (at 19% of cost) and 2006 (at 19% of cost). Even this most recent vessel that was 10 years old at the time of selling, sold at 19% of cost, so there is still substantial worth to these vessels, as the average age is 9 nears, but especially the most recent ones. Moreover, just last month, Gulfmark took delivery of a Platform Supply Vessel, PSV, that is worth approximately $42m. This one PSV is alone is worth more than the whole of Gulfmark's market cap. This means that the market is willing to totally disregard any vessel valuation on Gulfmark's balance sheet. There is the debt of $476m, which I'll come to soon. However, the company is responsible for over time paying off the debt, or refinancing it. I want to make one point very clear. Investors are not paying for debt, they are paying for market cap. The only time investors would pay for the debt is if the company gets acquired, that is when Enterprise Value comes into play. For further information on this, please read Greenblatt's first book.
It is not surprising that the market is unsure of Gulfmark's vessel valuation. Consider Tidewater's (NYSE:TDW) comments earlier this month,
Frankly, absent a clear view of future commodity prices and our customers' long term offshore spending plans, neither we nor ship brokers know what a high specification, couple year old OSV is "worth".

In the current environment, fair value estimates are particularly challenging because there are a limited number of buyers, sellers are generally in distress and very few data points exist as the clearing prices for OSVs [offshore supply vessel].
This sentiment was echoed by Hornbeck Offshore's (NYSE:HOS) earnings call last week,
...we don't see any demand catalyst that would cause us to believe there will be any meaningful improvement in the markets for our OSVs [offshore vessels] in the relative near term.
My argument being that although Gulfmark's vessels valuation is largely unknown, it is still likely worth slightly more than its debt ($476M), as this one vessel alone is worth $42m, at the time of purchase.
But even if the vessels are worth less than its debt, say $400m, the vessels can still be put to work over the next 5 years.
Two New Contracts
Last month, Gulfmark was award two new contracts. The first being a two-year contract with the 2010-built Highland Prince, a high specification PSV. The Highland Prince has a deadweight tonnage of 4,826, which makes it one of the biggest vessels that Gulfmark owns.
The next contract it was awarded was for its Highland Defender. Its biggest vessel by deadweight tonnage, 5,100.
These awarded contracts are proof that Gulfmark's vessels meet its customers needs. During this difficult time Gulfmark was able to find customers that would provide Gulfmark with some minimal cash infusion, although it is difficult to know if this infusion would be able to offset some of the cash operating costs of chartering the vessel. At this point, only Gulfmark's management knows if these contracts make financial sense. The rest of the world is left speculating.
Financials

Source: morningstar.com; author's calculations
Unlike Tidewater, Gulfmark has a history of producing some free cash flow, FCF, however marginal. Obviously one should take into account that Gulfmark is a smaller company and produces significantly less revenue than Tidewater. By considering this we can tentatively infer that Gulfmark's management is superior to Tidewater's, because when the times were good Tidewater took on increasing amounts of debt, starting with $950m in 2012 all the way up to $2b in 2017.
On the other hand, Gulfmark only increased its debt from $306m to $473m as of 2016 Q3. This point is worth repeating, since Tidewater breached its debt covenants ("the 3x minimum interest coverage ratio requirement") it has $2b of debt due imminently. Gulfmark's principle is not due until 2022, 5 years away.
Debt
Horbeck's management says,
Earlier in this cycle, the industry mantra was lower for longer. The message we have recently been hearing from our customers, almost uniformly, is that they now see oil prices as lower forever.

Lower forever must also mean greater efficiencies and reliability in this supply chain. Smart acquisitions can achieve those objectives in the OSV space, given the high operating risk and capital-intensive nature of this business. And for this industry, such acquisitions are necessary.

...with the low commodity price, and always a pressure on the commodity price, right now, I'm hopeful that it will be the third or fourth quarter of 2018. But I would not be surprised if it [deepwater rig demand] got pushed into 2019 or even 2020.
So things are very bad for the industry and all industry operators will be burning cash over the next year, for sure. In my opinion the only companies that will survive are those that are less leveraged.
Debt levels among competitors
Gulfmark is one of the least levered companies in the field. Here are the debt profiles of its competitors:

Source: author's calculations
The table above highlights interesting facts:
1) Gulfmark's net debt position is the smallest.
2) Gulfmark's debt is not due for 5 years, longer than its peers in the table.
3) Gulfmark's market cap is the smallest. Even smaller than Tidewater's, which said it was possible that shareholders' ownership interests will be significantly diluted.
4) Gulfmark's market cap is also smaller than Hornbeck which said in its latest earnings call,
...absent improved market conditions, we do not currently expect to have sufficient liquidity to repay our three tranches of funded unsecured debt outstanding that mature in fiscal years 2019, 2020, and 2021...
5) Seadrill (NYSE:SDRL) is also suffering from liquidity issues. And will also most likely go into Chapter 11.
Gulfmark Ad-hot committee
Which brings me to dealing with the so called Ad-hoc committee that represents Gulfmark's noteholders. This committee submitted a proposal to Gulfmark that would look to convert Gulfmark's debt into equity and wipe out Gulfmark's shareholders. This proposal was submitted slightly more than 2 months ago and it came to absolutely nothing. And why should it have come to anything? As long as Gulfmark is able to pay coupons on the bonds and does not break any debt covenants it thereby fulfills its contractual obligations, the Noteholders have no legal right to impose anything on Gulfmark. Sometimes investors forget that the owners of the company are its shareholders.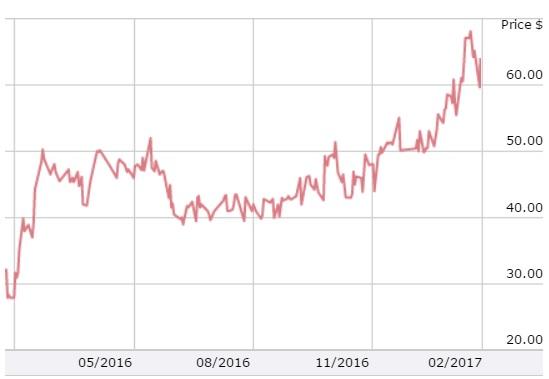 Source: GMRK3956992.
The graph above shows the value of Gulfmark's bonds practically doubled in price over the last 12 months. Institutions seem to be rushing out and buying the Gulfmark's bonds over the last 2 months. If the company's vessels were in fact nearly worthless, surely bondholders would not be willing to pay $64.10 for bonds in a company that would be likely to collapse into bankruptcy and left with worthless vessels? They might be willing to speculate and pay $10-$15, but not the full $64.10 the bonds currently trade at.
So if the company is not going to be forced into bankruptcy, and its shareholders are not going to be wiped out, what stands before you is a very much undervalued company. And slowly the market would look to correct this mispricing. This has been somewhat confirmed through FMR LLC acquiring 12% of the outstanding shares within the last two weeks.
Conclusion
Earnings are just around the corner for Gulfmark. With Seadrill having serious liquidity issues, Tidewater's shareholders most likely facing a serious dilution and Hornbeck potentially going down this same path of restructuring, it will be interesting to see how Gulfmark's earnings call will sound. Also, how much more its vessels get impaired on the balance sheet. Assuming that the vessels are as new as Gulfmark claims them to be then there should only be minimal impairments.
It will also be very interesting to see how the company plans to tackle the "lower forever environment" that HOS describes.
Disclosure: I am/we are long GLF.
I wrote this article myself, and it expresses my own opinions. I am not receiving compensation for it (other than from Seeking Alpha). I have no business relationship with any company whose stock is mentioned in this article.
Editor's Note: This article covers one or more stocks trading at less than $1 per share and/or with less than a $100 million market cap. Please be aware of the risks associated with these stocks.