If I said that there was a great value play in a digital media company, your ears might perk up. If I said that company was Yellow Pages (OTC:YLWDF) or "YP," a company that made its start selling advertisements in thick yellow phone books, you might stare me down and laugh.
Some may wonder if phone books even exist anymore. If you're really young, you might even ask what a phone book is. Point taken. YP actually got hammered by not appreciating the speed at which the internet can swallow print media. It has lost over 40% of its revenues since 2010, but today I believe Yellow Pages is a different company. Let's have a look and see if there is any opportunity.
Note: This is a follow up to my article on Hanesbrand (NYSE:HBI). In this article, I use the same methodology and compare HBI against YP to determine the better opportunity.
Description of the Business
YP initially spun out of Bell Canada's telephone directory service. A close colleague of mine who worked at Bell recalls "while operating under Bell, Yellow Pages was the place to be. Everyone wanted to work there. It was profitable, the salaries were great, and you even got an expense account." Things have significantly changed since then. YP has experienced a significant reduction in revenue in its print to digital transformation. Its current portfolio contains the following assets:
YP.ca/App - Offers comprehensive merchant profiles, relevant editorial content, reviews and booking functionalities;

Canada411 App - Online destination for personal and business information;

RedFlagDeals.com - Provider of online and mobile promotions, deals, coupons and shopping forums;

ComFree/DuProprio - Commission free alternative to realtor.ca;

YP Dine/App - Search and book local restaurants based on time of day and mood;

Yellow Pages NextHome - Provides Canadians with helpful information in making informed home buying, selling, and/or renting decisions;

Bookenda.com - A platform for users and merchants to interact and manage bookings and orders;

dine.TO - Toronto Area database of online local restaurant listings, reviews, deals, playlists and events;

YP Shopwise/App - Offering geo-localized deals and flyers, as well as access to product catalogues; and

411.ca - A digital directory service.
Valuation Approach
Hanes was a lot easier to analyse. It is essentially a stable firm holding a position in the S&P 500 with a historic growth rate that could be reasonably forecasted. The problem with YP is that it has a portion of its business operating in a declining industry (i.e. print) and a portion of its business in a growth industry (i.e. digital). The following graph highlights YP's revenue transformation since 2012.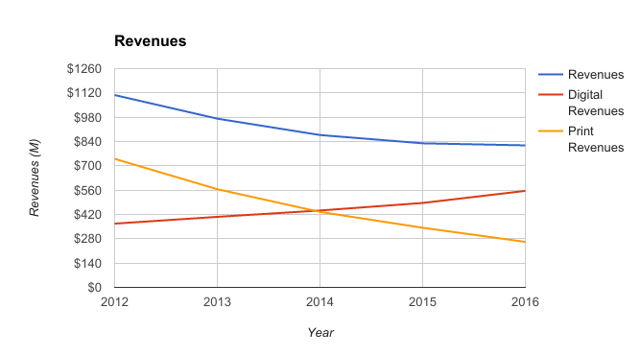 It's clear that as a result of YP's digital strategy, its print revenues are shrinking and its digital revenues are growing. 2014 marked the year where its digital revenues surpassed its print revenues. Another thing to consider is that in 2012, YP hired a new CEO who has successfully implemented print to digital transformations in several other businesses around the world. Next, have a look at the earnings and the book value of YP since 2012: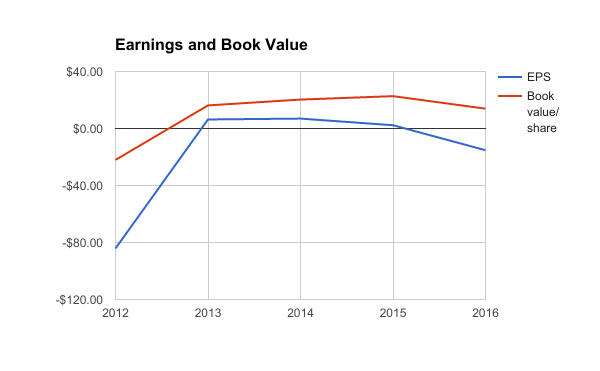 Keep in mind that both EPS and book value are accounting numbers that don't necessarily represent reality. In some cases, they are very useful. However, in this case, they can be misleading if you don't understand where they come from. In 2012, EPS was significantly reduced by large non-recurring non-cash writedown of goodwill worth $2.9B. When you buy another company above the company's book value, you are forced to account for that premium in your goodwill account.
The intention is to show the true added value to your books as a result of the acquisition. But in reality, true value is more a function of the added revenue and cash flow (if we are not performing a liquidation valuation). Any changes to cash flow are obvious year to year, quarter to quarter; therefore, the non-cash writedown doesn't really affect the free cash flow valuation of a business.
Since YP operates under IFRS, it is forced to analyse and update its assets and liabilities against its fair value:
IFRS 13 states that when measuring fair value, the objective is to estimate the price at which an orderly transaction to sell an asset or to transfer a liability would take place between market participants at the measurement date under current market conditions (i.e. to estimate an exit price).
In 2016, YP analysed the cash flows from its individual operations and noted a significant drop from the Yellow Pages business line. Based on these individual cash flow changes, YP issued a non-cash impairment charge of $452M to "trademarks and domain names" and $148M to "non-competition agreements." This write-off surprised investors, resulting in a price drop from $17 to under $10 CAD.
However, I like to view things differently. This non-cash write-off gave YP a significant tax advantage and doesn't really affect cash flow valuations, assuming the reductions in cash flow already were realized. If you ignore the non-cash write-offs, the EPS looks like this: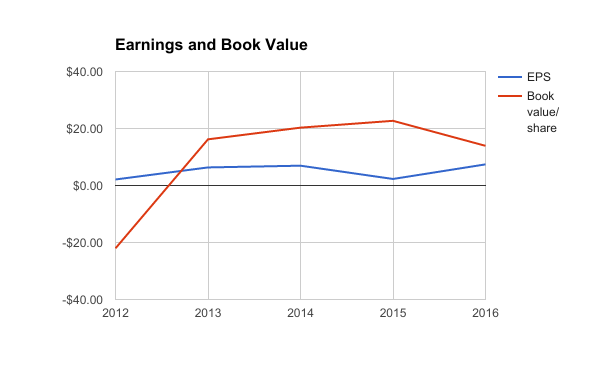 Let's look deeper into the financials:
Year

Total Shares Outstanding

Revenues
(million)

Digital Revenues

(million)

Print Revenues

(million)

EPS

FCF

(million)

Est Digital FCF

(million)

Digital FCF/

Share

Book Value

(million)

Book value/

share

2012

33.6

$1,108

$367

$740

$2.11

$198

$66

$1.96

-$740

-$22.04

2013

33.6

$972

$406

$565

$6.34

$275

$115

$3.41

$544

$16.20

2014

33.7

$878

$443

$435

$6.95

$73

$37

$1.09

$684

$20.30

2015

33.5

$830

$486

$343

$2.29

$122

$72

$2.14

$760

$22.70

2016

26.5

$818

$556

$262

$7.41

$95

$64

$2.43

$369

$13.92

-5.8%

-7.3%

10.9%

-22.9%

36.9%

-16.9%

-0.6%

5.53%

-12.2%

-4.9%
I made the following assumptions/caveats in my calculations:
All returns were calculated based on the 4-year average, except book value and book value/share, which used the 3-year average.

EPS calculations ignored the one-time impairment charges.

I didn't go beyond 2012 for my calculations since the company's capital structure was significantly different as well as its leadership team.

Estimated digital FCF was calculated by multiplying the total FCF by the proportional digital revenue to total revenue. Although the "cash flow" margins may be different between print and digital, I think this is a reasonable assumption.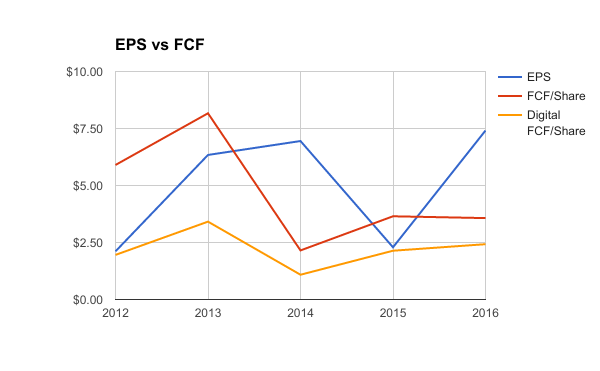 One very significant thing to consider about YP is that it hasn't had a negative free cash flow year throughout its 4-year transformation from print to digital. This is pretty remarkable. I think it is a reasonable assumption that YP's costs structure is mostly made up of variable costs that are quickly scalable. This mitigates the probability of experiencing negative cash flows.
Valuation Technique
Similar to Hanes, I'm going to value the present value of 30 years' worth of digital FCF. To be conservative, I'm completely ignoring the positive free cash flow from the print business.
Estimating Future Growth Rates
I'm going to assume that digital free cash flow will on average sit at 10% of total digital revenue. Therefore, as the digital revenue grows, the digital FCF will grow in proportion. I'm also going to assume that digital revenues will grow at 10% per year for the next 10 years and trail off to 1% thereafter. My discount rate is the 30-year Canadian bond (2.5%).
Valuation
| | | |
| --- | --- | --- |
| Year | PV | Sum |
| 2017 | $2.25 | $2.25 |
| 2018 | $2.42 | $4.67 |
| 2019 | $2.59 | $7.26 |
| 2020 | $2.78 | $10.04 |
| 2021 | $2.99 | $13.03 |
| 2022 | $3.20 | $16.23 |
| 2023 | $3.44 | $19.67 |
| 2024 | $3.69 | $23.36 |
| 2025 | $3.96 | $27.32 |
| 2026 | $4.25 | $31.57 |
| 2027 | $4.19 | $35.75 |
| 2028 | $4.13 | $39.88 |
| 2029 | $4.07 | $43.95 |
| 2030 | $4.01 | $47.95 |
| 2031 | $3.95 | $51.90 |
| 2032 | $3.89 | $55.79 |
| 2033 | $3.83 | $59.62 |
| 2034 | $3.78 | $63.40 |
| 2035 | $3.72 | $67.12 |
| 2036 | $3.67 | $70.79 |
| 2037 | $3.61 | $74.40 |
| 2038 | $3.56 | $77.96 |
| 2039 | $3.51 | $81.47 |
| 2040 | $3.46 | $84.93 |
| 2041 | $3.41 | $88.33 |
| 2042 | $3.36 | $91.69 |
| 2043 | $3.31 | $95.00 |
| 2044 | $3.26 | $98.26 |
| 2045 | $3.21 | $101.47 |
| 2046 | $3.16 | $104.63 |
| 2047 | $3.12 | $107.75 |
If these cash flows occurred, the present value based on a 2.5% discount rate is $107.75. Therefore, if these cash flows were guaranteed (100%) at $10/share, YP is trading at a 91% discount to a treasury bond.
Margin of Safety (sensitivity analysis)
Here are the results of my sensitivity analysis:
If 5% digital revenue growth occurs for the next 10 years, the NPV drops to $71.85,

0% = $47.73,

-5% = $31.73,

-10% = $21.23, and

-20% = $9.99.
Of course, these values do not include the print portion of the cash flows; although declining, they are positive cash flows and offer an additional margin of safety.
Comparing YP to HBI
In order to compare both businesses, I like to contrast the most likely scenarios and the worst-case scenarios:
Hanes

Yellow Pages

Most likely

10% Growth = $63.83

5% Growth = $71.85

Current Price

$21

$10

Discount

67%

86%

Difference

19% in favour of Yellow Pages
Hanes

Yellow Pages

Unlikely

0% Growth = $26.77

-10% Growth = $21.23

Current Price

$21

$10

Discount

22%

53%

Difference

31% in favour of Yellow Pages
Note these are my two worst-case scenarios based on what I forecast as reasonably improbable. Therefore, one could reasonably assume that Hanes is worth $26.77 and Yellow Pages $21.23. Feel free to adjust your worst-case scenario to what you're comfortable with. For example, if you believe that the worst-case scenario for Yellow Pages is 0% digital revenue growth for the next 10 years, then it's worth $47.
Summary
By using the Treasury bond rate and with additional risk built into the cash flows, we can compare two investments in completely different industries. Before investing in either business, I encourage you to review assumptions, management's performance and capabilities, and debt levels to ensure you are comfortable with the cash flow forecasts.
Note 1: If you don't agree that either of these businesses are good investments and wish to comment, please provide justification for your reasoning to help the other readers.
Note 2: I did not include a terminal value in my 30-year cash flow analysis. You could use the liquidation value, but I chose the side of caution. In addition, I feel a 30-year DCF analysis picks up the terminal valuation.
Note 3: The penalties I apply to the cash flows supersede the implementation of a tailored discount rate for each business. You could apply a custom discount rate based on the growth rate and cost of capital to value the business, but it makes it difficult to compare the results.
Cheers,
Wayne
Disclosure: I am/we are long YLWDF.
I wrote this article myself, and it expresses my own opinions. I am not receiving compensation for it (other than from Seeking Alpha). I have no business relationship with any company whose stock is mentioned in this article.