Phibro Animal Health (NASDAQ:PAHC) has done a nice job over the past few quarters in what should be a relatively difficult time for the company. Pushback against the use of antibiotics in livestock from both consumers and regulators, and the potential loss of sales of Mecadox both present near-term headwinds. Dairy weakness has further pressured end user demand.
But Phibro has chugged along nicely, beating consensus EPS estimates in each of its last three quarters and rebounding from lows around $18 last February. Strength in vaccines and nutritional specialties have offset some of the pressure, and continuing margin improvement has helped profits as well.
After the company's fiscal second quarter report earlier this month, it does seem like the long-term growth story is back on track. PAHC remains a play on increasing meat consumption worldwide, with that consumption driven by a growing middle class. Operationally, the company seems solid, at least from recent numbers. Phibro isn't a sizzling growth story by any means, but there's still a path for PAHC to be a steady long-term outperformer.
The catch, in my opinion, is the price. PAHC is up about 16% from levels I thought were pretty fair back in October. It now trades at 20x FY17 (ending June) EPS, and 12x+ EBITDA on an enterprise basis, both back toward the high end of the company's range. PAHC now trades at only a modest discount toward Zoetis (NYSE:ZTS), which is larger, more stable, and has a reasonable presence in companion animals (Phibro is livestock-only). And I'm not sure I see enough in either Q2 results - though they were good - or macro/industry changes - though higher dairy prices are a modest tailwind - to justify that rise.
Another Good Quarter
Phibro's Q2 numbers might not look that impressive on their face. Total revenue was flat, net income rose 5%, and Adjusted EBITDA increased 10%. But in the context of the quarter, the profit numbers, in particular, were comforting. Mineral Nutrition revenue was down 4% "primarily" due to lower commodity pricing; that decline represented a 1%+ headwind to overall sales.
Figures from the last two 10-Qs suggest a ~$1 million decline in sales of medically important antibacterials, adding 0.5% of pressure. And the MFAs (medicated feed additives) & Other business - Phibro's largest - saw sales decline 9%, which includes the antibacterials' decline but also weakness in Brazil and unspecified timing issues in other countries.
Flat revenue is somewhere close to good enough given those headwinds (though analysts did expect another ~70 bps of growth). The projection for the full year was for declines in MFAs & Other to be offset by double-digit growth in Vaccines and Nutritional Products. Those latter two businesses grew 45% and 21%, respectively, leading to overall growth in the core Animal Health segment.
Meanwhile, margin expansion continues a long-term trend. Phibro's gross margin increased 810 bps between FY11 and FY16; it expanded another 110 bps in Q2 and 100 bps in H1. Excluding a pension settlement, SG&A increased just 1% year over year in the quarter, mostly at the corporate level. That puts Phibro on track to continue recent trends: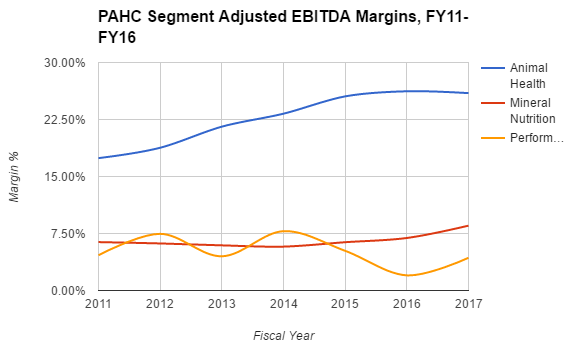 Source: Author from PAHC press releases. 2017 author estimates based on Phibro guidance.
So where I see the quarter as strong is in the sense that it affirms the narrative from Phibro: The weakness in MFAs and antibacterials can be offset by vaccines and specialty products. Some of that shift is coming at the consumer end: Chickens and pigs get sick, and without the use of antibiotics, farmers turn to alternatives. But Phibro also appears to be executing well in keeping customers with different products, and with keeping costs in line enough to drive some leverage off basically zero growth. That seems to create some confidence that Phibro can manage the headwinds of it.
Risks And Valuation
I don't think Phibro's work is quite done, however. Sales of antibacterials, according to the 10-Q, declined to $32 million on a trailing twelve-month basis at December 31, from $37 million as of June 30. Those sales aren't going to zero, but there is the possibility for a ~1% revenue headwind ($7-8 million) going forward for 2-3 years as those sales decline. And the margin impact almost certainly is much higher, given that the drugs are part of the higher-margin Animal Health segment and have little R&D cost.
A $10 million revenue decline in FY17 (the current pace) likely implies $3 million-plus - and 3% - off Adjusted EBITDA and a mid single-digit headwind to free cash flow. The use of those drugs for any growth promotion purposes ended January 1st, per a voluntary agreement by the industry; the demand on a treatment basis is yet to be seen, but there may be an acceleration in the decline in CY17.
Meanwhile, the company's Mecadox pork antibiotic is under challenge by the FDA. Phibro still is selling the drug, and is awaiting the FDA's answer to its appeal. Mecadox generated $14 million in CY16 revenue (again, according to the 10-Q). Should Mecadox be removed from the market - as it has in most Western countries already - there's another 3-4% impact to Adjusted EBITDA.
Those sound like modest headwinds, but in the context of Phibro's growth profile, they're not quite so easy to ignore. 2% revenue growth and ~50 bps in EBITDA margin expansion only increases Adjusted EBITDA about 5-6%. The pressures on MFAs, in particular, go beyond just antibacterials and Mecadox as well. There's a reason shares hit levels below $20 in February, and why PAHC stock fell 11%+ in a two-day span after the FDA's Mecadox decision was announced last April.
And I can't help but think that those near-term pressures might hit the stock at some point, given its valuation. Peer valuation of PAHC is somewhat difficult, but ZTS is at 23x the midpoint of CY17 guidance and around 14x EBITDA (my estimate based on that guidance). I'm highly skeptical that smaller Phibro, with no companion animal exposure (a better, faster-growing market, which drove 40% of Zoetis revenue in 2016), deserves a peer multiple. Maybe PAHC gets 13x EBITDA and 22x FY17 EPS; even at the high end of guidance, that gets shares to $31, or high single-digit upside.
To be fair, it does look like Phibro will come in at the high end of guidance after the first half. There's a way to drive higher DCF valuations, given the long, long runway for growth and meat consumption demand. But there are also headwinds that might shorten that runway, between anti-antibacterial sentiment and growing criticisms for some quarters about the environmental impact of livestock.
And in the near term, I don't think Phibro's trajectory will be as stable as it's been the past few quarters. The FDA decision awaits, antibacterial sales declines may accelerate post-January 1, and some of the volatility that's marked most of PAHC's nearly three years on the public markets likely will return. I still wouldn't be a big buyer until $22-$23, but if Q3 shows the company still is managing MFA headwinds, it might be time to bump that target up. Again, credit is due to Phibro for its performance so far. But I still think it's priced in, and maybe then some.
Disclosure: I/we have no positions in any stocks mentioned, and no plans to initiate any positions within the next 72 hours.
I wrote this article myself, and it expresses my own opinions. I am not receiving compensation for it (other than from Seeking Alpha). I have no business relationship with any company whose stock is mentioned in this article.