By Parke Shall
S&P came out and lowered Macy's (NYSE:M) credit rating yesterday from BBB to BBB- based on the fact that the retail sector is experiencing some extraordinary challenges. How forward thinking of S&P to not only make this downgrade now, as the company is in the middle of a process of considering to sell itself, while also being a bit "behind the curve" if they're going to cite business operations falling off. Yahoo Finance reported,
Standard & Poor's has downgraded Macy's credit rating to one notch above "junk" status.

The agency on Wednesday dropped Macy's rating from "BBB" to "BBB-," the lowest level of investment grade, citing declining customer traffic and "unrelenting competition."

"The downgrade reflects our view of the company's weakened operating performance and competitive standing given the ongoing industry challenges, such as sustained low customer traffic, increased price transparency, and unrelenting competition from online, fast-fashion, and off-price retailers," S&P analyst Helena Song wrote.

In other words, Macy's is falling victim to fundamental changes in how Americans shop.

"We believe weak operating trends in the department store sector are a result of more than just cyclical headwinds, rather they are also a symptom of secular change in consumer spending habits," Song wrote.
The issue that we take with this credit downgrade can be divided into three parts.
First, it generates and creates a lot of negative press for the company. The downgrade itself isn't some massive credit downgrade that is going to shock the bonds and the equity. It's simply looks like S&P is doing "maintenance" on Macy's and issuing a customary credit downgrade days after the company lowered its EPS estimates after having a stronger than expected holiday season. This is not the proverbial "fire alarm" that some media outlets are making it out to be.
Second, Macy's credit is backed by between $10 billion and $20 billion in real estate, depending on who you ask. Let's take the more conservative number of $10 billion and compare that to the company's debt load, which today sits at around $7.5B, or about 2.5x EBITDA. Is it not true that in a situation where Macy's needed to reduce leverage that it could very easily take care of all of some or all of its debt with a couple of real estate sales or joint ventures?
Third, Macy's is still a cash generating company. It is true that the company's cash flow has moved lower over the last few years and it is true that EPS estimates continue to get taken down a notch. However, it is also true that Macy's is likely to remain a profitable cash generating company for at least the next 5 to 10 years and possibly much longer than that depending on management's rollout of its strategy to combat online sales. Macy's is now working to stabilize its cash generation, like it did some years ago.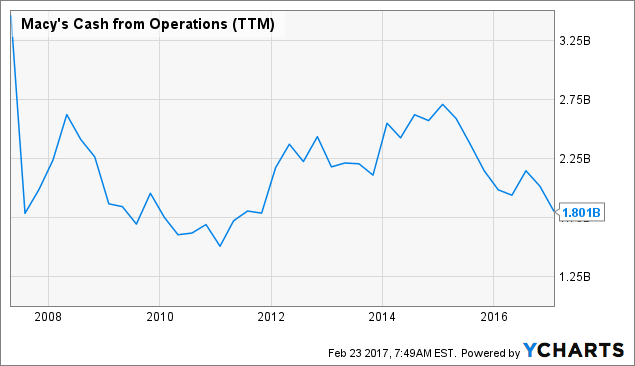 M Cash from Operations (NYSE:TTM) data by YCharts
If management integrates online sales well and reduces its store count to a manageable number of locations that are only in high density low-cost areas, it is very feasible to assume that Macy's can generate a significant amount of free cash for the next 10 to 20 years. In addition to this, Macy's has the option of paring back its buyback or slightly reducing its dividend in order to free up even more cash if necessary. We don't think either will be necessary.
The point is that we don't think Macy's credit is at risk, even in the slightest. Today we are going to take a look at the full capital structure of the company and provide a in-depth analysis of the company's debt structure over the next few days.
S&P credit ratings get a different kind of press from that of analyst downgrades. They're often taken a little bit more seriously because they deal with the debt markets instead of it being just another analyst giving his or her take on the equity. People think that because the bond market is the smart money and because S&P is an extremely well-known name that they are the end-all-be-all when it comes to credit risk. We would disagree and note that we simply believe a little rational thinking and common sense would go a long way in this situation. On top of that, we won't even begin to name the number of credit downgrades that S&P has missed over the last 10 years, but if you have seen the movie The Big Short, you catch our drift.
Long story short, we don't believe that this credit downgrade is meaningful and we certainly don't think it stands in the way of the key points to the bull case in Macy's right now. We believe that Barron's was correct last week when it suggested that 50% upside was possible in a sale situation precisely because of the value of the company's real estate. We continue to be long Macy's as there is no real doomsday clock counting down against the company with its current valuation and we do think they will get a deal done at some point within the next few months. Even if Macy's were not to be bought out, its valuation right now is conservative and we believe the risk profile favors a long position.
Disclosure: I am/we are long M.
I wrote this article myself, and it expresses my own opinions. I am not receiving compensation for it (other than from Seeking Alpha). I have no business relationship with any company whose stock is mentioned in this article.