The merger between Enbridge (NYSE:ENB) and Spectra Energy (NYSE:SE) is one of the largest deals in the midstream space that we've seen in the past couple of years. The combined company will have one of the largest operational footprints in the midstream industry ever created and with a stable and growing dividend, the name deserves to be in your portfolio. Additionally, post-close the combined company is expected to see a significantly higher level of distributable cash flow than what we've seen over the past two years as the recovery in volumes continues.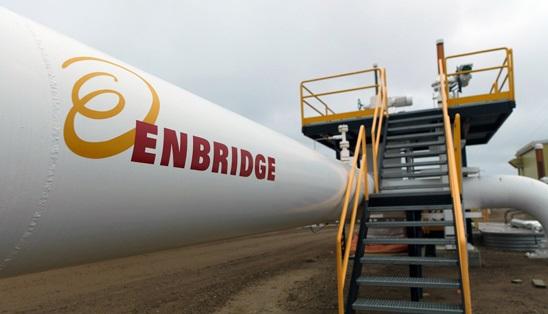 Source: Boe Report
The Buying Points
A projected enterprise value of $165 billion post-close makes this the largest North American energy infrastructure company. The twelve-digit price tag is well-deserved, however, as Enbridge's operations will be significantly expansive and cover all the key basins in the U.S., as well as have strong positioning in western Canada, seen below.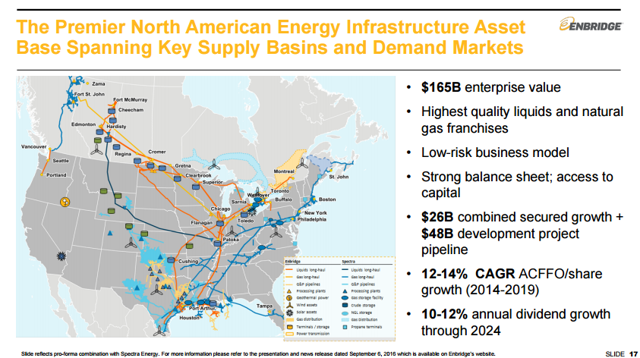 Source: Investor Presentation
Below are some of the top buying points for the stock after the deal closes
Yield of 4.6%, dividend coverage of above 1x
Largest North American energy infrastructure footprint, synonymous with a high quality, low risk operation
Larger growth profile of $26 billion in secured opportunities, with a $46 billion backlog
Considerable ACFFO/share growth at a 12-14% CAGR, driving shareholder value over the long-term
By now, I've heard enough investors say the best benefit to shareholders coming out of this transaction is the improved yield. Enbridge's current yield is 4.22% on a 10.11% 5-year growth rate. It's one of the few midstream companies that didn't have to cut its yield during the downturn in crude oil and natural gas. Similarly, Spectra also didn't have to cut, and they have a 4.26% yield on a 5-year growth rate of 8.91%. So, the initial increase post-close to 4.6% serves as the jump start to the long-term increases such that this yield remains competitive with some of the more higher yielding midstreams in the industry, such as Energy Transfer Partners (NYSE:ETP), whose wrapping up a transaction with Sunoco (NYSE:SXL).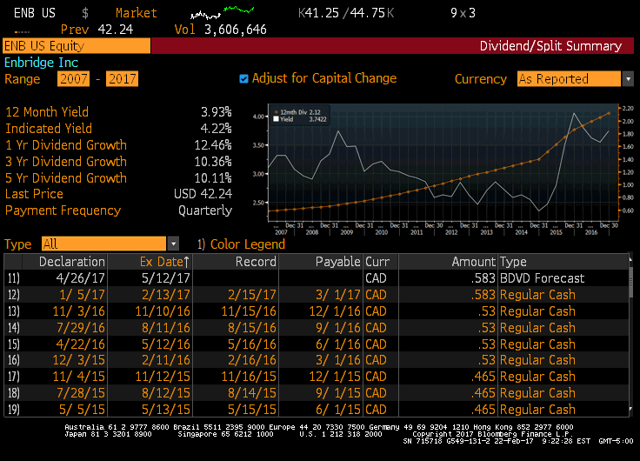 Source: Bloomberg
The growth profile is the area of the transaction I'm most interested in because it has the most potential to drive value in the stock. First, Enbridge stated in its recent investor update that it has roughly 400 kbpd of low risk incremental capacity expansions available to execute on from 2019-2024. This growth profile comes on top of the $540 million in annual synergies that the company is projecting through 2019, which stems primarily from cost cuts.
That's going to help, too, when it comes to staying under budget as this transaction is massive with how high its price tag is. Enbridge, for the last two calendar years, has come under budget, with 21 projects put in service in that time. Key growth opportunities we'll see in the near-term are the Bakken Pipeline System, slated to be finished by the end of 1H 2017, as well as the Wood Buffalo Extension, which will be in service in the back half of the year. Looking out longer-term, a large portion of Enbridge's capital is focused on the Line 3 replacement, for which the in service date is early 2019. Thus, coming under budget and driving synergies as high as possible will be critical when it comes to beating market expectations on earnings reports.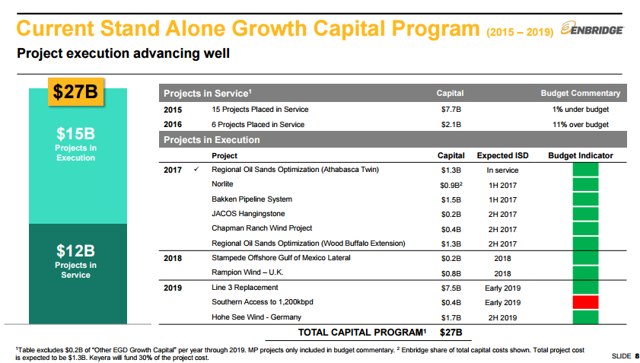 Source: Investor Presentation
The combined companies, for Q4 2016, posted free cash flow of $170 million. Naturally, many investors will be far more concerned with distributable cash flow levels, for which Spectra produced DCF of nearly $1.4 billion in 2016, with a corresponding coverage ratio of 1.2x. Enbridge has a dividend coverage ratio, currently, of 1.89x, despite only producing free cash flow for the full year of $83 (although they'll direct you to the non-GAAP metric of Available Cash Flow From Operations ACFFO of $3.71 billion). ACFFO is expected to grow, on a per share basis, by a CAGR of 12-14%, which is a rather high rate of growth compared to what we've been seeing in the midstream space even prior to the downturn in commodities in late 2014. We'll have to see how this growth rate is adjusted when full guidance is given or if it is kept constant.
Moving forward, having a coverage ratio as high above 1x as possible really prevents the company from having to consider cutting the dividend in the event of a downturn. The 4.6% and growing yield post-close will be one of the few bright spots in the industry and a cut way down the line would have an effect on the stock price similar to what we saw happen to Kinder Morgan (NYSE:KMI) in Q4 2015.
Is It Time To Buy?
Spectra shareholders will receive 0.984 shares of the combined company after the transaction closes. Below is a one year chart of ENB and as you can clearly see, investors are holding off from initiating positions until the deal closes. The moving averages have flattened significantly, and ENB is trading in a very small range of about $2/share between $42 and $44. Once the deal closes, it'll be interesting to see how the stock trades up.
I've noticed that some of the smaller North American midstreams have seen rapid uptrends, perhaps as these are more growth-oriented names, while larger names like Williams (WMB, WPZ) and Energy Transfer (ETE) haven't seen the same buying pressure. This obviously isn't a great sign for ENB post-close, but Enbridge's financial situation post-close seems to be quite stable and the growth profile, with the large dividend, seems to be attractive, so I'd be surprised to see a lack of buying power.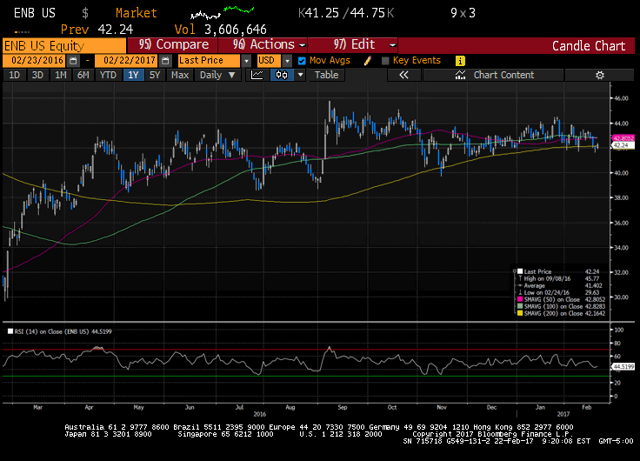 Source: Bloomberg
From the longer-term perspective, keep in mind that ENB still has a significant amount of room to run towards historical resistance. Post-close, I expect the stock to easily take out the $45 level and make its way towards $50. I'm planning on being highly conservative with this stock, just so I curb my own expectations and don't become too optimistic (even though the growth profile is exceptional), and say that $50 is my end of 2017 price target. That would imply a full year return of 18.7% before dividends. That's likely an outperforming return for the broader market.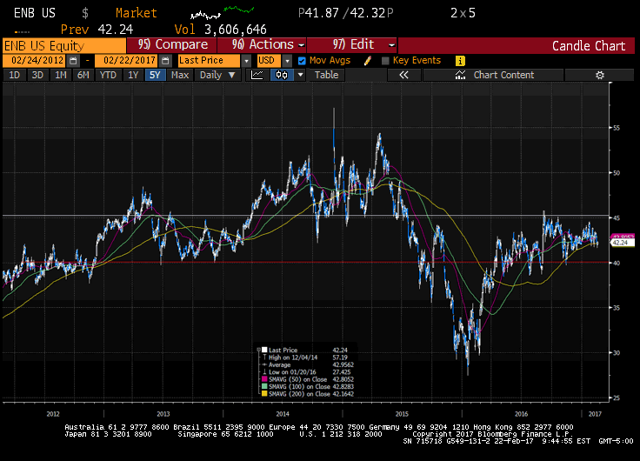 Source: Bloomberg
For Enbridge to run past $50 in 2017, it would have to be on the back of a massive backlog approval or an incredibly positive shift in fundamentals such that the volumes needed to be transported would be much higher than expected. On the flip side, if Enbridge doesn't take out $50, investors are still being paid 4.6% for the next twelve months all the while holding a stock they do not have to worry about because of its high coverage and massive operational footprint. I'd expect the bare minimum total return for the full year 2017 to be 10% if this were the case.
Conclusion
The deal between Enbridge and Spectra will close this quarter and, after the Q1 2017 report, we'll receive more guidance on how the company plans to grow the dividend as well as full-year operational guidance. Investors will be kept up to date on Spectra's integration, mostly as it pertains to any roadblocks preventing near or medium-term projects from being put in service or being placed under construction. For now, this is a highly attractive deal that investors have to consider taking advantage of when it closes.
Disclosure: I/we have no positions in any stocks mentioned, and no plans to initiate any positions within the next 72 hours.
I wrote this article myself, and it expresses my own opinions. I am not receiving compensation for it (other than from Seeking Alpha). I have no business relationship with any company whose stock is mentioned in this article.