After the close yesterday, Square (NYSE:SQ) reported another strong quarter based on key financial metrics. So far, Jack Dorsey has proven that the mobile-payments provider only needs a part-time CEO to excel.
As my previous research highlighted, Square faces tough resistance above $15 and valuation concerns around the all-time high near $16. Will the after-hour price hold and send the stock to new highs?

The market has always wrongfully questioned the ability of the company to leverage sales growth. Square was aggressively spending to capture a large and growing market so profits weren't the original goal of the company.
The Q4 report provides solid proof that the mobile payments leader can add customers without breaking the bank and turn into a very profitable payments provider in the future. Though the stock constantly runs into a couple of issues that play against investors not doing the correct research.
The primary news is that Square beat analyst estimates by a wide $0.05. The key is that the company produced adjusted revenue growth of $57 million and boosted adjusted EBITDA by an incredible $36 million. Square will go far by dropping that percentage of incremental revenues to the bottom line.
Investors focusing on gross payment volumes or net revenue during 2016 probably missed the improving investment story. Due to the end of the Starbucks (NASDAQ:SBUX) contract and pass-through transactions costs, the key revenue metric was always adjusted revenues. For the quarter, those revenues grew 43% to $192 million. The new revenues only grew 21%, but don't reflect the true growth at Square.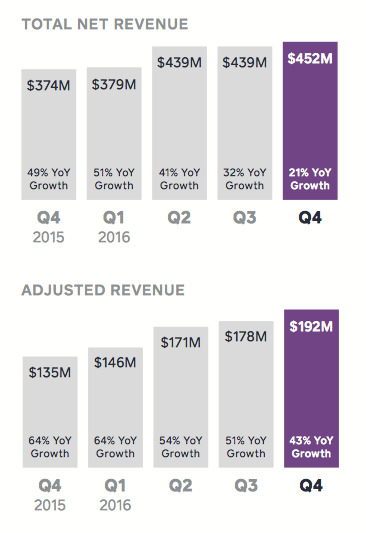 Source: Square Q416 shareholder letter
The company continues branching off into new growth areas from shifting towards larger sellers with annual GPV in excess of $500K to lending customers capital to allowing payments via a web browser that added $40K in GPV alone for January. In total, products launched since 2014 represent 25% of net revenues during Q4.
So besides the company clicking on just about every financial metric and having a management team delivering new products, the dilute share count provides a huge hidden problem. Square listed the share count for 2016 up at 370 million shares while most sites use a share count of 350 million.
The reality is that Square went public with a fully diluted share count of around 450 million shares. The after-hours price places the market cap at $7.3 billion.
The 2017 adjusted revenue guidance is up to $900 million placing the stock trading in after hours at about 8.2x sales estimates. At an adjusted EBITDA target of $100 million, Square trades at over 70x that estimate.
The key investor takeaway is that Square could reach new highs in trading Thursday. The stock doesn't offer much appeal at these levels.
Disclosure: I/we have no positions in any stocks mentioned, and no plans to initiate any positions within the next 72 hours.
I wrote this article myself, and it expresses my own opinions. I am not receiving compensation for it (other than from Seeking Alpha). I have no business relationship with any company whose stock is mentioned in this article.
Additional disclosure: The information contained herein is for informational purposes only. Nothing in this article should be taken as a solicitation to purchase or sell securities. Before buying or selling any stock you should do your own research and reach your own conclusion or consult a financial advisor. Investing includes risks, including loss of principal.