In my previous articles, I have discussed my expectations related to the impact of changing tax reforms on Pfizer (NYSE:PFE). I have also given a detailed account of the major cancer drugs in Pfizer's portfolio, considered to be the key growth drivers for the company in 2017.
In addition to a robust drug portfolio, I strongly believe that Pfizer also has one seriously undervalued research pipeline. Based on this premise, I have been bullish for this stock since October 2016. To further clarify my point, I will be explaining some of the recently approved drugs as well as promising research programs from the company's pipeline in greater detail.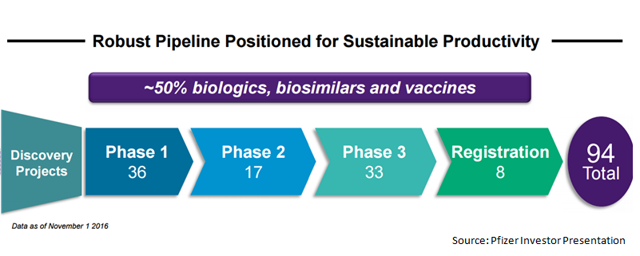 The diagram gives a brief snapshot of Pfizer's complete research pipeline. Around 40% of these are late-stage programs, either in Phase 3 or registration phase, 40% in phase 1 and remaining 20% are in phase 2. Half of all these programs are concerned with biologics, biosimilars, and vaccines while the remaining 50% involve small molecule drugs.
Avelumab is core asset in Pfizer's immuno-oncology research programs
On November 29, 2016, U.S. Food and Drug Administration or FDA accepted for review, programmed cell death protein 1 or PD-L1 inhibitor therapy, Avelumab, as monotherapy for Merkel cell carcinoma or MCC. European Medicines Agency or EMA has also accepted marketing authorization application for avelumab as MCC treatment option. MCC is a rare category of aggressive skin cancer and represents an area with significant unmet demand.
Avelumab is currently co-developed by Pfizer and Merck KGaA Darmstadt, Germany. The drug is being currently studied as a monotherapy for first line non small cell lung cancer in Phase 3 trial, JAVELIN 100. Pfizer has derived insights from Merck's (NYSE:MRK) KEYNOTE-024 trial and Bristol-Myers Squibb's (NYSE:BMY) CheckMate-026, both of which evaluated the companies' respective PD-L1 inhibitors in first-line NSCLC patients. Based on the new inputs, Pfizer has optimized its patient population to get the best possible results from its JAVELIN trial.
Avelumab is being developed, both as monotherapy as well as backbone in many combination regimens. While Pfizer believes that PD-L1 compound is essential for an effective cancer therapy, it may not be sufficient in face of increasing competition in the oncology space. The company has estimated that the average objective response rate or ORR achievable with PD1/PD-L1 monotherapy across multiple cancer types is only 20%.
Pfizer believes that the true potential of avelumab can be realized in combination with targeted agents, oncolytic vaccines, antibody drug conjugates, and other immune-oncology agents. Hence, the company with Merck KGaA is exploring avelumab in 30 clinical programs with 4,000 people already enrolled in these trials. 10 of the research programs have progressed enough to allow the company to file applications seeking approval for these combination regimens from the regulatory agencies.
Pfizer and Merck KGaA have started releasing data from research programs evaluating potential of combination, avelumab and 4-1BB. The companies will also commence another research program studying potential of the combination regimen, avelumab, 4-1BB, and OX-40, by end of 1Q 2017. Pfizer also plans to study other interesting combination regimens such as avelumab with rituximab and 4-1BB, avelumab and Inlyta, and avelumab with next-generation ALK inhibitor, lorlatinib. All these programs together have the potential to make Pfizer a leading player in the evolving immuno-oncology area.
Pfizer has one of the best JAK franchises in the pharmaceutical industry
In 1H 2017, Pfizer is planning to file applications seeking approval from the FDA for JAK inhibitor, Xeljanz, in two indications, psoriatic arthritis and ulcerative colitis.
At the end of 2016, Pfizer had advanced four investigational immunology and inflammation therapies in Phase 2 clinical trials. These involve three selective JAK inhibitors and one IRAK-4 inhibitor. The Phase 2 investigational programs are targeted on around 10 different indications in areas such as dermatology, rheumatoid arthritis, and gastrointestinal disorders.
Talazoparib is one of the most potent investigational PARP inhibitors to be reported
Besides Xtandi, the acquisition of Medivation has also added a very promising investigational PARP inhibitor, Talazoparib, to Pfizer's portfolio. But before dwelling into specifics about talazoparib, let me explain how PARP inhibitors work to kill cancer cells.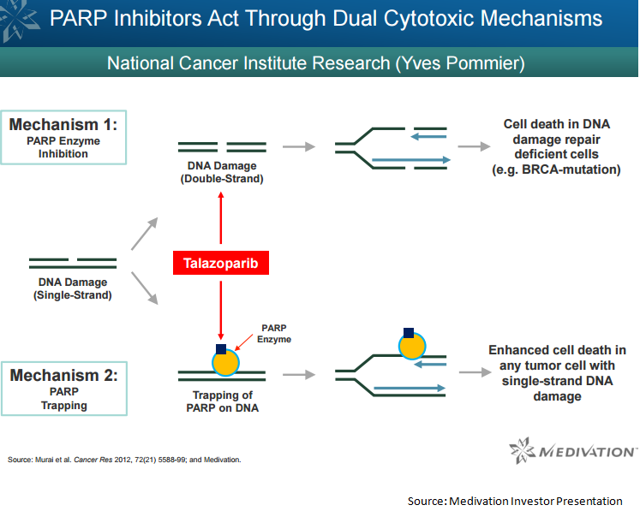 There are two mechanisms in which poly ADP-ribose polymerase result in cancer cell death.
In mechanism one, inhibition of PARP prevents the repair of single strand DNA breaks in the tumor cells. This action combined with inherent DNA pathway repair deficiencies found in the BRCA related cancers or in tumors with homologous recombination deficiencies or HRD, ultimately lead to cancer cell death.
The second mechanism, called PARP trapping, is far more correlated to cancer cell death. In normal situations, the PARP enzyme gets attached on the single stranded breaks on the DNA to repair it. When this PARP sitting on the DNA break is attached to PARP inhibitor, the combined structure blocks the flow of enzymes such as DNA polymerase required for DNA repair. Hence, even if there is no BRCA mutation or HRD, the cancer cell dies due to breakdown of repair pathways.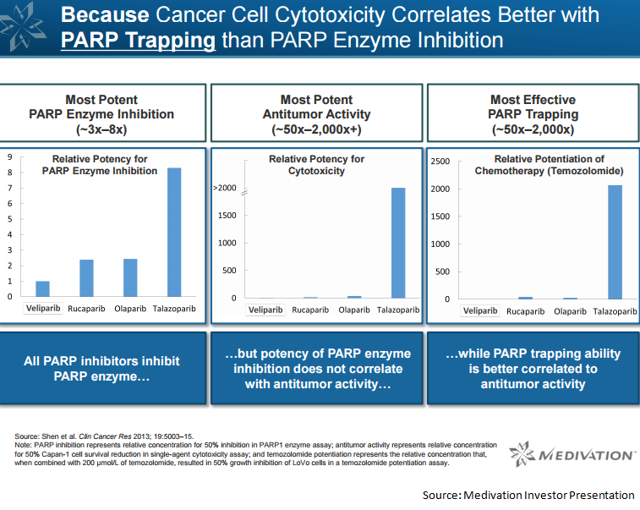 The second mechanism is where talazoparib has been known to score higher than any other PARP inhibitor, either in market or in research programs. Tesaro's nilaparib comes second in terms of PARP trapping ability. However, Talazoparib is 50 times more potent than nilaparib in this activity.
Besudes this major differentiating point, talazoparib has also demonstrated solid potency in vitro trials. Further, the dosage suggested for this drug is also the lowest as compared to other PARP inhibitors. So talazoparib is to be administered as 1mg per pill once a day while other PARP inhibitors may have to be delivered as 3 to 16 pills which will involve doses 300 to 1,200 times that of talazoparib. Further, few of these drugs are to be administered twice a day, increasing hassles to patient compliance.
Talazoparib is also selective for PARP 1 and PARP2, which are enzymes generally used cancer cells. Parp 1 and Parp 2 are two of the sixteen isoforms of the PARP enzyme. Due to high selectivity, talazoparib has significantly lower off target cell toxicity as compared to other PARP inhibitors such as AstraZeneca's (NYSE:AZN) Olaparib and Clovis Oncology's Rucaparib. This has been instrumental in limiting adverse events in case of talazoparib, resulting in robust safety profile for the drug.
Talazoparib is expected to demonstrate potential across multiple types of cancers
Talazoparib has been demonstrating solid response rates in BRCA-mutation related cancers such as breast cancer and ovarian cancer. However, PARP trapping ability also makes it a drug with solid potential in cancers without HRD.
Talazoparib is being currently studied in Phase 3 trial, EMBRACA, in GERMline BRCA-Mutation related breast cancer indication. The drug is being studied as monotherapy and in combination with low dose chemotherapy agents in all other types of breast cancers as well as in ovarian and prostate cancers. Talazoparib is also being tested in combination with low-dosage of chemotherapy agent like temozolomide, in small cell lung cancer, an area with significant unmet demand and limited competition.
And yet Pfizer continues to trade at significantly lower valuation multiples
Pfizer has many things working right for it. The changing regulations seem to favor the company. The company has a robust oncology and immunology portfolio. The company also has some very promising molecules in its research pipeline. And yet, the company has been one of the more undervalued stocks throughout 2016.
Based on non GAAP earnings, Pfizer is currently trading at forward price to earnings or PE multiple of around 13.2x. This is much lower than average PE multiple of big pharmaceutical companies which is 17.1x.
For 2017, Pfizer has provided non GAAP diluted EPS guidance in the range of $2.5 to $2.6. Solid product portfolio and robust clinical pipeline require the company's forward PE multiple to come closer to the average PE multiple of the big pharmaceutical industry. Hence, even if the PE multiple reaches around 15.0x, the fair price of the company should be close to $37.5 to $39 in the next 12 months. Hence,the expected upside potential in the range of 11% to 16%. Hence, I believe that the stock can prove to be a good risk adjusted addition to an investor's portfolio.
Disclosure: I/we have no positions in any stocks mentioned, and no plans to initiate any positions within the next 72 hours.
I wrote this article myself, and it expresses my own opinions. I am not receiving compensation for it (other than from Seeking Alpha). I have no business relationship with any company whose stock is mentioned in this article.