Sky (OTCQX:SKYAY) (Baa2/BBB) is fully operational in the so called "quad market" consisting of pay television, broadband, landline and mobile operations across the U.K. and Ireland including sports and entertainment packages. The company recently acquired the Sky Deutschland (Germany) and Sky Italia operations while in the U.K. its Sky Sports channel covers the majority of English Premier Leagues games (142 live games) which is a strong global brand. Sky also gets a split of the UEFA Champions League games and other local championships or tournaments in the European markets. The main challenge is from BT Group Plc (NYSE:BT) (Baa1) gaining on Sky through better pricing or sports rights auctions spending. Both are facing competition in the pay TV services sector from the likes of Netflix (NASDAQ:NFLX), Amazon (NASDAQ:AMZN) and local terrestrial players.
21st Century Fox's bid can't be approved unless the public interest is served
The bid for Sky takes 21st Century Fox's (NASDAQ:FOXA) ownership to 100% and control of a large part of U.K. TV, online and print media. Therefore it is important that the public interest is served thus resting approval of the deal on the culture secretary with advice from the regulator OFCOM. As a result of the public interest needs she has no choice but to refer the deal to OFCOM for scrutiny. Naturally and as expected opposition from competitors, rights groups and conspiracy theorists will be lodged with OFCOM. The another potential nail in the coffin comes from the current prime minister who pledged as she took power to scrutinize the impact of foreign takeovers on the U.K. economy which I read as code for government based approval on takeovers! She is said to have objected to the Kraft takeover of Cadburys in 2010 which brings the subject into sharp focus after the recent attempted bid for Unilever (NYSE:UL).
The test that shapes the culture secretary's decision to refer the case to OFCOM comes from Section 58 (2C) of the Enterprise Act 2002 stating that:
Section 58 2 C) a) the the need, in relation to every different audience in the United Kingdom or in a particular area or locality of the United Kingdom, for there to be a sufficient plurality of persons with control of the media enterprises serving that audience;
The last 13 words of part 2C outlines why this takeover will face a regulatory challenge and ultimately rejection. The Murdoch Empire (New Corp and 21st Century Fox) has its fingers deep in almost every media pie in the U.K. with the Times, Sunday Times and the Sun tabloid. For those new to U.K. politics Murdoch's empire wields enough power to turn elections with a single headline in any of its print media and especially the tabloid paper "The Sun". If Murdoch has control of Sky News, The Times, The Sunday Times and the Sun he essentially has coverage and influence of every section of U.K. society from top to bottom! This is serious power and not to be taken lightly! The Sun backing your viewpoint probably wins you the majority of its readers.
Most politicians would swim through crocodile infested waters, do fire walks and crawl over barbwire to say "Hi" to him! In a previous failed bid in 2011, the offer to spin off some other media interests was met with approval but it makes no sense for Murdoch to drop any of his interests at this juncture. Sky currently spends over £5bn on sports, drama, documentary and other TV content including popular series like The Great British BakeOff. The mere mention of these programs is proof with little doubt that News Corp and 21st Century Fox have U.K. market dominance as well as political influence through ownership. This is by far too much concentration of media power and should in IMHO be referred straight to the competition regulators.
The Challengers
Competition is a margin thinner and despite Sky's continued dominance British Telecom has been mounting a serious challenge across the four services including the sports. Sky investors had better take note. Sky has traditionally stayed ahead of the competition from the likes of Virgin media and others providers by offering a better sports package. BT group has re-oriented itself from a landline communications force into a serious quad market player with sports, broadband and more importantly through the purchase of EE offering the largest 4G mobile service in the U.K. Given the growth of mobile this should be alarming for Sky as they have little in a mobile offering on the scale of EE. In this sense BT is differentiating itself while building a brand that will offer cross selling opportunities from Broadband into mobile, landline and pay TV.
As mentioned earlier the sports package has been a key winning option for Sky over the years as it commands 70% of the pay sports revenue market with the English Premier league and the European champion's league being the main battleground. BT has an exclusive £900mm Champions league deal but sponsors have claimed this gives little exposure in comparison to the Sky option with the larger audience. UEFA (Union of European Football Associations) are so far eyeing a 1.2bn 3yr Champions League deal which is 30% more and likely to start a bidding war betweeb BT and SKY. BT needs to keep the rights, but I feel Sky are lining up to pay even more and the might of Fox might just be the answer. But not so fast...that deal seems doomed!
In the U.K. Sky dominates the premier league as a global brand with 142 live games while BT airs 42 games. At the last auction Sky paid £4.2bn while rival BT paid £960m for a deal to 2019. Sky paid 83% vs BT's 18% more than the last round three years ago. Below is a graphic charting the rising costs of the English Premier League Brand as reported by the BBC.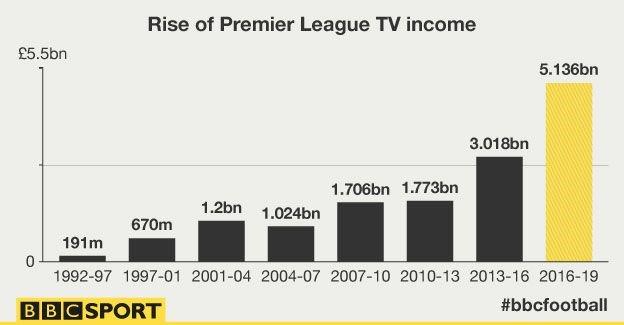 Source: BBC Sport
Discovery Channel Saga
Sky's spending is starting to show in disputes with carriage channel deals as with discovery channel. There is a question over who can sustain the continued jumps in sport rights. The fans and TV audiences ultimately bear the brunt of the competitive auction process through subscription fees or paying for content. U.S. based Discovery Channel which owns Eurosport made an extraordinary public threat to blackout its programming from Sky accusing them of "unfair pricing" after months of negotiations. Susanna Dinnage, Discovery's managing director in the U.K. said
We believe Sky is using what we consider to be its dominant market position to further its own commercial interest over viewers and independent broadcasters. The vitality of independent broadcasters like Discovery and plurality in TV is under threat.
These words will not go unnoticed down at OFCOM!
I don't really blame Sky for a hard bargain, I kinda like it! To me this has all the hallmarks of a desperate attempt at trimming the ever rising costs. This is not a bad thing by the way! But, I feel Sky must be desperate to reduce or renegotiate channel carriage deals, while absorbing the large record breaking increased cost (83% in one case) of sports rights auctions. Back on the Discovery saga a Sky spokesman added that
We have been overpaying Discovery for years and are not going to anymore. We will now move to redeploy the same amount of money into content we know our customers value.
In other words …resources into sports. The debate took to Twitter trending under the hashtag #KeepDiscovery. The very public response from subscribers (including yours truly who loves Eurosport's cycling coverage) threatening to cancel or slash their subscriptions or even switch to BT probably forced Sky management to reconsider.
Financials
The key metrics are stable for both Sky and BT. However rising sports rights costs also mean a higher price point. Sky's one-time costs for the Premier league rights can be stripped from the results which still show a roughly ~2% increase in total costs. Growth is planned for the German/Austrian market, but as ever this will be challenging given local competition and costs. However there is a positive story in Italy with growth in the ~10% year to Dec 2016 and profits more than doubled year to the end of 2016. Media reports suggest Fox has plans to part-finance the acquisition from cash on Sky's balance sheet. I don't believe this is as it would bring the Baa2/BBB rating closer to a cut, so it would be in Fox best interests to mitigate this risk by guarantees or any other available structural enhancements.
BT on the other hand has been dealing with accounting and governance issues in Italy costing the group almost £530m. Despite a profit and share price plunge as a result I don't think the scandal is likely to cause BT long term damage in its plans to challenge Sky, in fact I believe it's a buying opportunity at around 300/320p. The rest of the group's business which accounts for 90% of profits is in good working order therefore I am not particularly worried about Moody's downgrading their outlook to negative last month.
For the full set of reported results use the links.
Below Sky Results to 31 Dec 2016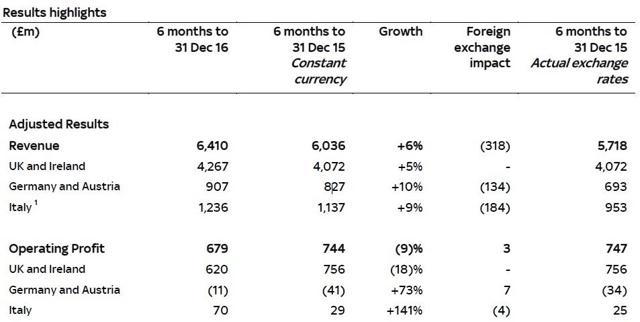 Source: Sky Corporate Investor relations
Sky's Regional costs - Calculated as Revenu - Oper Profit
6m to 31 Dec 2016(prev)
U.K. and Ireland £3647m (£3328m)
Germany/Austria £918m (£868m)
Italy £1166m (£1108m)
Total £5731m (£5304m)
Sky is cash rich with just over £2.137bn (including a 1bn undrawn facility) and this probably explains its rating at the Baa2/BBB level with total debt approaching the £8.932bn mark.
FT Market Data BT Tear Sheets As of 31 Dec 2016
FT Market Data SKY Tear Sheets As of 31 Dec 2016
As 31 Dec 2016

Company

BT Group

Sky Plc

Rating

Baa1/BBB+ (-ve)

Baa2/BBB(Stable)

BT better rated

Share Price

315.85p

995p

BT Cheaper

Total Shares Outstanding

9.968bn

1.72bn

BT much more diverse ownership

Market Cap

~30bn

~16bn

Enterprise Value

~43bn

~18bn

Cash & Short Term Invst

8.633bn

5.377bn

Short Term liquidity

Total Revenue

17.954bn

12.657bn

BT has higher revenues

Operating Expenses

15.584bn

11.743bn

BT ~32% higher expenses for x2 the Operating income

Operating Income

2.370bn

914mn

Depreciation

2.619bn

347mn

EBITDA

0

1.261bn

BT has 3.88x the Sky EBITDA

Profit

1.528bn

628

Total Debt

13.671bn

9.276bn

Net debt

5.038bn

3.899bn

Current ratio

0.7284

1

Debt/Equity

1.92x

2.59x
Source: FT Market Data
Whats the trade?
Putting a heavy short on Sky is definitely NOT what I am suggesting or thinking! Although I see a potential fall from its current post Fox bid price of near £10. A long BT over Sky or a CFD spread is probably the best play strategy. My call is that the deal gets rejected and Sky's share price drops back down below 800p or lower. So a CFD spread BT/SKY or at the market Sky put if you hold the stock should do the trick. The main point is that there is downside coming for this stock!
Looking at consensus from FT data we can see that a number of analysts have a heavier Sky Fall in the next 12months although only 2 of 18 have a sell rating
Source: Financial Times London - SKY Consensus Analyst Forecast

Source: Financial Times London - BT Group Consensus Analyst Forecast
Negatives:
Risk on the transaction execution based on competition and or public interest law in the U.K.
Risk that the capital structure changes on acquisition are negative for Sky debt and a potential rating move by the agencies. Media reports indicate Fox might use Sky cash in the acquisition process. Nae good!
Ever rising sports rights costs
Positives:
21st Century FOX credit support post acquisition(if successful)
Part of a larger group and diversified cash flows instead of a mono cash stream (if successful)
Fox has a history of prudent financial policies post acquisition
Sky venturing into long term growth markets in Italy, Germany and Austria
Conclusion:
The rationale for the acquisition is of course to build an integrated media giant by owning large distribution channels or platforms to sell content. This all makes sense for 21st Century Fox on the one hand, but the transaction itself has minimal synergies at best, not exactly a cost saving exercise and in fact change of ownership will probably spur on the continued growth of sports rights costs which ultimately have to be passed on to the consumer. I will stop short of proclaiming this to be about a media mogul wanting more political power and influence….Hint, Hint!
Disclosure: I/we have no positions in any stocks mentioned, and no plans to initiate any positions within the next 72 hours.
I wrote this article myself, and it expresses my own opinions. I am not receiving compensation for it (other than from Seeking Alpha). I have no business relationship with any company whose stock is mentioned in this article.
Editor's Note: This article discusses one or more securities that do not trade on a major U.S. exchange. Please be aware of the risks associated with these stocks.