On 22th February 2017, Bayer (OTCPK:BAYZF, OTCPK:BAYRY) reported in-line Q4/2016 results and a guidance for 2017, which suggests consensus expectations were right.
The stock closed down 1% in Europe but mainly on profit taking after the strong performance since the start of this year.
In this article, I will analyze how Bayer's Q4/2016 results and 2017 guidance compare with consensus expectations and what have been the main takeaways from the conference call, to analyze if there has been any encouraging improvements related to the key issues I pointed in my original investment thesis about Bayer
Q4/2016 results
Bayer reported Q4/2016 sales of €11.8B, 1% above consensus expectation, EBITDA of €2.18B, 5% above consensus, while EPS of €1.19 were 3% lower than consensus, mainly for higher than expected financial interests related to financing for the acquisition of Monsanto (NYSE:MON). FY 16 guidance has been achieved, as expected.
2017 Guidance
2017 guidance is in-line with street expectations.
Bayer guided for low to mid single digit growth of sales in 2017 at constant currency rates. Taking into account a likely 1% forex tailwind, I estimate sales of about €49.1B in 2017, approximately in-line with Bloomberg consensus.
In terms of EBITDA, the company guided for a mid-single digit growth in 2017 at current currency rates, thus I estimate EBITDA to be about €11.8B, 1.5% above Bloomberg consensus.
Lastly, in terms of EPS, the company guided for a mid-single digit growth in 2017 at current currency rates, thus I estimate Core EPS to be about €7.70, approximately in-line with Bloomberg consensus.
Main takeaways from the conference call
Thus, it's clear that 2017 will be a "year of transition" for Bayer, with further investments behind the key growth drivers in anticipation of the closing of the acquisition of Monsanto.
Bayer announced strong results for Xarelto in 2016, reporting FY 2016 sales of around €2.9B, or 30% YoY growth. In addition to that, Bayer has recently announced that a Phase III study (COMPASS) of Xarelto in patients with coronary artery disease (NYSEARCA:CAD) or peripheral artery disease (PAD) has been stopped ahead of time for overwhelming efficacy. Thus, the management was really optimistic about the ability of Xarelto to reach its guidance of above €5B of peak sales.
About Kogenate, in my previous article, I said:
"Kogenate could face competition by ACE910 in 2018. Roche has recently reported positive headlines from a PIII trial of ACE910 in Haemophilia A (inhibitor segment) and they will report a second PIII trial in the non-inhibitor segment before the end of 2017. This is the area where Kogenate maintains a leading position, but if ACE910 will confirm the promising results showed in the PI trial, with very strong efficacy but also a more convenient dosing regimen, I think Bayer could lose at least half of its franchise or around €0.5B of sales in 2018".
Actually, Q4/2016 for Kogenate has been disappointing. Q4/2016 sales were flat YoY and the company guided for no growth in 2017 for the haemophilia franchise, but I believe the worst isn't behind this franchise and it's reasonable to expect more pressure and erosion in 2018 and 2019.
"I would say with Kogenate and Kovaltry, the growth of Kogenate family with Kovaltry is expected to be compensated by declining orders from CSL in expectation of the expiration of our supply agreement for Helixate with CSL by the end of 2017. So, that is the explanation relative to our outlook at a going forward level for this year."
Source: Bayer's conference call for FY 2016 results
Bayer's management is still confident that the acquisition of Monsanto will close before the end of 2017, but they haven't announced any significant news to further reassure investors about the timeline and the regulatory approval pathway.
Bayer seems more confident about the Crop Science cycle, talking pointing towards a slow recovery after that the crop cycle trough has passed. This is a very important point for the investment case, but I will prefer to wait for more tangible signsof improvement to become more confident about that.
"To give you our perspective looking into our crystal ball at least, I think it's important to highlight always with the Ag. cycle that this is really a supply-driven cycle and demand is increasing relatively constantly due to population increase, dietary changes, climate change, various mega trend. And where the cyclicality comes in is whenever there are supply peaks or troughs. And what we basically had in the last few years is an oversupply due to bumper harvest. And right now, going forward, there are, I would say, early indicators that the trough has been reached and that there is hope for a slow return to growth.

Those early indicators, the ones that we look at, just to give you a perspective on that, are the key stock-to-use ratios. So, stock-to-use ratios of corn, soy, wheat. And for the first time in a few years, these have stopped increasing, and they've now stabilized with the exception of wheat, but corn and soy have clearly stabilized.

A second key indicator for us is also, of course, the future commodity prices. And looking at where we are today and the future commodity prices going forward on the CBOT and they are trending upwards for corn and maintained staying above $10 a bushel for soy, which is a price where farmers can have a good profitability. So, also here, they're at least stable, if not trending upward.

And a third early indicator for us is the area of Seed Growth. So, this is a portfolio that we have for protecting seeds against insects and against disease. And this is an area where farmers will only make the investment in protecting their seed if they're pretty confident that they're going to get a return on that investment."
Source: Bayer's conference call for FY 2016 results
The performance of the Consumer Healthcare division in 2016 has been really disappointing. 2016 EBITDA before special items were €1.4B, down 3% YoY, showing that Bayer has been unable to extract the synergies announced for the acquisition of the Merck (NYSE:MRK)'s OTC division. In addition to that, management talked about 2017 as a consolidation year in their CHC division, suggesting limited margin improvement next year.
"When you look at 2017, this is very much a consolidation year for us. We continue to invest behind brands like Coppertone and Dr. Scholl's, which you've asked more specifically about. You know that it does take about three to five years to really build these brands. We're already starting to see some early signs on Coppertone and some of the new products that we've introduced for this season. And on Dr. Scholl's, the high competitor activity that took the category into grooming is now being reset and restated into mobility and health, and that should start showing some improvements, but probably in the back end of this year."
Source: Bayer's conference call for FY 2016 results
Conclusion
The key investor takeaway is that the corporate signals has been mixed, with some positive message about the Crop Science cycle, but also a disappointing performance in the Consumer Healthcare Division. With the stock still trading approximately in line with 5 years average historical P/E, I will wait for some tangible signs of improvement related to the Crop Science and the Consumer Healthcare division, hoping for an entry point at around 90€.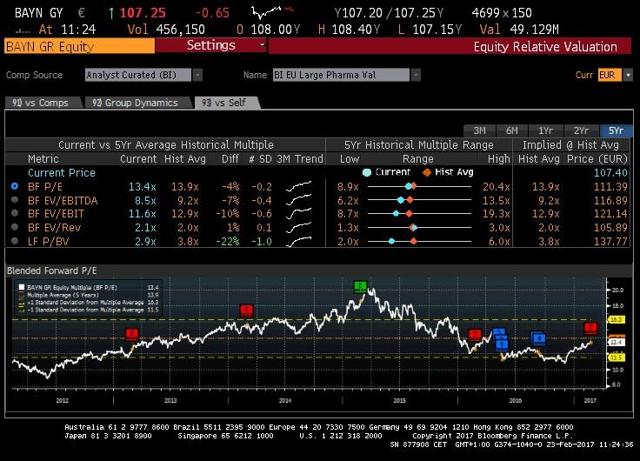 Bayer's Current vs. 5 years average P/E (absolute analysis). Source: Bloomberg.
Disclosure: I/we have no positions in any stocks mentioned, and no plans to initiate any positions within the next 72 hours.
I wrote this article myself, and it expresses my own opinions. I am not receiving compensation for it (other than from Seeking Alpha). I have no business relationship with any company whose stock is mentioned in this article.
Additional disclosure: Not investment advice.
Editor's Note: This article discusses one or more securities that do not trade on a major U.S. exchange. Please be aware of the risks associated with these stocks.