Long term sentiment in crude oil (NYSEARCA:USO) remains at optimistic levels but the commodity has remained well over $50 a barrel for the best part of 3 months now. Crude oil now seems to be 15 weeks into its present intermediate cycle and with sentiment remaining this high, an intermediate decline should be on the cards any week now. Tight oil's fundamentals in my opinion are going to keep a lid on crude oil prices going forward. In fact, the big majors such as Chevron Corporation(NYSE:CVX) and Exxon Mobil Corporation(NYSE:XOM) are now very much focusing on shale plays after decades of investment in other area such as off shore, etc.
More and more oil and gas shale discoveries are both taking place in the US and internationally and many drillers can be profitable with crude oil at its present price. Furthermore fracking technology is only going to improve over time which is going to ultimately boost productivity by lowering the company's net cost per barrel. We continue to favor crude from the short side here but will wait for a signal before entering into a trade.
I believe the main question in crude oil at present is whether the low last November was a daily cycle low or an intermediate cycle low. If the low was an intermediate cycle low (which it probably was considering how oversold crude oil got to), then the last intermediate cycle was an extremely short cycle which should mean the present cycle definitely has the potential to stretch quite a bit. Therefore if we draw an intermediate trend line between the two last intermediate lows both in November and in August, we can see that the trend line is extremely shallow which usually means that price will have to come back down towards these levels in the not-too-distant future. Now energy bulls could argue that crude oil at present is in the process of forming a multi-month bottom but if you monitor technicals such as the weekly stochastics (which are still heavily overbought), I think the play at the moment remains to the downside.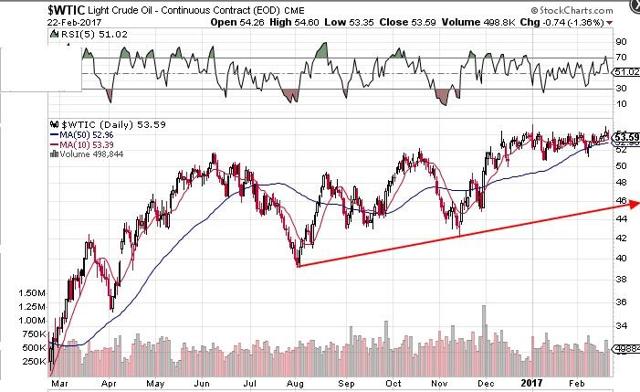 From a daily cycle perspective, it appears that crude printed a daily cycle low in early January and also may have printed a 1/2 cycle low (which is basically just a dip down in the middle of a daily cycle) on the 8th of February. However again the trend line remains extremely shallow which doesn't look encouraging for upside potential.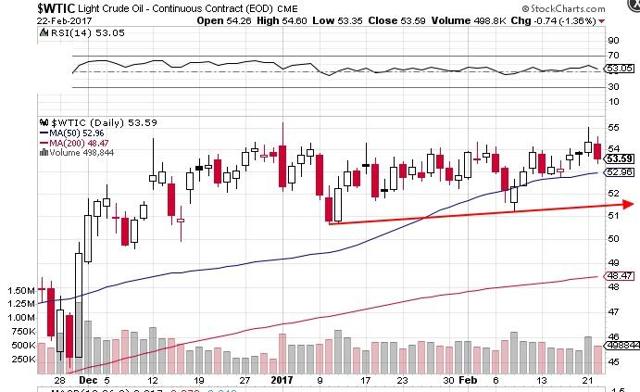 The divergence of energy stocks (Energy Select Sector SPDR) (ETF)(NYSEARCA:XLE) to crude oil is also a worry considering equities (NYSE:SPX) continues to trade at all time high levels. In fact, because of the strong uptrend in US equities over the past few years, energy stocks are only down around 23% compared to their 2014 highs (pre-oil price meltdown) but crude oil remains being down 45%+. However recently energy stocks have decoupled from the stock market rally (see below) with the above mentioned ETF also having lost its 200 day moving average. Therefore the risk in energy here has to be to the downside but I would wait for a confirmation signal beforehand.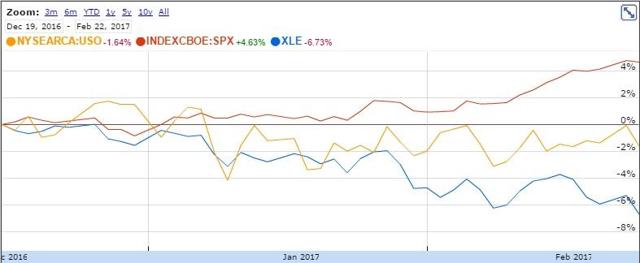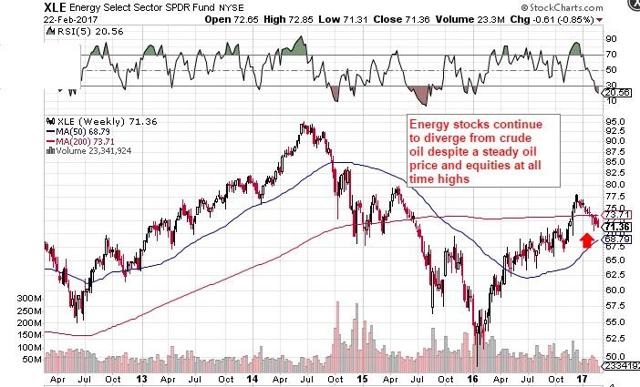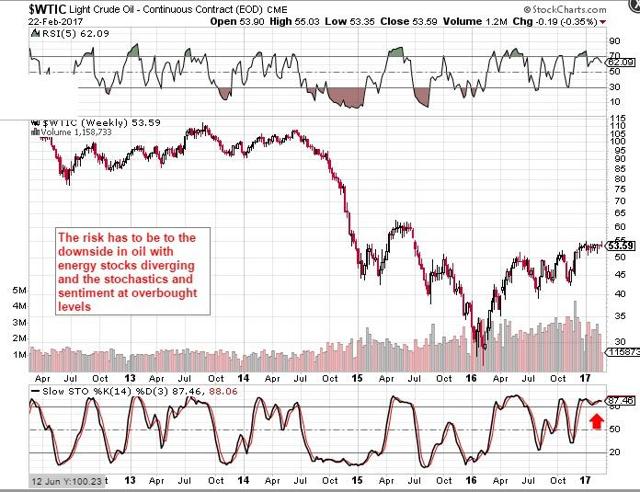 In summary, the divergence of energy stocks from both crude oil and equities could be stating that a steep downturn in oil is on the cards. The energy ETF is down over 6% since its December highs which may mean this sector may be leading the whole complex down into an intermediate cycle low. The breaking of crude oil's 50 day moving average of just under $53 along with the daily cycle trend line illustrated above will definitely take technical traders out of the picture especially after this long consolidation. Sentiment has to also come back meaningfully. There remains just too much optimism in this market at present.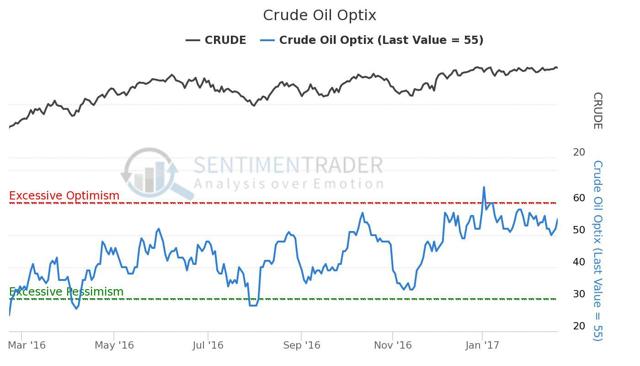 Source : Sentimentrader.com
Disclosure: I/we have no positions in any stocks mentioned, and no plans to initiate any positions within the next 72 hours.
I wrote this article myself, and it expresses my own opinions. I am not receiving compensation for it (other than from Seeking Alpha). I have no business relationship with any company whose stock is mentioned in this article.