Introduction
In a recent article, we outlined an indicator which seeks to compare the relative price levels of the SPDR Gold Shares ETF (NYSEARCA:GLD) vs. the Market Vector Gold Miner's ETF (NYSEARCA:GDX). The purpose of this indicator is to determine which ETF represents a better investment at any given time.
In this update, we clarify some finer points of the indicator and update the analysis.
Gold & GDX - Correlation & Leverage
It should come as no surprise that there is strong correlation between the price of gold and the value of gold mining companies. Over a two year time period, the calculated daily correlation between GLD and GDX is around 85%. Below, GDX is shown in black on the right side, with GLD in orange, on the left side.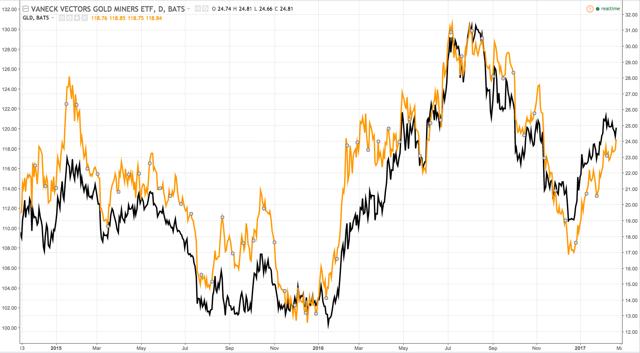 Source: TradingView
In addition, the calculated beta between GLD and GDX over this same time period is near 3.0. To obtain the "beta," we took the daily price series in the Excel formula: COVAR(GLD,GDX)/VAR(GLD). The figure of 3.0 means that for every +1% move in GLD over a given time period, GDX has tended to move +3%. As a result, we postulate that a $3,000 investment in GLD roughly has the same "gold exposure" as a $1,000 investment in GDX.
The 3X leverage in GDX relative to GLD makes intuitive sense when one considers the price of gold and the variable costs of gold production. One might also contend that the price leverage between GDX and GLD will increase when the price of gold is near its aggregate average costs of production. These are complex and fine points worthy of more discussion. Our indicator takes these factors into account.
GLD and GDX Retracements
Our indicator finds a solid analogy in the relative comparison between the Fibonacci retracements of GLD and GDX. Specifically, if there is divergence between the retracements of GLD and GDX, then the indicator will also tend to indicate a preference for one ETF over the other.
As you can see in the following two charts, GDX has retraced higher than GLD since the late 2016 lows and is sitting above the 61.8% retracement, while GLD has yet to break through the same retracement level.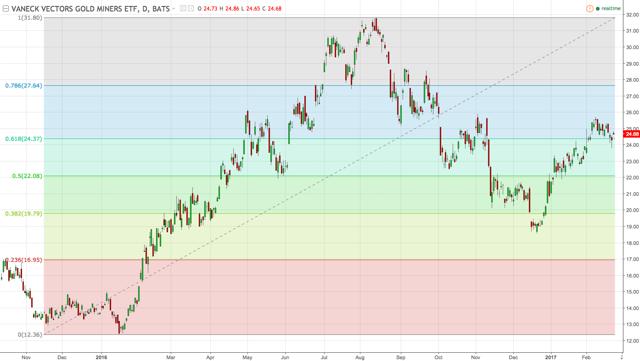 Source: TradingView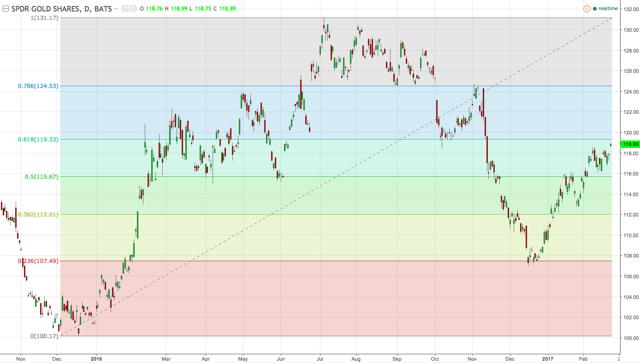 Source: TradingView
GLD:GDX Indicator
Since the indicator formulas and calculations are proprietary to Viking Analytics, we did not include values or formulas in the presentation of it below. This indicator assumes that the relative values of GLD and GDX will tend to revert to a mean on a relative, covariance-weighted basis.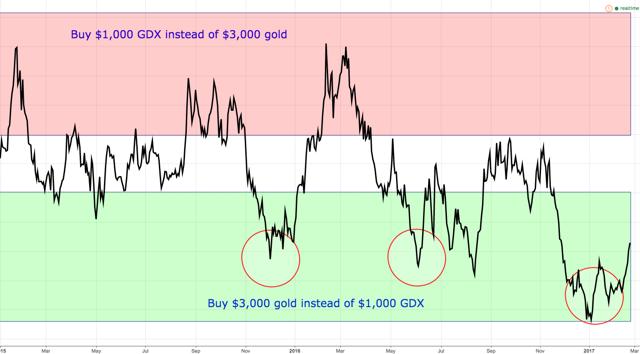 Source: Tradingview and Viking Analytics calculations
As GDX retraced to higher Fibonacci levels in early 2017, the indicator flashed a strong preference for GLD over GDX. We are still in the range where we believe that a $3,000 investment in GLD will provide higher cash returns than a $1,000 in GDX. On the other hand, in March of 2016, it would have been preferable to purchase $1,000 in GDX rather than $3,000 in GLD.
In both cases, our thesis is that one can obtain the same "gold exposure" with less risk, as the relative price levels of GLD and GDX revert to mean.
Obviously, there are no guarantees in these volatile markets. Best of luck to all in your investing, and thanks for any feedback below.
Disclosure: I am/we are long PHYS, PSLV.
I wrote this article myself, and it expresses my own opinions. I am not receiving compensation for it (other than from Seeking Alpha). I have no business relationship with any company whose stock is mentioned in this article.