Reliv International (NASDAQ:RELV), a multi-level marketer of supplements, is facing a lot of hurdles. Between dwindling sales and a controversial and potentially unsustainable business model, Reliv is going to have a hard time turning things around.
While the company is touting the recent patenting of an existing heart-health supplement, this is not a slam dunk: The product in question has been around since 2005, but the press release gives the impression this is a new product. This patent announcement has caused a sharp run-up in share price.
Looking beyond this press release, one can find value in Reliv shares. The stock is still trading at a healthy discount to the net value of the company's assets. While this discount (~40%) is large, it does not fully compensate for the risks inherent in the company long term.
Company Overview
Founded in 1988 by CEO Robert Montgomery, Reliv International is a multi-level marketer of nutritional supplements. Most of these products are fitness or diet-related, but the company also sells a caffeine free "energy shot" product called 24K.
This month (February 2017), Reliv announced they received a patent for an existing product: CardioSentials (a heart health supplement).
News of this patent caused Reliv's share price to soar from the $4.50 range to the $7.25-$7.50 range, before falling back down to between $6.00 and $6.50 a share.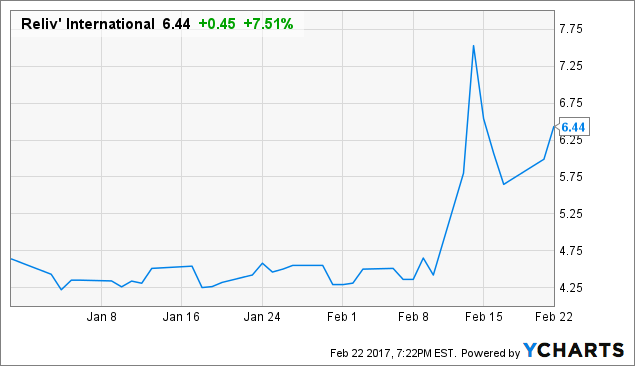 Long-Term Sales Decline
Sales at Reliv have fallen from $68.7 million in 2012 to just $47.17 million for the trailing twelve months.

(Source: 10-K filings; chart by the author)
From the last 10-Q filing (period ending 9/30/16), revenues fell another 11.5% YOY.
International sales only make up 22% of annual sales. The company has distributors in Mexico, Europe, Southeast Asia, and Australia.
Compared to the same period in 2015, US sales are down 11.8%, and International Sales are down 11%.

(Source: 10-Q filing)
Most of the international sales declines were due to currency fluctuations as a whole, adjusted for currency fluctuations, International sales in the aggregate were down 3.8%.
As of the current quarter, Reliv has 5,320 master affiliates and 40,450 active distributors/preferred customers. This is down 9.7% from 2015.

(Source: 10-Q filing)
Another discouraging trend is the decline in distributor retention. Distributor retention (percentage of active distributors from the prior year that have renewed their enrollment) is down to 67.1% for the trailing twelve months, compared with 71.1% for 2015.
Despite Declines, Company Operating At Break-even
Despite the long-term decline in sales, Reliv has been able to scale down their cost structure to reflect the volume decline. In the most recent quarter, (despite sales declines of 11.55%), the company was able to reduce product manufacturing costs by 14.9% and SG&A expenses by 16.3%. This resulted in a break-even $33,000 operating profit for the quarter (0.2% operating margin).
TTM EBITDA for Reliv has been a negative -$0.04m, essentially break-even.
Valuation
In the following valuation model, I assumed that a turnaround was not in the cards, and that a liquidation of the company would be the best means to salvage value out of the company. The following is a breakdown of the company's assets and liabilities.
Current Assets
As per the latest 10-Q filing, Reliv has total current assets of $8.678m:
| | |
| --- | --- |
| Cash/Cash Equivalents | $3,170,008.00 |
| Accounts Receivable (Including Accounts/Notes Due from Distributors) | $146,233.00 |
| Inventories (minus $146,523 for "Sales Aids/Promotional Materials") | $4,074,858.00 |
| Refundable Income Taxes | $524,329.00 |
| Prepaid Expenses | $616,556.00 |
| Total Current Assets | $8,531,984.00 |
Non-Current Assets
Included in my valuation are the following non-current assets: The Executive Retirement Plan, the cash surrender value of a life insurance policy on CEO Robert Montgomery, a note receivable due from a distributor, and the company's 126,000 square foot manufacturing and headquarters facility in Chesterfield, MO.
The company's equipment (machinery, office equipment, computers) is not calculated in this valuation. Intangible assets of $2.45 million are also not included (consisting of contracts with independent distributors, as well as a license Reliv purchased to use a nutritional ingredient).
Executive Retirement Plan
The Executive Retirement Plan currently has assets of $273,554. This plan is included in the valuation, as the retirement plan liabilities will be deducted from this amount.
Life Insurance Policy
The current cash surrender value of the life insurance policy on Mr. Montgomery is $2,906,719.
Note Receivable
The note receivable is carried on the books at $1,576,402. The fair value of the note is assessed at $1,932,000, but to be conservative, we will use the carrying value.
Real Estate
Reliv's 126,000 square foot facility in Chesterfield, MO is carried on the books at $9,950,000. The land it sits upon is assessed for $905,190, giving us a total of $10,855,190. Looking at industrial properties for sale on Loopnet, similar properties for sale are priced at between $110 and $145 a square foot. At $110 a square foot, the Chesterfield facility is worth ~$13.86 million.
| | |
| --- | --- |
| Executive Retirement Plan Assets | $273,554.00 |
| Cash Surrender Value of Policy | $2,906,719.00 |
| Note Receivable | $1,576,402.00 |
| Real Estate | $13,860,000.00 |
| Total Non-Current Assets | $18,616,675.00 |
Liabilities
The company has a total of $8,378,537 in liabilities, broken down as follows:
| | |
| --- | --- |
| Current Liabilities (Accounts Payable, Current Maturity of LT Debt) | $4,719,257.00 |
| Long Term Debt | $3,159,575.00 |
| Other Non-current Liabilities (Including Deferred Income Taxes) | $499,705.00 |
| Total Liabilities | $8,378,537.00 |
Net Value of Company
| | |
| --- | --- |
| Total Value of Assets | $27,148,659.00 |
| Minus Total Liabilities | $(8,378,537.00) |
| Net Value of Company | $18,770,122.00 |
| Net Value Per Share (1.85m Shares Outstanding) | $10.15 |
Even with the recent run up in price, Reliv is trading at a ~40% discount to liquidation value, with minimal debt and fairly salable assets.
While a liquidation would be satisfying to shareholders who have just entered the stock, existing shareholders (including CEO Robert Montgomery, who owns 27.5%) would not be so keen. With the founder/CEO holding minority control, it is unlikely a liquidation will occur.
Catalysts
While the recent patent announcement has propelled Reliv shares, long term the company needs a stronger catalyst (successful turnaround, strategic alternatives) in order to really move the needle.
Turnaround
Reliv does not hold earnings conference calls, making it difficult to get a full picture of their turnaround plans. There are some statements from Mr. Montgomery in the earnings press releases. These statements focus on the cost-reduction plan, as well as the release of a new product line (Fit3).
While the parent announcement, as well as the new product line, are a good sign that management is trying to regain momentum, secular declines in sales, distributorships, and distributor retention provide little confidence that sales will rebound.
If a sales rebound did occur, Reliv's operating leverage would create a large boon to the bottom line: In 2016, Seeking Alpha contributor Brady Ritchey wrote about Reliv, meeting with Reliv's CFO Steve Albright, and taking a tour of the Chesterfield, MO facility.
On his tour, Mr. Ritchey learned that the facility only operates 15-16 days out of the month, and that the company could double or triple its sales volume without additional capital investments.
Mr. Ritchey came to the conclusion that the MLM distributorship model is on the decline, and that a more lucrative strategy would be to eliminate the distributors and sell their line of products directly to the consumer.
I agree with his analysis: There are other sales channels besides multilevel marketing. Online marketing is the future, and by selling directly to the consumer, the company can improve margins and eliminate the overhead that a MLM requires.
Strategic Alternatives
An acquisition of the company by a third party seems unlikely given the industry is not known for M&A activity. I can see a private equity firm doing a roll-up of MLM supplement companies (perhaps combining Reliv, Mannatech (NASDAQ:MTEX), and USANA (NYSE:USNA) to form a formidable competitor to Herbalife (NYSE:HLF)), but the controversy surrounding the industry may discourage financial buyers from pursuing this idea.
Risks
While the company has succeeded at reducing costs as sales go down, eventually, there will be no more fat to cut. Once this occurs, the company will begin hemorrhaging money, becoming a melting ice cube.
The recent patent announcement and product relaunch may not lead to a rebound in sales. CardioSentials has been out for over 10 years. While a patent is valuable, it will likely not be a silver bullet.
Pursuing some of the alternatives discussed in this article (such as dumping the MLM model and selling directly to the consumer) would be a smart move. However, heavy investment will be required to cancel the existing distributors and begin direct advertising, and there is no guarantee this will lead to a material change in net sales.
Bottom Line
While the patent announcement has brought attention to the stock, long term it is unlikely that Reliv will be able to grow sales again. With the founder/CEO at the helm, the company will likely not pursue a bold transformation such as moving from an MLM to a B2C model. They will likely continue to reduce costs while at the same time attempt to recapture sales through new product lines.
A sale is not on the cards, given the minimal M&A activity in the space. Even after the recent price spike, the company is still trading at a decent discount to liquidation value, but there is no indication of any sort of liquidation or return of capital to shareholders will occur in the foreseeable future.
The recent run-up in share price should dissipate (as similar price spikes in Reliv have done in the past year). In the $4.50-$5.00 price range, the discount to liquidation value will compensate for the risks while at the same time giving enough upside (price north of $10) if a turnaround does succeed.
Disclosure: I/we have no positions in any stocks mentioned, and no plans to initiate any positions within the next 72 hours.
I wrote this article myself, and it expresses my own opinions. I am not receiving compensation for it (other than from Seeking Alpha). I have no business relationship with any company whose stock is mentioned in this article.
Editor's Note: This article covers one or more stocks trading at less than $1 per share and/or with less than a $100 million market cap. Please be aware of the risks associated with these stocks.