SINA Corp (NASDAQ:SINA) is an Internet online media company operating a bunch of attractive Chinese websites targeting Chinese users spread throughout the world. It was founded in the late 90's amidst the North American internet revolution by a Chinese - Wang Zhidong - and went public through a NASDAQ listing in 2000.
Since its inception, SINA spread quickly throughout the world and quickly grew to overcome its competitors - namely Sohu.com (NASDAQ:SOHU) - and become the go-to place to access reliable Chinese news online.
Today, SINA is comprised mainly by three businesses, all of which have become huge success stories by themselves:
Sina.com - the legacy business - which is a website that offers targeted professional content on each of its region-specific websites.
Sina.cn - a mobile portal - which provides information and entertainment content customized for mobile users, such as SINA News, SINA Sports, SINA Finance, SINA Entertainment, SINA Blog, among others.
Weibo - a social networking platform - which enable people to create, distribute and discover Chinese-language content.
While SINA owns 100% of the first 2 businesses, it decided to IPO Weibo (NASDAQ:WB) in 2014 in order to capitalize on the wave of other Chinese internet heavyweights going - or preparing to go - public like Alibaba (NYSE:BABA), China's largest e-commerce company (which at the time owned a 18 percent stake in Weibo), or online retailer JD.com (NASDAQ:JD). Additionally, the IPO came at a time when Chinese microblogs were enjoying explosive growth from people looking for first-hand sources of information in a country where information is heavily regulated.
Now, every time we see a public company owning part of another public company - specially when this was caused by the parent retaining a percentage on a spinoff - we like to dig a little bit deeper to see if both valuations - the parent and the spinoff - make sense. And sure enough, valuations in these cases sometimes don't make sense at all - at least at some point in time - and opportunities like the one we are about to present appear.
So, what is the opportunity?
Let's put it this way: if company A owns 50% of company B which is a public company valued at $2B (and that valuation is fair), then company A should be worth around $1B plus whatever the rest of the company is worth, right?
Wrong. At least according to the collective wisdom of the public capital markets.
Weibo - which can be thought of as the Chinese equivalent to Twitter (NYSE:TWTR) with some Facebook (NASDAQ:FB)-like characteristics - is an extremely popular venture owning more than half of China's microblogging market with roughly 500 million users and 20 million additional users per month, with at least half of those being active on a monthly basis. These users can be divided into two categories - opinion makers and hungry heard. For every opinion maker - a big part of which are celebrities and new-found internet celebrities, Weibo provides an ecosystem of tens of thousands of hungry heard members willing to buy whatever product they advertise.
Nice, but how much is it worth?
GroupM forecasts digital ad spending in China will grow 30% in 2016 (final numbers are not yet known) and this figure should at least have doubled by 2020. This is consistent with forecasts by eMarketer. Additionally, marketing spending is increasingly moving from traditional to digital, of every new ad dollar in 2016, digital accounting for 72 cents, and television for 21 cents. This is forecasted to move to 77 cents and 17 cents respectively in 2017, highlighting the ever increasing influence of digital advertising.
Being a company that derives its revenue from digital marketing, it is poised to capture at least some of this growth.
According to their 2016 financial results released 22 February:
Revenues: $656 M - 37% growth in 2016 (consistent with China's 30% ad spending industry growth discussed above)
Ad and marketing revenues: $571 M - 42% growth in 2016.
Adjusted EBITDA: $194 M - 126% growth in 2016
Net income: $108 M - 211% growth in 2016
So, the company is growing faster than its industry showing good execution on capturing a sizable share of the digital ad market.
EBITDA margin is 29.5% and net margin is 16.5%. And they are growing.
As discussed above, digital ad spending in China was expected do double from 2016 through 2020, implying a 19% CAGR in the next 4 years. Weibo is growing revenues by 7% to 12% higher than its industry, which means that it will probably be able to grow its revenues by at least 25% annually. If this is the case, revenue will be around $1.6 B by 2020.
Last year Microsoft (NASDAQ:MSFT) bought LinkedIn (LNKD) - with all its growth problems - for 7x sales. Today, Twitter is currently valued at 4.4x sales. Industry average sales multiple is 6.2x.
It is not far-fetched to think that Weibo - a company way more interesting than LinkedIn - may be valued at the upper band, commanding a multiple of 7x - 8x sales for a Market cap of $11.2 B to $12.8 B in 2020.
Discounting this valuation numbers back to 2017 using a 10% rate, Weibo's current market cap should be $8.4 B - $9.6 B.
And how much of this does SINA own? As per the most recent filling, SINA owns 49.9% of Weibo.
Bringing it all together, as we speak SINA is the proud owner of 49.9% of a company that is currently valued by the market at $12.35 B, which means the Weibo stake alone is valued by the market at $6.16 B. And how much does the same market value 100% of SINA? $5.64 B. Cool!
This does effectively mean that by owning SINA, the market thinks you should be getting paid to own Weibo! And you get a bunch of other stuff for free too. According to their 22 February filling, you also get:
$1.2 B in net cash
The portal business, a $379 M in sales company with a 52% gross margin.
An investment portfolio comprising ownership stakes in companies like Alibaba, Youku Tudou (NYSE:YOKU), Today's Headlines, Tiange, Leju (ex-E-House) which we value at around $1 B (down from book value of $1.4 B)
Even if we consider the market is overvaluing Weibo and ascribe it a more conservative valuation of $8.4 B - $9.6 B, SINA's stake in Weibo is still worth $ 4.2 B - $ 4.8 B (or 75% - 85% of the total value of SINA), which means that you only pay roughly $ 1 B to own the above mentioned basket of assets.
So, odds are that the market will realize that SINA is way undervalued and correct accordingly. But, what if it is Weibo that is way overvalued? By reducing its valuation, SINA's current valuation could be correct.
As a result, although a straight investment in SINA is a very good proposition, there is a better deal: By buying SINA and shorting Weibo, we create an "ex-Weibo" SINA stub, which comprises all the other assets.
To do this, we buy 1 share of SINA and short 1.54 shares of Weibo (SINA owns 108.9 M shares of Weibo and has 70.9 M).
In doing so, we are basically saying we see the spread between SINA and Weibo will go down to historical levels. The spread remained relatively constant until April 2016, after which it started to increase, as seen in the below graph.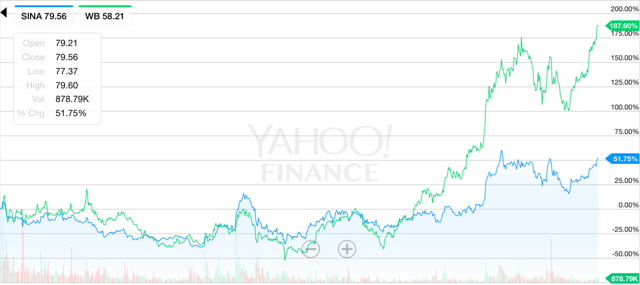 Of course the first conclusion is that the "Ex-Weibo" part of SINA may now be worth less than the rest, which is true to an extent as future prospects for the portal business are now slightly worse than 1y ago - although good execution has kept the business relatively steady. On the other hand, in March 2016 SINA's net cash position was actually slightly negative, having increased to $1.2 B as of today.
What truly happened in the meantime was that Weibo's market valuation shot through the roof while SINA's remained rational. This was mainly due to two factors: great execution by Weibo and M&A chatter involving Weibo and other companies in the space.
So, what can happen to close the gap and make me some money?
Time: as time passes by and the market understands that it can get paid to buy Weibo through SINA. Irrationality is bound to be finite.
Management: Management has been vocal about SINA's poor market valuation and has been hinting at ways to unlock the hidden value. They have done so in the last 2 earning calls and should address the matter in today's call as well.
M&A: Either through the acquisition of Weibo or the outright acquisition of SINA.
Good things happen when you are paid to own a company.
Disclosure: I/we have no positions in any stocks mentioned, but may initiate a long position in SINA over the next 72 hours.
I wrote this article myself, and it expresses my own opinions. I am not receiving compensation for it (other than from Seeking Alpha). I have no business relationship with any company whose stock is mentioned in this article.