GW Pharmaceuticals Plc (NASDAQ:GWPH) and Zynerba Pharmaceuticals (NASDAQ:ZYNE) are both developing cannabidiol-based pharmaceutical products for the treatment of orphan indication epileptic conditions. However, despite the similarity of these two firms, the market is treating them radically different in terms of valuation. We believe GWPH is overvalued and ZYNE is undervalued in comparison to the larger firm.
Today, at Matte's Micro-Cap Research, we will follow up our negative outlook for GW Pharmaceuticals Plc with a comparative analysis with Zynerba. If our last piece did not convince you of the problems with GWPH, this one should give further context to the thesis and present an alternative for investors who want to understand the other options in the space, specifically Zynerba Pharmaceuticals.
Executive Summary
1.) GW Pharmaceuticals has an unjustifiably large market cap when analyzed in a vacuum based on the amount of Epidiolex sales priced in on the average industry P/S ratio. When compared to the most comparable firm in the sector, Zynerba, GW's large size becomes even more disconcerting.
2.) The efficacy of CBD in the treatment of epileptic indications has already been demonstrated by both GW's Phase 3 for Epidolex and recreational/medical marijuana users in states where the drug is legal.
3.) Both firms are targeting orphan epileptic indications: Zynerba targets adult epilepsy while GW targets childhood epilepsy. They both use cannabidiol 'CBD,' a less psychoactive alternative to THC- the active ingredient in GW's failed drug Sativex.
4.) Because both GW's Epidolex and Zynerba's ZYN002 are targeting orphan indications, the majority of revenue will depend on pricing instead of sales volume. The revenue of both firms could be similar.
5.) Zynerba has near-term catalysts in the form of a ZYN002 Phase 2 victory expected in the first half of 2017. Zynerba may also benefit from an NDA approval of GW's drug Epidolex because of the shared active ingredient and similarity (without overlap) of the indications they are intended to treat.
6.) GW Pharmaceuticals stock is priced for perfection, and its most promising drug candidate is not even on the market yet. Almost $800 million in sales are already priced into GWPH based on an industry average P/S of 4.
Background Information
| | | | |
| --- | --- | --- | --- |
| Company | Market Cap | 'Priced in' Sales on 4x P/S metric | Primary Indication |
| GW Pharmaceuticals | $3.2 Billion | $800 Million | Childhood Epileptic Conditions |
| Zynerba Pharmaceuticals | $270 Million | $67 Million | Adult Epileptic Conditions |
| Insys Therapeutics | $900 Million | $225 Million (Current Revenue $275 Million) | Chemo-Induced Nausea and Anorexia. |
There are three major equities in the late-stage cannabidiol-based drug space: GW Pharmaceuticals, Zynerba Pharmaceuticals, and Insys Therapeutics (NASDAQ:INSY). Ignoring all other factors, we are assuming in light of an average pharmaceutical P/S of 4, current market cap can be used as a proxy for priced-in revenue for the firms.
This table is only an illustration of a concept and there are some limitations to the methodology - for example, growth.
When a company is young, its price to sales is naturally higher, and the metric will fall as the firm matures. The current P/S of GWPH is almost 250 on $14 million in Sativex revenue. This P/S can be expected to fall toward the industry mean as GWPH matures via Epidolex sales. The inevitable fall in P/S will correlate with increasing Epidolex sales, assuming the drug is approved.
P/S is market cap divided by revenue, so assuming it will eventually fall to the industry average (and it virtually always does), something has to give: Either market cap must decrease or sales must increase to around $800 million. (Analysts will determine this by revenue growth in Epidolex). If the revenue growth of Epidiolex does not justify GWPH's P/S ratio, the equity value may fall despite good performance in the drug.
GWPH is priced for perfection, so even if Epidiolex sales grow at a pace suggesting it will peak at, say, $500 million, the stock may fall because the market expects a much higher growth rate.
The second limitation of this illustration is other drugs because these firms have more than one asset.
In the case of Insys, the firm is disqualified from this analysis because it is not a pure marijuana play, and its current P/S (which according to this analysis prices in negative growth) is based on its non-CBD drug, Subsys, which is declining in revenue.
In the case of GW, some may note that the firm is more than just Epidiolex. However, Epidiolex peak sales predictions take into account the multiple indications being developed for the drug. And we believe the other pipeline drugs are too early in development to be seriously considered at this point - especially considering the fact that Zynerba's pipeline is much further along than all of GW's drugs except Epidiolex yet its P/S only 'prices in' sales of $67 million.
GW's Pipeline: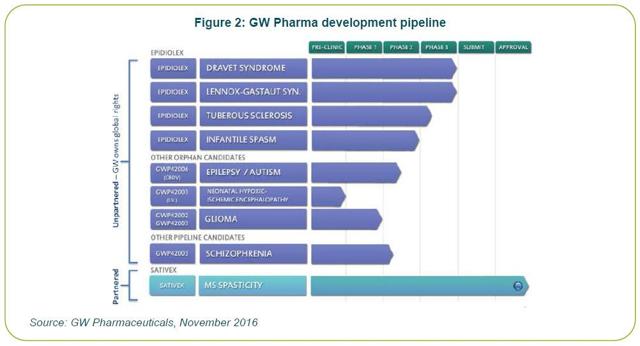 Zynerba's Pipeline: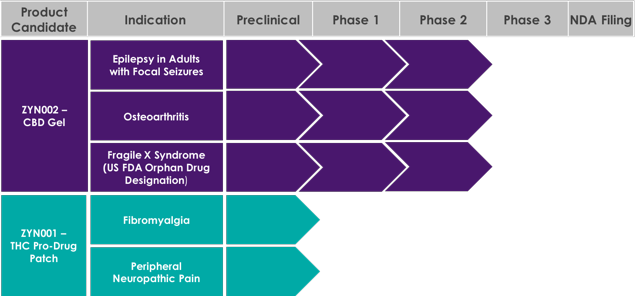 Insys Pipeline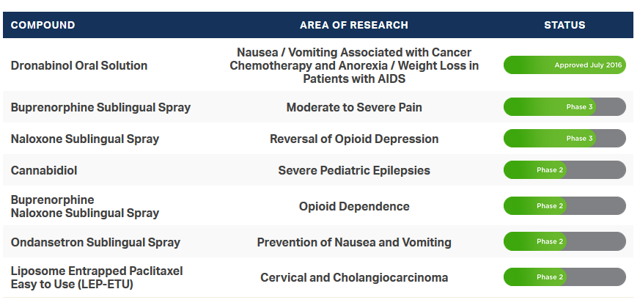 Despite the relative incomparability between Insys and GW Pharmaceuticals, there is an issue that must be noted. This issue further bolsters a thesis of overvaluation for GWPH.
Insys's Syndros (dronobinol oral solution) is also being developed for 'severe pediatric epilepsies' aka Dravet Syndrome and Lennox Gaustian Syndrome. These are the same indications GWPH's Epidolex are being indicated for, and this raises two problems with GWPH's current valuation:
1.) Why should GWPH's Pipeline be worth more than Insys's? A drug in the Insys pipeline is already FDA approved for another indication and is in Phase 2 for the exact same indications as GWPH's flagship Epidiolex.
2.) GWPH is likely to face stiff competition from Syndros. And Insys, as an established pharmaceutical firm, may be better able to promote its drug and gain market share from Epidolex when the two drugs compete.
GW Pharmaceuticals Compared to Zynerba
While a case can be made for Insys's undervaluation, the firm is not a pure marijuana play, and it faces numerous legal challenges due to its illegal marketing of Subsys - a fentanly-based painkiller - . So any comparative valuation should focus on ZYNE and GWPH. Zynerba, is also much smaller in market cap than Insys and doesn't come will all the legal risks.
Zynerba and GW Pharmaceuticals are extremely comparable firms because both of their flagship drugs plan to use cannabidiol to treat orphan indications of epilepsy, and the majority of revenue will come from pricing instead of sales volume.
According to Mellissa Davis, in her article " GW Pharmaceuticals: A Cannabis Stock That's Way Too High To Make Any Sense," GW Pharmaceuticals plans to price Epidolex at $40-50K a year. If we put $50 thousand into an assumed peak sales of $800 million, we arrive at $16 thousand annual prescriptions per year - a modest number for most drugs.
In contrast, Zynerba's smallest indication, Fragile X, affects over a million people in the U.S. And if the drug is successful, it is likely to be the first-line treatment for that indication. For epilepsy, where the two firms are most comparable, Zynerba treats adult refractory epilepsy affecting about 1/3 of all epileptics, while GW's drug is only indicated for the rare childhood Lennox Gaustian Syndrome and Dravet Syndromes and not indicated for adults.
The firm's financial conditions must also be taken into consideration. GW Pharmaceuticals has $440 million in cash, but while this cash pile is impressive, the GW through around $120 (TTM) million in cash per year - an unusually high number for the size of its pipeline. Zynerba, on the other hand, only has $30 million in cash, burning through $10-20 million per year. Zynerba's cash should be able to sustain the company until Phase 2 results come out for ZYN002 this year.
Zynerba is a smaller company, and it is earlier in the FDA process than GW Pharmaceuticals. Its market cap is also much lower than GW's restricting the effectiveness of equity raises. Because of these factors, Zynerba is technically a more risky stock due to the risk of FDA disappointment and cash concerns. However, in light of the factors brought up in this article, Zynerba seems to be a better bet because its risks may be overblown compared to GW Pharmaceuticals.
Let's Go Over Some Key Points:
1.) GW Pharmaceuticals has an unjustifiably large market cap when analyzed based on expected Epidiolex sales. When compared to the most comparable firm in the sector, Zynerba, GW's large size becomes even more disconcerting.
The market caps of these stocks are based primarily on the values of their lead candidates, Epidiolex and ZYN002. GW Pharmaceuticals has another drug, Sativex, but revenue contribution is a measly $14 million, and it is declining.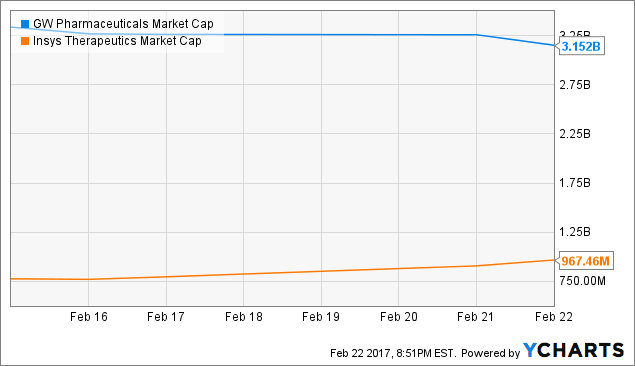 GWPH Market Cap data by YCharts
2.) The efficacy of CBD in the treatment of epileptic indications has already been demonstrated by both GW's Phase 3 for Epidiolex and recreational/medical marijuana users in states where the drug is legal. Epidiolex's results were phenomenal, and it is important to note that the drug is listed simply as 'CBD' and the metric in the following slide is seizures.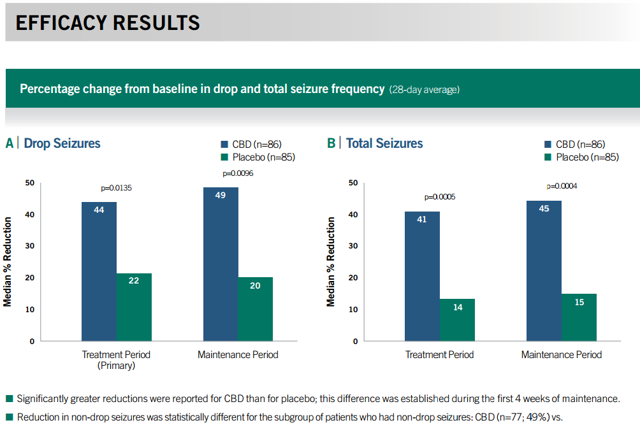 If GW's CBD drug reduces seizures in children, it is likely that Zynerba will have a similar result in adults. Both drugs are similar, but while Epidiolex is an oral solution, ZYN002 is a transdermal.
Conclusion
There are three major late-stage firms in the cannabidiol-based drug space: Insys, GW Pharmaceutical Plc, and Zynerba. While Insys has potential, its late stage drug, Syndros, is primarily indicated for an non-epileptic condition (childhood epilepsy is in Phase 2). And the company faces a host of legal challenges as well as declining sales of its Subsys that will dominate its stock price in the near future. The most comparable firms are Zynerba Pharmaceuticals and GW Pharmaceuticals Plc because they both deal with cannabidiol as a treatment for epileptic indications, and they have no other style of drug in their pipeline.
However, despite their similarity, GW has a vastly larger market cap that we feel overstates the revenue potential of Epidolex, and Zynerba is undervalued in comparison. Zynerba is a compelling buy because the efficacy of CBD, its active ingredient, has already been demonstrated by GW's Phase 3 homerun. And very little growth is priced into the stock.
There may be upside from an FDA victory, market reevaluation or sales growth when ZYN002 is approved. ZYN002 results are expected in the first half of 2017.
Disclosure: I/we have no positions in any stocks mentioned, and no plans to initiate any positions within the next 72 hours.
I wrote this article myself, and it expresses my own opinions. I am not receiving compensation for it (other than from Seeking Alpha). I have no business relationship with any company whose stock is mentioned in this article.
Additional disclosure: In response to commenters concerns, we must reiterate we have no positions in any stocks mentioned. The purpose of these articles is to gain followers, so if you like our work please hit the follow button.