AerCap Posts Strong 4Q Earnings
AerCap (NYSE:AER) has been a low-key stock for a while, but its recent strong earnings profile has given the stock good near-term reinforcement. Risks to returns still exist, but things look strong on its end.
Recent 4Q earnings beat expectations primarily due to non-core benefits, e.g. elevated maintenance revenues and income from lease terminations. Don't be distracted though, the core business still performed well. Q4 core EPS came in at $1.63 (GAAP EPS of $2.01), excluding a ~$0.19 maintenance rights hit, ~$0.07 in AeroTurbine restructuring charges and ~$0.64 in gains and other favorable recurring items. The core EPS beat relative to consensus is predominantly attributable to lower SG&A, lease expenses, and higher lease/lease termination revenue.

In 2016, trading gains were ~6% of sales ($2.4B), and AerCap guided to a similar margin in 2017 on $1B+ in anticipated aircraft sales. 2017 core EPS guidance was reiterated in the $5.60-5.80 range. Trading margins will be one to watch as AER's strategy of limiting its growth by selling portfolio assets should reflect whether the current trading environment favors the seller or the buyer. AerCap's strong results indicate seller advantage and strong market demand for mid-age aircraft. Overall, in 4Q16, AerCap purchased 19 aircraft and disposed of 37, ending with 1,022 aircraft and a fleet value of $31.5B (vs. $30.9b in 3Q16/2% QoQ). Fleet utilization remained strong at 99.5% while fleet age declined to 7.4 years from 7.6 years in 3Q16. Over 98% of aircraft deliveries through December 2018 and 78% through 2019 are pre-placed, reflecting robust market demand.
One key plus for AerCap is the high visibility of its earnings as a result of its strong forward placement activity. The order book looks solid going forward and reinforced AER's near-term earnings power. 2017 net fleet growth looks solid as well at low-mid single-digit percentages. Capex guidance is for ~$5B over the next 12 months given deliveries that were pulled forward.
Things aren't all rosy for AerCap despite its strong earnings result. Over the last year, the company has seen returns compress, and this trend could well continue with its shift toward younger aircraft.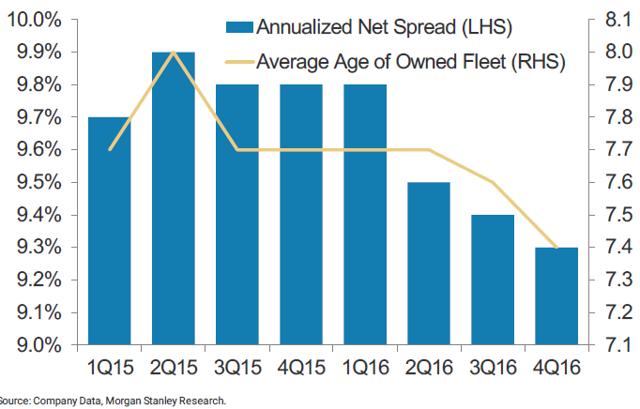 Competition in the sale leaseback market in particular remains intense. This, coupled with a rising interest rate backdrop and residual risk associated with underlying fleet value, may pressure returns over the medium term. In terms of fleet schedule, AerCap will now take two more A350s and nine A320neos in 2017 while 2018/2019 will see six fewer A350s and one more A320neo, respectively. These projections may not seem to bode well for the stock on the surface, but given that it is driven by previously assumed delays on the Pratt & Whitney A320neos, this development should have already been priced into the stock.
More share purchases to come though. Management announced a $350M share repurchase authorization through June 30, 2017, which adds to the prior ~$250M authorization. Debt levels have also improved with adjusted D/E standing ~2.7x, well within the target range of 2.7-3.0x.
Here's a quick list of highlights from the 4Q results:
458 aircraft transactions in 2016, including 126 widebody transactions 99.5% fleet utilization

7.4 years average age of owned fleet and 6.4 years average remaining lease term

98% of new aircraft deliveries through 2018 and 78% through 2019

Over $3.0 billion of sales closed in 2016

$9.5 billion of available liquidity

2.7 to 1 adjusted debt/equity ratio

Upgraded to Investment Grade rating by Moody's

$49.33 book value per share

Repurchased 5.7 million shares in 4Q 2016 for $241 million and 25 million shares in 2016 for $966 million

New $350 million share repurchase program authorized, which will run through June 30, 2017
Moody's AerCap Upgrade
No surprise then that Moody's gave AerCap a solid upgrade to Baa3 (investment grade). The Moody's upgrade to IG for AerCap is a major positive, as it is now the only independent lessor with an IG rating from Moody's. Higher ratings mean lower cost of capital, and we saw optimism filter through in AER's credit with some meaningful spread compression versus Air Lease (NYSE:AL), with bonds about 15-20 bps tighter on the day of release. Note that AL is not rated by Moody's, but has higher ratings at Fitch and S&P (BBB at both for AL versus BBB- at both for AER). This is reflected in the fact that AER continues to trade at a discount to AL and deservedly so in my view. AL's lower percentage of secured debt and lower exposure to old technology widebodies commands a premium from both a credit and equity standpoint.
In the aircraft leasing universe, AL does not have a Moody's rating while Aircastle (NYSE:AYR) and Fly Leasing (NYSE:FLY) are rated HY. The industry view is that Moody's has a more punitive rating methodology for lessors, thus the step to rate an independent lessor IG is a key one for Moody's and AER. The upgrade will give a boost to investor sentiment though, as a lack of IG ratings across the three major agencies may have hampered some IG buyer interest in AER bonds.
Given AerCap's floating rate exposure, which leaves it somewhat exposed to a rising interest rate backdrop ($30-35M impact per 100bp move up), it's perhaps a good thing then that the company has taken advantage of its improved credit metrics by: 1) Amending, extending, and upsizing its revolving credit facility from $3B to $3.75B; 2) amending and extending over $2B of term loan facilities; and 3) completing a $600M bond offering in January at ~3.5%. Spreads may have come down slightly since their last bond deal, but higher interest rates have offset this, reflecting their continued exposure to rate movements.
Air Lease, my top lessor pick, is rated BBB flat at S&P and Fitch (higher than AER), but lacks a Moody's rating. While both lessors do command large size and high growth prospects, there is more old technology widebody risk at AerCap, as well as more secured debt (secured/unsecured at AER is roughly 45%/55% versus 12%/88% for Air Lease). Having said that, one should not underestimate the technical effect of an upgrade for AER to IG from Moody's. On the credit side, we've seen the emergence of new buyers of the bonds who can now own them because they have IG ratings at three agencies, which should bode well for sentiment.
Conclusion
Although it's not my favorite name in the space, I'm still positive on AerCap for a couple of key reasons. Firstly, continued strong share repurchases, which should help offset lower lease revenue from asset sales going into 1H17. Trading activities, a key focus at the moment, have been positive as well - AerCap is selling assets at a 5% premium and repurchasing shares at a 5% to 10% discount, taking advantage of the current trading environment which seems to favor the seller. Last but not least, AerCap has great visibility from a cash flow perspective, having locked in long-term cash flows by placing its order book on long-term leases (98% of its new aircraft deliveries through 2018 on lease and placed 78% through 2019).
Disclosure: I/we have no positions in any stocks mentioned, and no plans to initiate any positions within the next 72 hours.
I wrote this article myself, and it expresses my own opinions. I am not receiving compensation for it (other than from Seeking Alpha). I have no business relationship with any company whose stock is mentioned in this article.