In my previous article, I had explained about the effects of rising U.S. oil exports and inventories on oil prices. I had also stated that oil prices will move based on the upcoming oil data to be published by the U.S.-based Energy Information Administration. But, before EIA publishes its oil data, there is American Petroleum Institute which also publishes its own oil data. On Wednesday, API came out with its own oil data. Oil prices went up by almost 1%, with the WTI and Brent trading at $54.07 and $56.35, respectively, at the time of writing this article. So, what caused the oil prices to gain momentum?
API reports a surprise inventory draw
After six straight weeks of inventory build-up, API reported a surprise crude oil inventory drawdown of 884,000 against market expectations of 3.3 million barrels build-up. On the other hand, gasoline inventories went down by 893,000 barrels against market expectations of 1.5 million barrels drawdown. This was the main reason why oil prices increased earlier on Thursday. Many market insiders were expecting API to report another inventory build-up. "We're expecting the API and EIA to report another supply build. The focus is returning to the reality that fundamentally we're oversupplied," said Bob Yawger from Mizuho Securities, USA. Investors must further note that the gasoline drawdown reported by API was less than market expectations, and this is a bearish development. However, API also reported a massive drawdown of 4.2 million barrels for distillate inventories - which was the biggest drawdown for distillates since October 2014. In my opinion, oil prices will move up if even EIA reports a similar drawdown in inventories later on Thursday. Investors must carefully track the gasoline inventories because the U.S. gasoline storage levels are currently at their highest levels since 1990. If EIA reports a major build-up in crude oil or gasoline inventories, then oil prices will definitely come under pressure.
Takeaway for investors
In my earlier article, I had explained how the breakeven prices for several U.S. shale plays were less than what was earlier expected. With oil prices remaining above $50 per barrel level, the U.S. shale production is expected to increase even further with more drillers returning to their oil fields. Apart from this, there is another case of rising oil inventories. Investors must note that U.S. gasoline and crude oil inventories are currently at their record highs (refer the below-attached figures).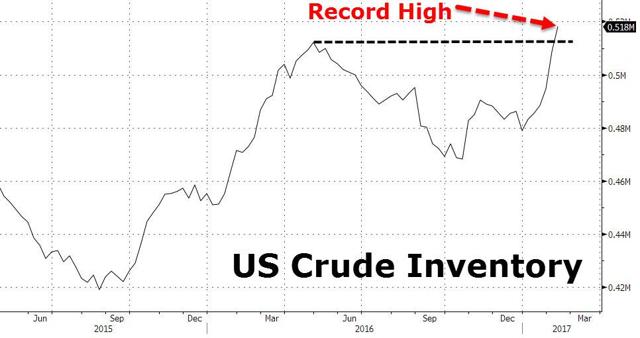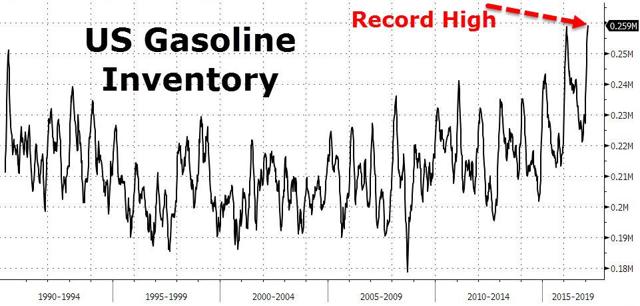 Image Source: zerohedge.com
Oil prices (NYSEARCA:USO) (NYSEARCA:OIL) (NYSEARCA:BNO) (NYSEARCA:SCO) (NYSEARCA:DBO) (NYSEARCA:OILX) are staying above $50 per barrel only because of record compliance levels achieved by OPEC towards its oil deal. "OPEC will need to keep the limits on production beyond the initial six-month term if inventories are to be drawn down over the second half of the year," said Tim Evans from Citi Future. In my opinion, OPEC will have to extend its oil deal beyond six months if it wants oil prices to remain above $50. The weekly API and EIA oil data will be crucial, as investors can closely track the changing crude oil and gasoline inventory levels - which are currently at record-highs and putting downward pressure on oil prices.
Disclosure: I/we have no positions in any stocks mentioned, and no plans to initiate any positions within the next 72 hours.
I wrote this article myself, and it expresses my own opinions. I am not receiving compensation for it (other than from Seeking Alpha). I have no business relationship with any company whose stock is mentioned in this article.