Markets both sides of the border continue to hit all-time highs. In this market, it is sometimes difficult to find companies that are fairly valued, let alone undervalued. It seems most companies I have looked into are trading at premiums to their historical averages, Graham Number, PEG ratio, etc.
That being said, there is one industry in particular that is currently undervalued in Canada: auto parts. Within the industry, DGIs should be aware that there are two companies that can be currently found on Canada's Dividend All-Star List: Exco Technologies (OTC:EXCOF) and Magna International (NYSE:MGA). Likewise, there are another dozen auto parts companies that can be found on David Fish's Dividend Champion list. As you will see, investors looking for dividend growth and good value are best to look north of the border.
Canadian- vs. U.S.-Listed
Both Exco and Magna are significantly undervalued as compared to their US counterparts. The following table compares the auto parts companies that can be found on both aforementioned dividend lists and are of most interest to DGIs.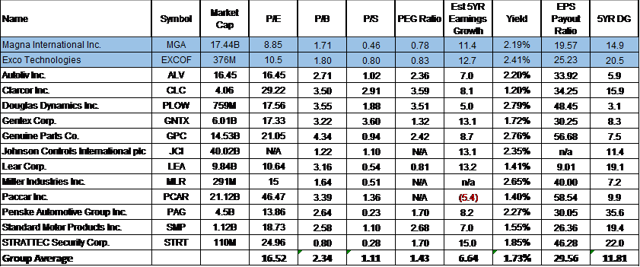 Source: US Dividend Champions List, Canadian Dividend All-Stars, Morningstar
Both Magna and Exco are trading significantly below the group average P/E, P/B and P/S ratios. Likewise, they are undervalued as per their expected growth with PEGs under 1.0 and estimated annual average growth over the next few years is expected to be in the double digits. A PEG ratio lower than 1.0 typically signifies that the company's share price is not keeping up with their earnings growth and as such can be considered undervalued. Of note, Exco's estimated earnings growth are based on analysts' expectations for the next two years. All other companies listed are based on 5-year expected growth rates.
As far as the dividend is concerned, both companies have yields above 2% and subsequently the group's average and both are well situated to continue raising dividends with payout ratios below the average. Finally, both companies also have above average historical 5YR growth rates and with lower payout ratios investors can expect continued double digit growth in the next few years. Let's take a closer look at each of these two Canadian dividend all-stars.
Exco Technologies
Exco has raised dividends for the past 6 years, and on February 1st announced a 14.29% quarterly dividend increase from C$0.07 to C$0.08 to keep their impressive double-digit DGR streak alive. Exco is not only undervalued as compared to its U.S. peers, but is also undervalued as compared to its historical 5-year averages:

Source: Morningstar
As mentioned previously, their PEG ratio is below one and their share price is currently trading at a 21% discount as compared to their fair value of $14.10 based on their forward growth rates. Likewise, they are also trading at a 9.1% discount to their Graham number of $12.71.
Looking at the F.A.S.T. Graph below, Exco has typically traded in-line with their historical P/E ratio and only recently decoupled from the norm and has provided investors with an attractive entry point.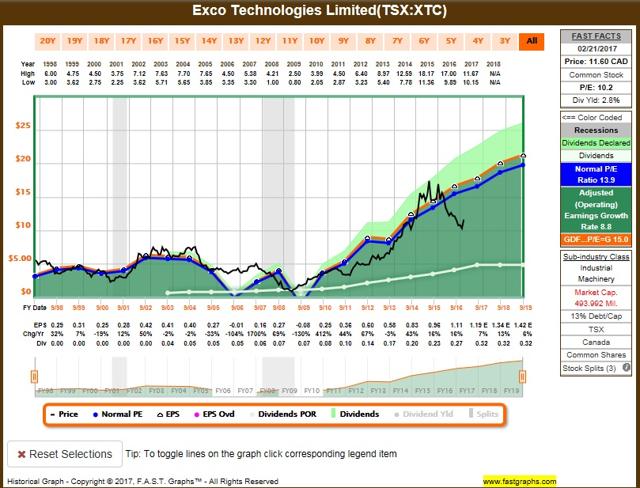 Magna International
Magna is a dual listed stock and trades on both the NYSE and Toronto Stock Exchange. As mentioned in a previous article, Magna is expected to announce a dividend raise this Friday. Similar to Exco, Magna is trading at a discount to certain 5-year historical values:

Magna is currently trading at a 28.5% discount to their fair value of $58.71 based on their forward growth rates. Likewise, they are also trading at an 18.71% discount to their Graham number of $54.22.
Since the end of 2014, Magna has also broke from its historical trading pattern and has traded at a discount to their historical P/E. Although it has rebounded slightly, still provides DGI with an attractive entry point.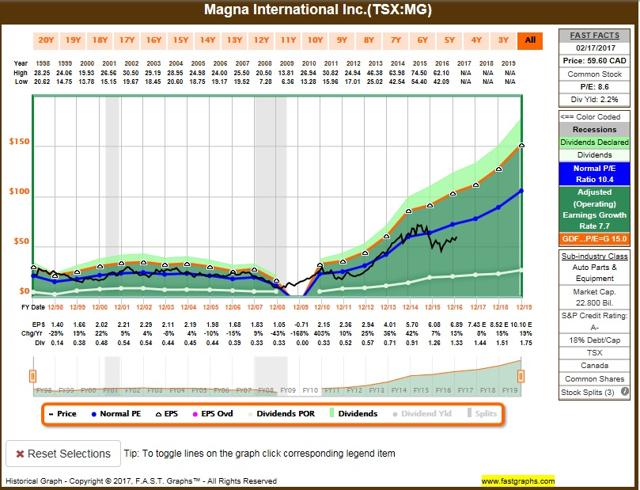 BOTH ARE A BUY
From a fundamental perspective, both Exco and Magna are solid value plays for DGI. They have low payout ratios and are cash generating machines. I believe part of the under valuation is due to the impact of Trump's talk of import taxes which could negatively impact Canadian exporters. That being said, I believe these fears are overblown and are now well priced into these stocks. Trading at a significant discount to their U.S. peers, DGI looking to diversify into the auto parts sector would do well with purchasing either of these companies.
If you would like to receive updates for any of my upcoming articles, please click the "Follow" text at the top of this page next to my profile.
Disclosure: I/we have no positions in any stocks mentioned, and no plans to initiate any positions within the next 72 hours.
I wrote this article myself, and it expresses my own opinions. I am not receiving compensation for it (other than from Seeking Alpha). I have no business relationship with any company whose stock is mentioned in this article.
Editor's Note: This article discusses one or more securities that do not trade on a major U.S. exchange. Please be aware of the risks associated with these stocks.