Without a doubt exchange traded products, both ETFs and ETNs, have been a runaway success since their introduction. They have taken over the investment marketplace replacing index mutual funds as the vehicle of choice for passive investing and for great reasons. In the recent past however, ETFs have been adopted by money managers as a choice for active investments.
While people can argue for hours about the merits of active versus passive investing in the equity space, bond markets are the one area of investing where active management works. This particularly holds true when look at smaller issues.
While individual equities may have 10 or more analysts covering the security, you have a large number of uncovered or unrated bond issues that may yet be good, safe investments.
Another important characteristic of index investing is that when the underlying index goes experiences a bear market, the ETF will naturally suffer across the board. An actively managed investment on the other hand will hopefully reduce that volatility through fundamental analysis and prudent risk management.
The reason I bring this up is due to a financial alert I received on my phone today stating that as per the Fed meeting notes, we may see another interest rate hike in March. Over the last 6 months broad, passive income ETFs, like the iShares 20+ Year Treasury Bond ETF (TLT), have taken sharp losses. Perhaps an actively managed fixed income fund would fare better?
If you have passive income ETFs in your portfolio, here are a few popular active ETFs that may fare better in a rising rate environment.
| | | | | |
| --- | --- | --- | --- | --- |
| Ticker | Name | Distribution | Expense Ratio | AUM |
| MINT | PIMCO Enhanced Short Maturity Active ETF | 1.38% | 0.35% | 5.859B |
| TOTL | SPDR® DoubleLine Total Return Tact ETF | 3.10% | 0.55% | 3.142B |
| BOND | PIMCO Total Return Active ETF | 2.87% | 0.55% | 2.014B |
| HYLS | First Trust Tactical High Yield ETF | 5.25% | 0.95% | 1.126B |
| FTSL | First Trust Senior Loan ETF | 3.68% | 0.85% | 1.097B |
| YLD | Principal EDGE Active Income ETF | 4.42% | 0.96% | 283.75M |
Source: Data as of 2/22/2017 from YCharts
PIMCO Enhanced Short Maturity Active ETF
With the recent changes to the money market rules, it is no surprise that money has flown into short maturity ETFs and Pimco as one of the biggest in the industry has benefited.
Key Takeaways: The largest actively managed ETF. Global ETF comprised primarily of investment grade fixed income and mortgage securities. Average duration and maturity of less than half a year.
Who Is It For: Investors looking for yield but do not want to go into traditional longer term fixed income.
Best Way To Use: From a financial planning point of view, this fund would serve as a great Tier 3 part of a cash reserve strategy. Tiers 1 and 2 comprising Checking/Savings and Money Market/CDs.
SPDR® DoubleLine Total Return Tact ETF

Key Takeaways: Second largest active fixed income ETF. Benchmarked to the US Barclays Aggregate Bond Index and funds such as the iShares Core Total U.S. Bond Market ETF (NYSEARCA:AGG). Outperformed in past 6 months as interest rates went up. This fund outperformed due to the shorter duration to the benchmark. Majority of the portfolio is mortgage backed securities.
Who Is It For: Investors looking for broad investment grade domestic fixed income exposure, but would not mind some active management which may either increase returns or lower volatility.
Best Way To Use: Either as a core holding or in conjunction with a more passive indexed investment such as the iShares Core US Agg Bond ETF
PIMCO Total Return Active ETF

Key Takeaways: Similar in objective and benchmark to the SPDR ETF, it employs a different strategy. Extremely popular ETF, even without Bill Gross, employs a similar strategy and makeup to the open end mutual fund version. Has sizeable positions in US Treasuries and Mortgage backed securities offset by swaps. Portfolio duration will vary + or - 2 years to the Barclays Bond Index.
Who Is It For: Investors looking for an active fixed income ETF and do not mind a more active portfolio backed by a terrific team.
Best Way To Use: As an active core holding or in conjunction with a passive investment. Alternatively, can use the ETF to decrease the volatility in the PIMCO closed end funds such as the PIMCO Dynamic Credit Income Fund (NYSE:PCI), Dynamic Income Fund (NYSE:PDI), High Income Fund (NYSE:PHK), Corporate & Income Opportunity Fund (NYSE:PTY) or Municipal Income Fund II (NYSE:PML).

First Trust Tactical High Yield ETF
Key Takeaways: An actively managed high yield ETF. The fund primarily invests in high yield bonds and senior loans. Average duration at a fairly short 2.82 years.
Who Is It For: Investors who are not opposed to high yield junk bonds and senior loans but want a more tax efficient vehicle.
Best Way To Use: As a standalone high yield investment or as part of a broader high yield allocation. Suitable for taxable accounts.
First Trust Senior Loan ETF
Key Takeaways: A well diversified actively managed ETF that invests predominately in floating rate senior loans. Ultrashort duration of .62 years. 83% of the portfolio has Libor floors.
Who Is It For: High yield investors looking for an alternative, or investors who are looking for a short duration, higher yielding portfolio. Exchanging credit risk for security of being higher up in the capital structure.
Best Way To Use: A way of diversifying an existing high yield portfolio of junk bonds. As a standalone investment or in conjunction with other higher yield bonds. If using in conjunction with other high yield funds, recommend doing an overlap comparison to make sure you are not taking on too much risk if the same company is present in both portfolios. Alternatively, for money market investors who are looking for more yield, shorter duration but are fine with higher risk.
Principal EDGE Active Income ETF
Key Takeaways: An asset allocation ETF that is predominately invested in high yield junk bonds, with about 45% of the portfolio invested in various asset classes such as REITS, mortgages, preferred, and dividend paying stocks. A modest expense ratio of .96% however that is due to an expense waiver from the sponsor. There is no guarantee that it will continue.
Who Is It For: Investors who are either looking at a one ticket solution to higher yields or investors who would like high yield exposure but want it to be diversified to other asset classes.
Best Way To Use: I believe the best way to use this fund is in conjunction with a broader, investment grade allocation, such as . In a core/satellite strategy, this fund would be a very good satellite.
Performance wise, we can see both and outperform the iShares Barclays Agg over the last 6 months. As rates went up, the actively managed funds were less effected to the downside.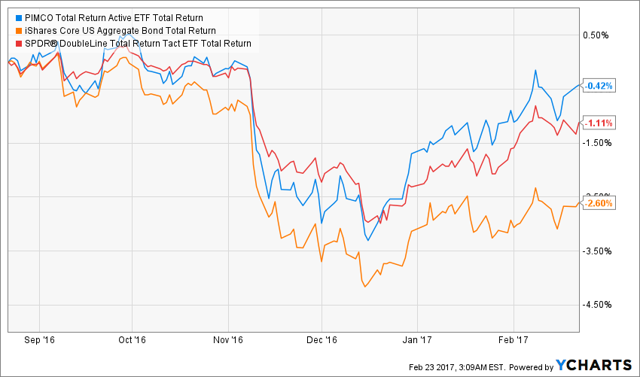 Against the iShares iBoxx $ High Yield Corporate Bond ETF (NYSEARCA:HYG) we see both the First Trust Tactical High Yield and the Principal EDGE Active Income ETF perform well. The Principal ETF outperformed the iShares, but the First Trust has proven that in the past it was able to mitigate the risk quite a bit better.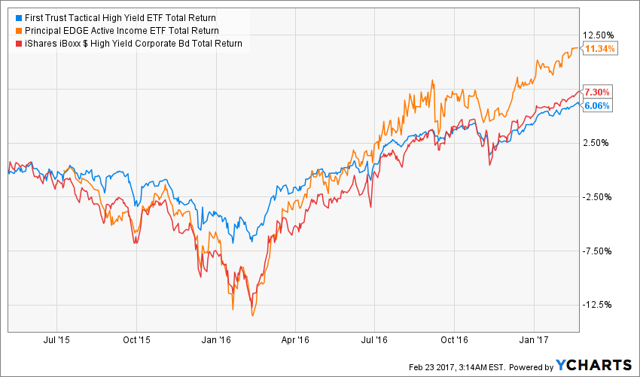 Overall, the ETFs seem to do their job.
On The Radar
There are two other funds that I came across in my research that look promising however I did not include them here as they are recently launched and lacked a track record. Those two funds are the Janus Short Duration ETF (NYSEARCA:VNLA) and the First Trust TCW Opportunistic Fixed Income ETF (NASDAQ:FIXD).
The Janus (NYSE:JNS) fund is the first actively managed fixed income ETF for this sponsor. While the sponsor has launched a number of other ETFs, I believe this one has a great opportunity to succeed. Janus is now the home for Bill Gross and that will surely help gather assets. Combined with Janus's strong fixed income background, I will surely take a deep dive into this fund in the near future.
The First Trust TCW ETF looks promising as well. First Trust is one of the leaders in the actively managed ETF space and has a strong reputation for partnering with other firms to market interesting and well performing investments. The TCW fund is a go anywhere type fixed income fund run by a Morningstar and Lipper award winning team. It certainly deserves our attention and will likely get a deep dive soon as well.
Our Thoughts and Bottom Line
With the looming interest rate hikes, at least for the short term, traditionally passive indexed investments such as the vast majority of fixed income ETFs, present a risky proposition. That has shown to be true over the last year as investors have come to the realization that for better or worse the Fed has chosen to raise interest rates.
Traditionally the actively managed funds were better able to mitigate the risks during a rising rate environment. This is a nonevent for mutual fund investors as the majority of fixed income funds there are already actively managed, yet for ETF investors, they were out of luck, at least until now.
Today we have a growing number of actively managed ETFs that are brought to market by mutual fund sponsors that are in many cases extensions of their mutual fund strategies. In this article we highlighted 6 actively managed ETFs from a variety of fixed income classes that have shown they are doing what they were designed for and are a promising option as interest rates potentially rise in the future.
We will surely take at a deep dive into a number of these funds in the near future to see if they are worth your investment capital, but for now, they do deserve your look.
I believe in active management that works, and I am here to help you find those opportunities. Please follow me here on Seeking Alpha as we look for those opportunities and sort out the good managers from the mediocre.Simply click the "Follow" button next to my name at the top of the article or on my profile page.
Disclosure: I/we have no positions in any stocks mentioned, and no plans to initiate any positions within the next 72 hours.
I wrote this article myself, and it expresses my own opinions. I am not receiving compensation for it (other than from Seeking Alpha). I have no business relationship with any company whose stock is mentioned in this article.
Additional disclosure: Maks Financial Services is a registered investment advisor and our Form ADV Part 2 is available upon request. We certify that the opinions and predictions in these articles are our professional beliefs at the time of publication and should not be construed as personal investment advice. Please consult your financial professional to see how anything discussed here applies to you. Furthermore this is not a solicitation to buy or sell any securities. This is not Tax Advice. Please consult your tax professional.