We recently wrote about the upcoming budget battle as we approach the debt ceiling deadline March 15th. Past budget battles have been fierce and a risk to markets. President Donald Trump announced yesterday plans to submit a slim budget by mid-March. As we approach Mid-March the risk of a repeat budget battle could rattle markets.
President Trump On The Upcoming Budget
Here's what the President said yesterday:
Unfortunately the budget that we're inheriting is a mess. The finances of our country are a mess. But we're going to clean them up.

So we're going to continue on and were going to take this budget which is in all fairness, I've only been here for four weeks so I can't take too much of the blame for what's happened but it's absolutely out of control and were going to do things that are going to be tremendous over the years.
The President's pick for his budget director Mick Mulvaney was central in past fierce budget battles. President Trump's "over the years" comment could mean short term pain for long term gain. Expect this upcoming battle to be just as serious as past ones.
Debt Ceiling
The U.S. government is one-fifth to one-third of U.S. GDP. Any risk in government spending can stall the economy. Any risk to paying government debts can cause a bond crisis as the world depends on the U.S.'s safe-haven credibility. The debt ceiling topic risks economic growth and risks the strongest link in the global bond market, U.S. debt.
Past Budget Battles
1995-96
The U.S. government shutdown for 27 days in 1995-96 when Congress could not agree with President Clinton on a budget.
2011
In July 2011, Congress agreed in the "final hour" saving a default. Markets did take a hit in this period and U.S. debt received an S&P ratings downgrade. Here are the markets: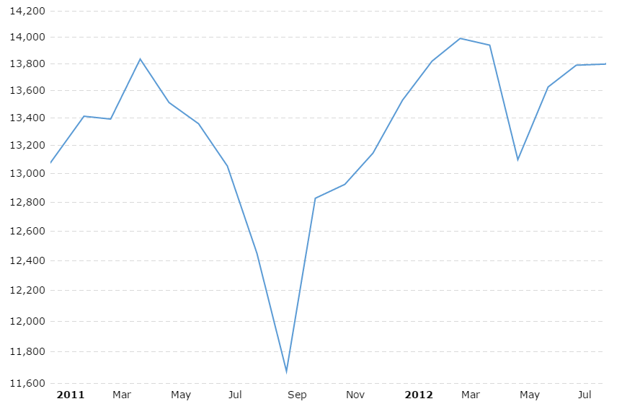 Source: Macrotrends
Markets dropped in the period surrounding the 2011 budget battle.
2013
The government had a year of fighting in 2013 after reaching the debt limit at the end of 2012. Congress agreed by October 2013 to suspend the debt ceiling.

Source: Interactive Brokers
In May 2013, the debt ceiling was met and raised. In October 2013 the debt ceiling was suspended pushing off the issue. Although markets rebounded, they were volatile around news as the risks of a default loomed.
March 15th, 2017
We have a debt ceiling deadline due March 15th. President Trump had strong words yesterday sitting in front of his budget hawk Mick Mulvaney. Here's what Mr. Mulvaney said in his process to take his current post:
I do believe that defaulting on America's debts would have grave worldwide economic consequences. I do not believe that breaching the debt ceiling will automatically or inevitably lead to that result.
He is in favor of not raising the debt ceiling. Past debt battles have led to market volatility and even an S&P ratings downgrade. Not raising the ceiling may be the right thing to do, but market participants should prepare for potential volatility.
Conclusion
Trump is trying to fix the "mess" he inherited. A huge and growing debt may hit a wall on March 15th. News and posturing ahead of that could rattle markets.
Disclaimer: ETFs reported by Elazar Advisors, LLC are guided by our daily, weekly and monthly methodologies. We have a daily overlay which changes more frequently which is reported to our premium members and could differ from the above report. Portions of this article may have been issued in advance to premium members. All investments have many risks and can lose principal in the short and long term. This article is for information purposes only. By reading this you agree, understand and accept that you take upon yourself all responsibility for all of your investment decisions and to do your own work and hold Elazar Advisors, LLC and their related parties harmless. Any trading strategy can lose money and any investor should understand the risks.
Disclosure: I/we have no positions in any stocks mentioned, and no plans to initiate any positions within the next 72 hours.
I wrote this article myself, and it expresses my own opinions. I am not receiving compensation for it (other than from Seeking Alpha). I have no business relationship with any company whose stock is mentioned in this article.