Even though chip spot market jitters have hit Micron Technology (NASDAQ:MU), the company should comfortably exceed even the high analyst estimates for the February quarter. Yahoo shows the average of 20 analyst estimates as 65 cents, with a low of 54 cents and a high of 70 cents. Check it frequently as analysts will upgrade or downgrade their estimates right up to the day of an earnings release, and if recorded, these will sway the "consensus."
Yahoo Finance probably is as good a source as any for analyst consensus estimates. Zacks and EarningsWhispers show a consensus number of 55 cents but these appear to be based on a smaller sample of estimates than Yahoo. As has been amply discussed on these pages before, this is nothing like an actual consensual discussion about consensus earnings. "Consensus" is merely Wall Street highbrow lingo for "average" in this case. Consensus gives a real ring of solidity and implies some larger body like the Electoral College has actually met, discussed and voted on it.
What follows is a roadmap of how I can get to 77 cents per share in earnings for the February quarter, along with some pitfalls and opportunities.
What's the 30,000-foot view that engenders a belief Micron is about to have an earnings blowout? Micron held their last earnings call on December 21 and presented their earnings guidance for this February quarter: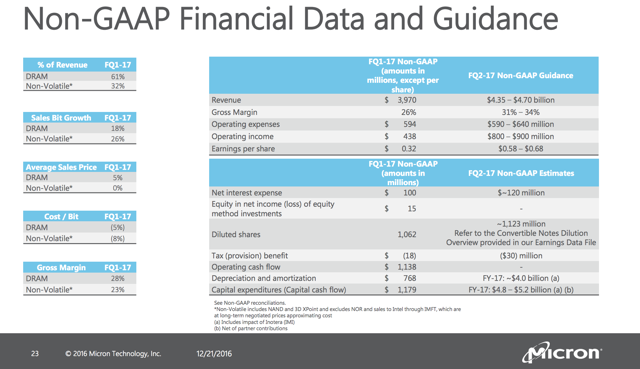 So as of 12/21/2016 Micron management was giving earnings guidance of $0.58 to $0.68 per share.
Since that time, as the charts below illustrate, the spot price of an average DRAM chip has risen 17.8%, and the price of an average NAND chip has risen 12%. And while these are spot price rises, and not necessarily the contracted price Micron realizes, they are staggeringly large numbers. Micron's DRAM business generated $2.3 billion in the first quarter. If they captured the entire DRAM spot move (they didn't I bet), this would be $409 million in additional revenue. And if they captured the entire NAND spot move, this would be an increment of $168 million on the $1.4 billion of NAND revenue generated in the first quarter. Conceptually, if management thought prices would remain flat from their last earnings call on December 21 (we don't know what they thought), then all of this incremental $577 in theoretical additional revenue would fall to the bottom line. $577 million divided by 1.04 billion shares is an additional 55 cents per share. But we don't know what management thought and we know they probably won't realize even a significant portion of this spot price increase.
And don't forget these increases are just since the earnings call on December 21. The move for this fiscal quarter which began December 1 has been 24.6% for DRAM and 12.7% for NAND.
Here is the average of the DRAM chip prices as reported nightly on DRAMexchange vs. the Micron stock price. Note, these are individual chip prices not price per Gb: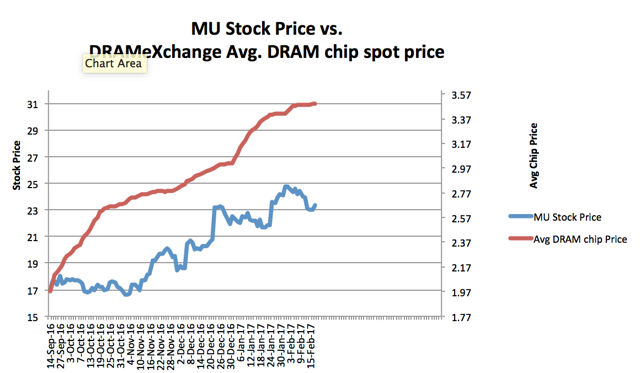 And here is DRAMeXchange's DXI vs. stock price chart: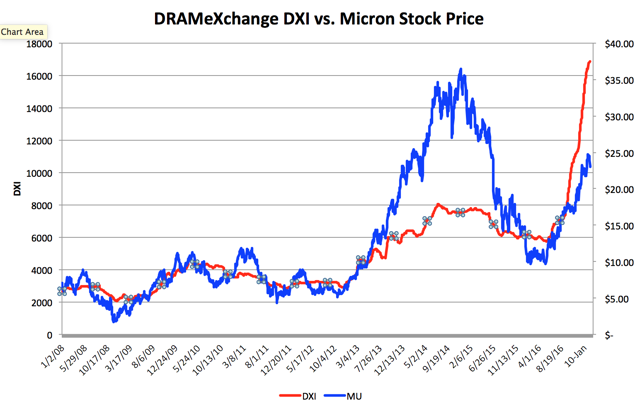 Here is a last chart dealing with pricing. This is Bernstein's latest DRAM spot vs. contract pricing from a report dated January 27, 2017. Spot price is what's shown in the first chart above. I believe it makes up a significant portion of DRAMeXchange's DXI index in the second chart, but they don't disclose the inputs to their DXI. Micron and other memory producers sell mostly on contract pricing. It is believed this may be 90% of Micron's output, although they won't say. Contract pricing today remains at a significant discount to spot: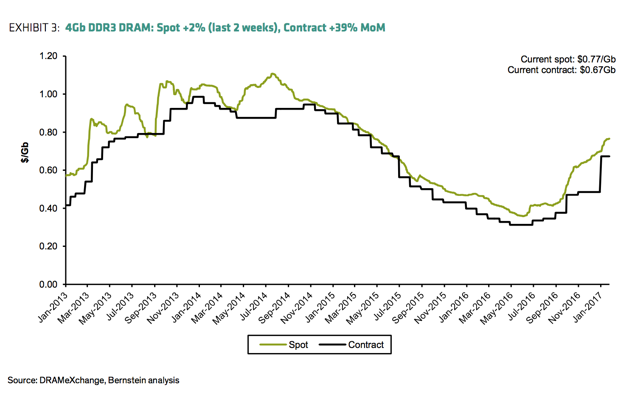 And what about that February Q earnings estimate? Here is an earnings estimate, built loosely on the framework, data below the gross margin line, and model presented by Bernstein and used in my article, "Micron: Analyst Day Helps Show This Stock Is A Value."
Here is the detail on the revenue assumptions: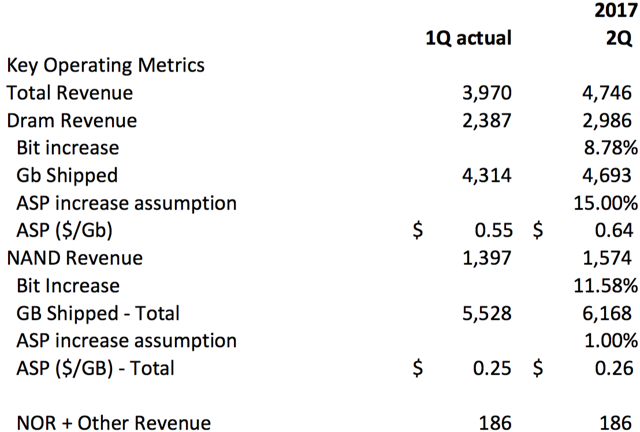 Notes and Assumptions: Q1 actuals based on Bernstein - may not be an exact copy due to modeling differences. Bit increase is a conversion from two-year CAGRs presented at analyst day to quarterly. ASP increase assumptions are author's.
Here is the detail on Cost of Goods Sold assumptions: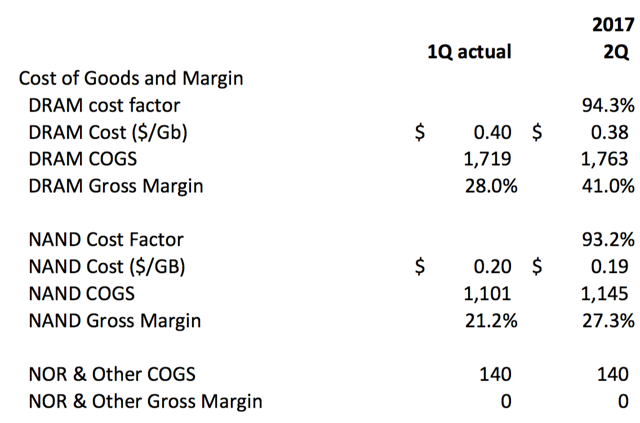 Notes and Assumptions: Q1 actuals based on Bernstein - may not be an exact copy due to modeling differences. "Cost Factor" is a conversion from two-year CAGRs presented at analyst day to quarterly.
Here is an abbreviated P&L incorporating the data from revenue and cost of goods sold tables above: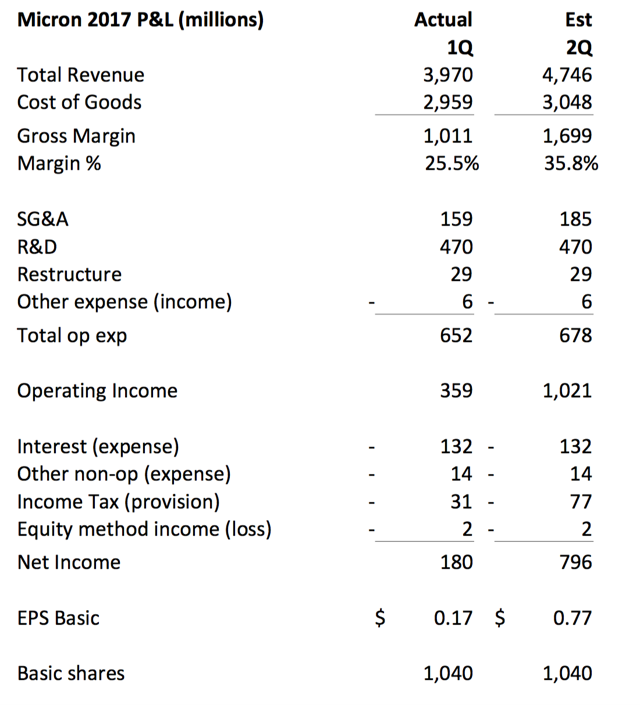 Notes and Assumptions: Q1 actuals based on Bernstein - may not be an exact copy due to modeling differences. Figures below gross margin are based on Bernstein. SGA and tax vary as a percentage of sales.
What about inventory? One item not cranked into the estimate above or any analyst estimates that I've read is the potential effect of inventory on EPS. The latest 10Q, at page 9, shows the company's inventory as follows:

and we know that inventory is carried at the lower of cost and market, per page 42 of the most recent 10K:
Inventories are stated at the lower of average cost or net realizable value. Cost includes depreciation, labor, material, and overhead costs, including product and process technology costs. Determining net realizable value of inventories involves numerous judgments, including projecting future average selling prices, sales volumes, and costs to complete products in work in process inventories. To project average selling prices and sales volumes, we review recent sales volumes, existing customer orders, current contract prices, industry analyses of supply and demand, seasonal factors, general economic trends, and other information. When these analyses reflect estimated net realizable value below our manufacturing costs, we record a charge to cost of goods sold in advance of when the inventory is actually sold. Differences in forecasted average selling prices used in calculating lower of cost or net realizable value adjustments can result in significant changes in the estimated net realizable value of product inventories and accordingly the amount of write-down recorded. For example, a 5% variance in the estimated selling prices would have changed the estimated net realizable value of our memory inventory by approximately $234 million as of September 1, 2016. Due to the volatile nature of the semiconductor memory industry, actual selling prices and volumes often vary significantly from projected prices and volumes - as a result, the timing of when product costs are charged to operations can vary significantly.
Here sits Micron, with $2.7 billion in inventory which has risen nicely in value, but which is still presumably carried at average cost since that's a lot lower than "net realizable value." So if the company chooses to liquidate inventory, with a nice embedded profit, that is another huge potential source of earnings for this February quarter.
Take a look at where Micron's inventory has been as a percentage of cost of goods sold to evaluate the likelihood of further liquidations in this quarter:
Micron: figures in millions
COGS
Inventory
Inv/Cogs
1Q 2017
2,959
2,750
92.9%
4Q 2016
2,588
2,889
111.6%
3Q 2016
2,400
2,920
121.7%
2Q 2016
2,355
2,608
110.7%
1Q 2016
2,501
2,435
97.4%
4Q 2015
3,064
2,507
81.8%
3Q 2015
2,651
2,381
89.8%
2Q 2015
2,761
2,377
86.1%
1Q 2015
2,501
2,453
98.1%
Micron has reduced inventory in each of the last two quarters. Should they reduce it again to the lowest percentage level shown above, this could release perhaps another $50 million or 5 cents per share into the quarterly EPS.
The analyst day slides (page 56) call out expected inventory reductions without naming an estimate:

As stated, I've not included any inventory liquidation in this EPS estimate. A sampling of analysts show the number growing, not shrinking, from last quarter's $2.750 billion:
Estimates of Micron 2Q inventory
| | |
| --- | --- |
| Bernstein | $2.815 billion |
| Morgan Stanley | $2.888 billion |
| Credit Suisse | $2.859 billion |
Should the company make good on their analyst day expectation of doing inventory reductions, with their attendant EPS pickup, this could be an earnings surprise indeed!
How does this EPS estimate vary from the leading analysts? I hold Mark Newman of Bernstein in high regard. He's an alumnus of the Samsung (OTC:SSNLF) semiconductor group. He writes clearly and lays out his assumptions. And I've cribbed much of his model to lay out the earnings estimate above. Newman is at 66 cents GAAP and 63 cents non-GAAP on revenue of $4.627 billion for the February Q.
Here are some key differences from Newman's inputs:
Newman uses DRAM bit growth of 3% and NAND bit growth of 24%. My model uses 8.78% and 11.58% respectively, which is the quarterly rate derived from the high end of the two-year Compound Annual Growth Rates (CAGR) presented at Micron's Analyst Day on February 2, 2017. Presumably, Newman's considered and discarded these analyst day inputs since I am working from his report date February 15, 2017.
Newman uses cost decreases of -4% and -10.9% for DRAM and NAND. My model uses -5.7% and -6.8%. Again these are derived from the high end of the guidance CAGR's presented at Analyst Day.
Perhaps the most important difference is Newman uses a DRAM Average Selling Price (ASP) increase of 10% for DRAM vs. my model of 15%. He uses a 2.1% decrease in NAND ASP vs. my model of a 1% increase.
As driven by the assumptions above, Newman's revenue projection is $4.627 billion and my model shows $4.746 billion.
What could go wrong? What's the sensitivity analysis? It's helpful to look at sensitivity analyses on a model like this. Here are some data points on the potential EPS impacts:
3 cents per 1% change in ASP's for DRAM
2 cents per 1% change in ASP's for NAND
2 cents per % of bit growth change in DRAM
1 cent per % of bit growth change in NAND
2 cents per % of DRAM cost change
2 cents per % of NAND cost change
With my luck all of these will happen simultaneously in a negative direction!
What does this mean for the stock? Simplistically, one could take 77 cents, annualize it and apply a 10x price-earnings multiple to come up with a $30 stock. Micron is going to need to earn a lot of credibility with Wall Street analysts to earn more than a 10x multiple.
While an earnings blowout and a significant beat on revenue ($4.746 billion vs. consensus of $4.54 billion) will drive the stock in the short term, a number of other factors will guide it in the medium to longer term:
Guidance. With an assumed average length of chip contract pricing of three months, the upward glide of Micron's revenues should continue. Morgan Stanley (NYSE:MS) already is talking about peak earnings, "...we continue to think that near term the stock trades higher as earnings approach a $3.50- $4.00 run rate, on a combination of an exceptional commodity environment, and company-specific execution improvements. We believe that DRAM strength is likely sustainable through the year, given the low levels of recent spending and the significant producer inventory drawdown." They don't mention a date for these peak earnings in their 2/15/17 report so presumably it is after the 2018 horizon modeled in the report.
Poison Pill. A chilling effect on the stock is Micron's thinly veiled poison pill, put in "to protect NOL's." Yeah, right! With this in place we can't expect the arrival of activist investors.
New CEO. With Mark Durcan's departure fingers are crossed for a world class manager to take his place. I've advanced the name of Stacy Smith of Intel (NASDAQ:INTC), who has earned his chops as their long-term CFO and now head of manufacturing, operations and sales. Others have advanced the names of SanDisk founders Eli Harari or Sanjay Mehrotra. Heck I'd even consider the clear speaking, highly regarded SanDisk former CFO Judy Bruner. I think a swift naming of a high class replacement CEO would do wonders for the stock. Durcan may have kept the wheels on after the charismatic Steve Appleton's death, but he was hardly an energized speaker to excite the institutions.
Toshiba. One possible outcome of the Toshiba situation is a consortium bid which would include Micron and some private equity firms. This would shine quite a spotlight on Micron. I think this would induce a lot of short-term volatility. Perhaps Micron becomes a "must have" stock for the institutional crowd in a well-constructed bid which would fundamentally change overall market dynamics.
3DXpoint. Announced in 2015, we haven't yet seen the XDIMM formulation of the product. Alas, we seem more likely to hear specific news from Intel on this new jointly developed product. Here is an article by the fairly switched on commentator Ashraf Eassa, going over the 2021 $8 billion addressable market for 3DXpoint that Intel presented during their analyst day.
3DNAND. Again it is Micron's partner Intel that is telling us more about their jointly developed 3DNAND. It appears that the IMFT (Intel Micron Flash Technologies) developed technology may have a 15-25% cost advantage. See slide 11 talking about areal density. If so this would be enormous.
New Memory. Slide 46 from Micron's analyst day mentions "New Memory" and shows it very favorably positioned against DRAM in both performance and cost/bit. Apparently Micron has developed this without their partner, Intel. One can imagine what a suite of non-commodity products might do in this commodity industry: 3DXpoint available only from two vendors with an apparent multi-year technology lead over the competition, 3DNAND also available from two vendors with an apparent significant cost advantage, "New Memory" available only from Micron and with significant advantages.
Conclusions. There are a lot of moving pieces in generating a Micron earnings estimate. Clearly, one of the most important for this February quarter is what has happened to the ASPs of the underlying chips. Even with zooming spot prices, the company's silence on how much it sells spot vs. contract and the length of contracts make this difficult to analyze. I believe that the company wouldn't be giving away the secret formula to Coca-Cola (NYSE:KO) if they shed some light on these aspects of their revenue.
I've recently returned from a literal and physical vacation, well rested and ready for an earnings announcement. Thanks to all for your wishes and thoughts during my vacation.
Good luck to all on earnings. Play with your own estimates, assumptions, sensitivities, late breaking analyst revisions and share them here for all to study.
Disclosure: I am/we are long MU.
I wrote this article myself, and it expresses my own opinions. I am not receiving compensation for it (other than from Seeking Alpha). I have no business relationship with any company whose stock is mentioned in this article.
Editor's Note: This article discusses one or more securities that do not trade on a major U.S. exchange. Please be aware of the risks associated with these stocks.