Last night, Boston Beer (NYSE:SAM) provided definitive and conclusive evidence that smaller, more nimble competitors are siphoning market share away from the company. My compliments to SA contributor "Lord Baltimore" for his very well researched January 18, 2017 "Top Idea" write up where he correctly identified FY17 analyst estimates were too high.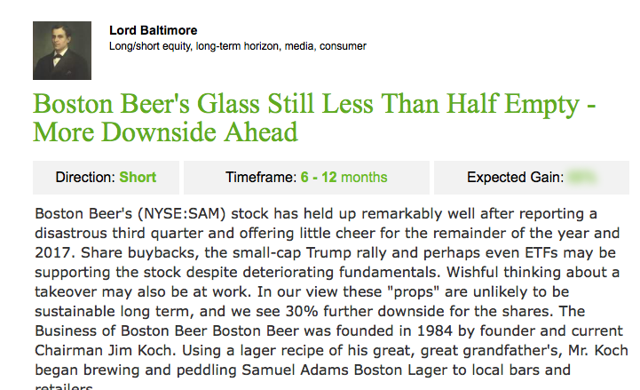 That said, Lord Baltimore was very late to the "short party" - see short interest data below. However, I did read his January 18, 2017 report and it was very thorough and well done. Despite the fact that he put his short bet on at approximately $157 - $158 per share (and very well may have added as shares touched $170 earlier in the week), he will make money, as last night SAM's management delivered terrible earnings guidance.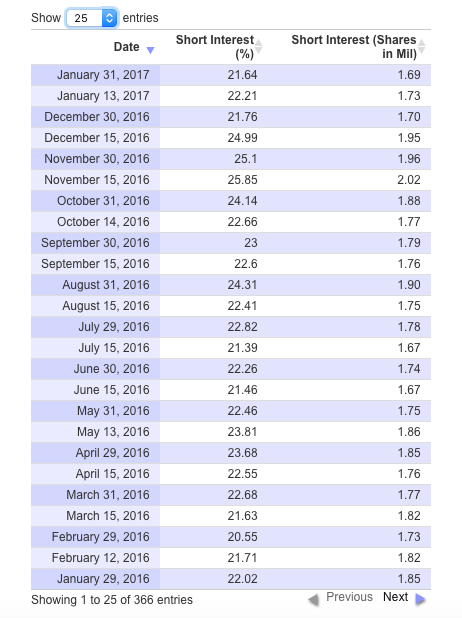 Source: Guru Focus
Here are highlights from last night's report.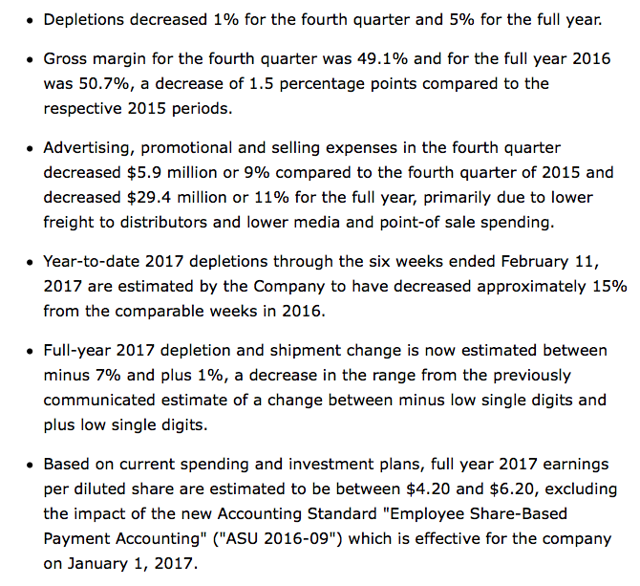 As we can see, ahead of the Q$ earnings print, analysts' estimates for FY17 were calling for FY17 earnings of $6.35 per shares. Management's new midpoint for FY17 is $5.20. Moreover, lower marketing spend in FY16 masked SAM's revenue weakness.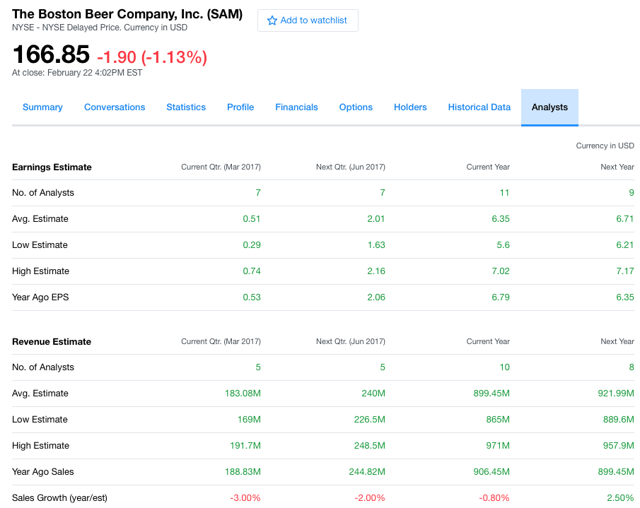 Source: Yahoo Finance
Last night, in after hours trading, Boston Beer was only down 7.6%, but volume was extremely thin.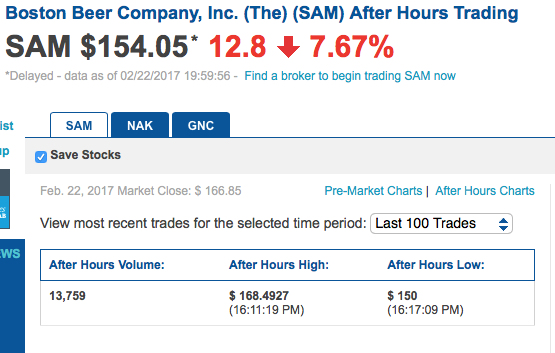 Source: Nasdaq.com
I think it is now finally safe to say that Mr. Koch has lost his way. He hasn't shown leadership as the CEO of a publicly traded company. Specifically his insider selling activity is like rubbing salt in a cut as he has been dumping shares of his Class B stock, for years, with his 100% voting right, while his Class A shareholders watch their investment get crushed. Thank god I was lucky enough to see the light, as I sold my 200 shares, for a modest profit, in late August at $189 (see the snapshot of my comment) that can be found with my last SAM article: Why Boston Beer Was Up $25 Points On Friday.

This chart from page 42 of Boston Beer's FY16 10-K poignantly illustrates in spades that Mr. Koch is all talk and no action, to quote our 45th president. As we can see below, Mr. Koch has converted 765K shares of Class B into Class A shares, so we could monetize them. In fact, 345K in FY14, 250K in FY15, and 170K in FY16. Shares of SAM finished calendar year 2013 at nearly $240 and peaked at $325 in January 2015, so Mr. Koch was selling when prices were good. For simplicity, let's say Mr. Koch sold this 765K shares for an average price of $230. Under this scenario, he realized $176 million in gross proceeds. Yet, here we are in February 2017 and Boston Beer is down more than 50% from its all time highs.

What really bothers me is Boston Beer's excessive options grants: 351K shares in FY14, 303K shares in FY15, and 557K shares in FY16. Moreover, the company spent $135.7 million in FY15 buying back stock and $164.7 million in FY16 on buybacks. In other words, Boston Beer spend nearly 100% of its cash flow from operations, including changes in working capital, buying backs it high priced shares, so its stock price could be supported and its executives would realize good prices when their restricted selling windows opened up. Also, FY15 CAPEX was $75 million and FY16 CAPEX was $50 million, so net-net, a lot of resources could have been invested towards innovation or acquisitions that would have driven shareholder value creation. This isn't leadership and is borderline shameful corporate behavior.
Also, I tip my cap to SA contributor, Alex Pitti, who correctly identified that Boston Beer's most impressive growth stemmed from its super high market share in the ciders category. He correctly identified this as a fleeting trend and that Boston Beer's underlying market share wasn't flat lining, in other categories. Well done, Alex. This was an excellent call and I hope you did short the stock north of $200.
Jim Koch's introductory remarks from last night's conference call capture the issues. There is way too much competition. Quite candidly, I overestimated Boston Beer's stickiness with drinkers. Clearly, there is a strong trend towards hipsters spending their craft dollar in the micro breweries in their own local cities. Boston Beer's has lost it luster and it is hard to innovate given the competition.
We are disappointed with our depletion trends in 2016, which have remained weak so far in 2017. These trends are affected by the general softening of the craft beer category and cider category, and a more challenging retail environment with a lot of new options for our drinkers. New craft brewers continue to enter the market, and existing craft brewers are expanding their distribution and tap rooms, with the result the drinkers are seeing more choices, including a wave of new beers in all markets.

We were particularly disappointed with the performance of the first of our new spring seasonal beers, Samuel Adams Hopscape. We are introducing later this month our second spring seasonal, Samuel Adams Fresh as Helles, a bright Helles lager with orange blossoms and also releasing a refreshed Samuel Adams Rebel IPA, featuring a new packaging design and a new recipe with experimental hops that create a more tropical and piney IPA.

We are also executing the national rollout of Rebel Juiced IPA in bottles and cans for the first quarter of 2017 to complement the national draft release in the fourth quarter of 2016. We believe that the history, authenticity and quality of the Samuel Adams brand, our unique beers, and our willingness and ability to continue to invest behind our brands position us well for future growth, and we are committed to improving our current trends.
The guidance is so poor that I couldn't make it all th way through the analyst Q&A section.
Valuation
As of February 17, 2017, Boston Beer has 9.306 million shares of Class A stock and 3.2 million shares of Class B. So at yesterday's closing price of $167, we are looking at a market capitalization of just under $2.1 billion. At the midpoint of FY17 guidance, 12.5 million shares x $5.20 = $65 million in earnings. Given the deterioration in market share, depletions, and revenues, if you place a 20X multiple on FY17 earnings, we have a $104 stock. Moreover, Mr. Koch missed his window to sell the company when growth trends were far better and the M&A environment was red hot.
Takeaway
Jim Koch and Boston Beer have lost their way. Management and insiders cashed out a boatload of stock at very good prices and nearly 100% of FY15 and FY16 cash flow from operations was diverted to fund $300 million in share buybacks. Competition is just too fierce and Boston Beer has no momentum. I vastly overestimated Boston Beer's stickiness and although its beer is tasty and high quality, Boston Beer has lost its cache.

In early morning trading, and with shares trading in the high $150s, I would hit the bid.
Disclosure: I/we have no positions in any stocks mentioned, and no plans to initiate any positions within the next 72 hours.
I wrote this article myself, and it expresses my own opinions. I am not receiving compensation for it (other than from Seeking Alpha). I have no business relationship with any company whose stock is mentioned in this article.