Finally a week where inventories do not increase dramatically, although, entirely due to a drop in imports. Crude oil prices (NYSE: USO) stayed unchanged after the report was released, the started to drop by about $0.50/bbl. Crude oil moved higher yesterday following the API report.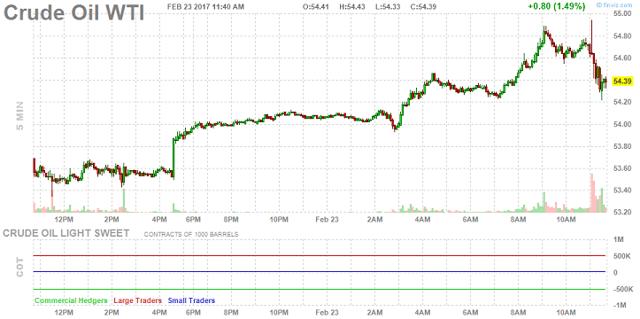 Source: Finviz.com
Stocks:
* Crude oil inventories increased by 600,000 barrels.
* Gasoline inventories decreased by 2.6 million barrels.
* Distillate inventories decreased by 4.9 million barrels.
Inventories of crude oil + gasoline + distillates finally dropped this week, after increasing by very alarming levels almost every week since the beginning of the year. The changes in inventory levels this week, however, happened in the context of net imports being almost 2 mmbpd below normal levels.
We have been saying for a while that imports would have to be dramatically curtailed going forward to prevent further accumulation of inventories and that's what happened this week. Inventories will still need to be reduced going forward to prevent further accumulation during refinery maintenance season.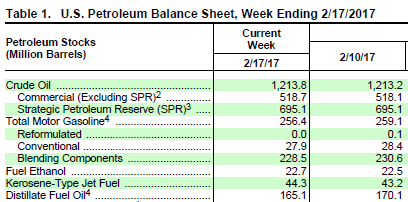 Source: EIA
Production and Refinery Utilization:
* Domestic production increased by 24,000 bpd with most of the growth occurring in the Lower 48.
* Production in the Contiguous United States (excluding Alaska) increased by 17,000 barrels per day.
* Net imports decreased by 1,390 mbpd, almost 2 mmbpd below normal levels. This decrease in imports more than explains the drop in product inventory and flat crude oil stocks for the week. Imports should remain well below seasonally normal levels for the following weeks if there is any hope to avoid panic during the shoulder season.
As we have noted before, when imports decrease, inventories are still accumulating, just not in the U.S., where they are more visible.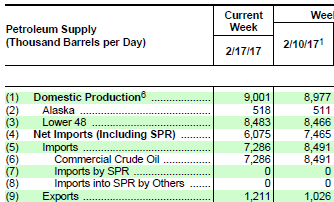 Source: EIA
* Refinery utilization decreased by 120 basis points. We are currently entering the shoulder season when refinery utilization rates are low. This will result in further accumulation of crude oil stocks unless imports are kept in check.

Source: EIA
Cushing, Oklahoma:
* Cushing, OK inventories decreased by 1.6 million barrels. We still believe that Cushing is essentially at maximum operating capacity.
* Gulf Coast inventories increased by 900,000 barrels. Gulf Coast inventories are also near historical highs.

Source: EIA
Conclusion:
We have been writing for a while that imports would have to be dramatically reduced going forward in order to try to balance the domestic crude oil market. This is what happened this week, and although crude oil stocks increased by a small amount, gasoline and distillate inventories finally fell. Since inventories are still at all-time highs, imports will have to continue to be curtailed if there a chance to end the refinery maintenance season without issues.
We note that when domestic imports of crude oil drop, inventories still accumulate, just not in the U.S.
Disclosure: I/we have no positions in any stocks mentioned, and no plans to initiate any positions within the next 72 hours.
I wrote this article myself, and it expresses my own opinions. I am not receiving compensation for it (other than from Seeking Alpha). I have no business relationship with any company whose stock is mentioned in this article.