A Recap from 2014 to Present
In June 2014, China's MIIT (Ministry of Industry and Information Technology) issued FD-LTE and TD-LTE hybrid licenses to China Unicom (NYSE:CHU) and China Telecom (NYSE:CHA), finally disrupting the two-and-a-half-year 4G monopoly of leader China Mobile (NYSE:CHL). China Unicom's stock price rose 20% from HKD 11.50 to HKD 13.50 during 27th June 2014 to 2nd September 2014, as the market interprets 4G services as a new avenue of China Unicom's revenue growth and as a driver towards higher profitability (3G to 4G migration).
Since then, Unicom's business and financial performance have only trended downhill. The stock did reach a new high of HKD 14.80 on 28th April 2015, but that was mostly attributed to the irrational influence of the A-share stock market bubble that peaked in 2Q15 and burst by August 2015. Analysts have been talking about a rise in blended ARPU (average revenue per user) from 4G FD-LTE rollout to drive earnings growth since October 2014, but none of that has materialized.
It is true that negative regulatory events, namely the VAT reform in 3Q14 and the implementation of data rollover in 4Q15, weighed on the industry as a whole. But a glance at China Unicom's quarterly sales clearly shows that regulation effects cannot account for the underperformance alone. There is no denying that the dismal stock price performance (currently down 30% from 2014 highs) is due to fundamental weakness in the company's operations, due to continued loss in subscribers to competitors.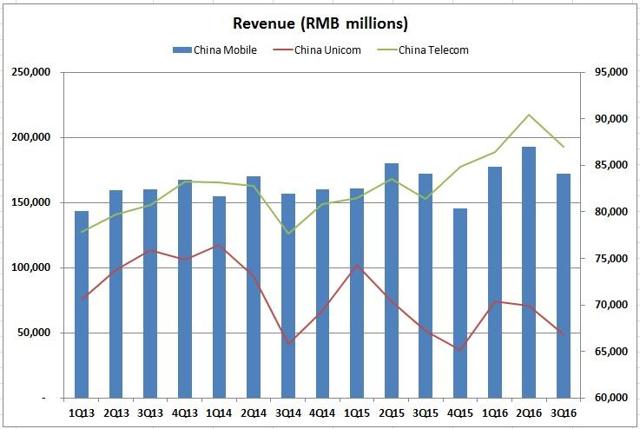 The chart below summarizes the developments relating to China Unicom since early 2014.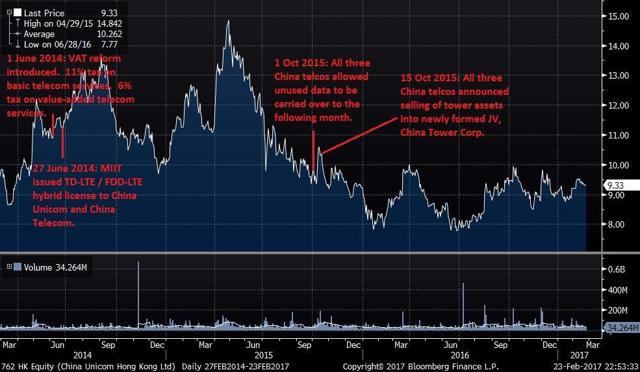 Why this time is different
As we now hear of Unicom's imminent turnaround, it is worth asking why things are different this time after 5 quarters of continuous disappointment.
Sustained mobile subscriber growth since Jan 2016. CU has added 9.6 million mobile subscribers in 9M 2016 versus losing 12.4 million mobile subscribers in 9M 2015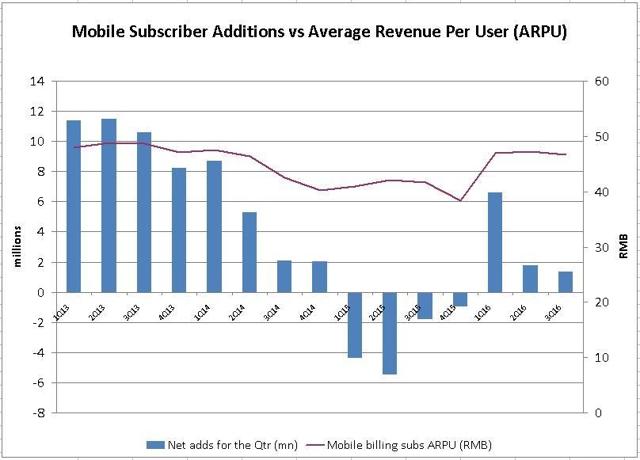 2. The phase of regulatory tampering (implementation of VAT in 2014 and of data rollover in 2015) should be over for the time being (say, the next 12 months) and corresponding regulatory risk is lower
3. Lightening capex and correspondingly lightening depreciation expense until the next 5G cycle (expected around 2019-2020) will help EBIT margin expansion
We are looking at triple-digit earning growth in 2017 and over 60% earnings growth in 2018. On 3.8x EV/EBITDA, this appears to be a compelling investment for the next 12 to 18 months.
The 10-second Elevator Version
For those who want the simple explanation of the turnaround story is to consider Unicom's historical EBIT margins. From 2012 to 1H 2014 when operations were in good form, Unicom delivered EBIT margins of 5% to 7%. In 2H 2015 when the situation hit rock bottom, EBIT turned negative. Profitability has rebounded since then to 2% in 1H 2016. There is good reason to assume, according to mean reversion tendencies buttressed by evidence of sustained mobile subscriber additions, that operating margins should revert to the 5% to 7% range.

The Details
Getting into more detail, I think revenue growth for mobile services (which accounts for slightly over 50% of revenues) realistically will be mid-single digits (~5%). Fixed line revenues (which account for over 30% of revenues) will grow at a slower clip at low-single digits, as steady growth in internet and ICT product segments are partially weighed down by declining legacy voice revenues. This translates into overall revenue growth of ~4% through 2018, hardly an exciting figure.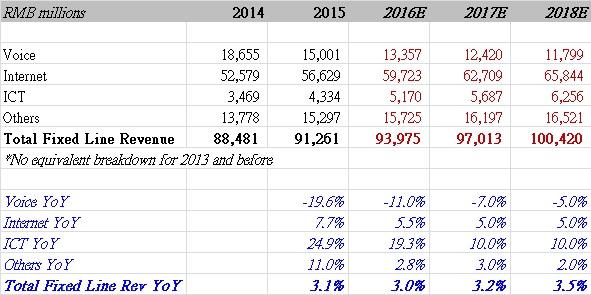 The main driver of earnings growth, as such, is margin expansion, or perhaps more specifically margin reversion. China Unicom has yet to announce FY16 results, and FY16 revenue growth is expected to be flattish, but reversion of growth to solid positive territory in 2017 will immediately have an impact on EBITDA and EBIT margins, given high operating leverage of telecom operations.
A combination of network costs moderation, lower handset subsidy expense (due to shift in business model away from pushing handset sales), and rationalization of other operating expenses, will result in EBITDA margin expansion of 2 percentage points from 29% in FY16 to 31% in FY18. Stabilizing depreciation costs will result in EBIT margins more than doubling from sub 2% to ~5%. These figures are all generally in line with Street estimates.
With the overall industry environment turning more benign this year, as 1) regulators give telco players breathing room after tough measures rolled out in 2014 and 2015 and 2) as 4G price cuts moderate due to mass-market adoption, laggards such as Unicom can be expected to outperform.
Additionally, the hurdle in the near term for Unicom's 4Q16 results is low seeing that 4Q15 sales was the lowest in the past 15 quarters due to the implementation of data rollover, which could mark an inflection point in Unicom's operations. Another share price trigger in the relative near term would be the listing of China Tower Corp., the entity formed in 2015 to which all three Chinese telecoms sold their tower assets. The listing is expected to happen within this year.
Disclosure: I/we have no positions in any stocks mentioned, but may initiate a long position in CHU over the next 72 hours.
I wrote this article myself, and it expresses my own opinions. I am not receiving compensation for it (other than from Seeking Alpha). I have no business relationship with any company whose stock is mentioned in this article.