Welcome to the February 2017 first edition of the cobalt miner news. The focus will be on the cobalt miners that are in production now, or have a strong chance to make it to production in the short to mid-term. Being the first edition I will also give some brief company descriptions and indicate who are the major cobalt producers. I will also try to feature at least two promising juniors each month. For a background on the cobalt miners investors can read my earlier articles:
Investors are reminded that cobalt is mostly mined as a bi-product of copper or nickel, hence many of the miners discussed below are not pure cobalt plays. Also several have operations in the risky location of the Democratic Republic of Congo (NYSE:DRC).
Cobalt price news
As of February 21, cobalt spot prices reached US$21.77. The graph below highlights the over 100% increase in cobalt price over the past year, especially taking off in late 2016 and early 2017. The very recent cobalt spot price rise can perhaps be attributed to fear of future cobalt supply disruptions, as a result of the recent copper supply disruption from Escondida and Grasberg, and the Philippine nickel mine closures.
Cobalt spot prices - 1-year chart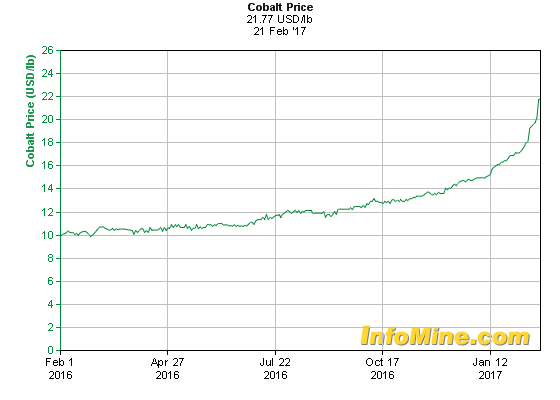 Source:InfoMine.com
Cobalt demand versus supply outlook
Critical metals expert Chris Berry was one of the early analysts to see the cobalt opportunity. In his excellent article "The Cobalt Window Finally Opens Up" Chris states:
"Just as with lithium, the demand story around cobalt is real and this is what has supply chain participants worried. With roughly two thirds of the battery cathode demand out to 2025 centered on nickel and cobalt-heavy chemistries (NCA and NMC), the main demand driver for cobalt is in plain view. Almost 50% of cobalt chemical demand goes into the rechargeable battery business today and this is forecast to increase. Given the apparent shortage in available cobalt, it appears that a new long-term average price for the material will settle in the $20/lb range. To be clear, you could easily see cobalt prices accelerate well above this level (and likely will), but $20/lb could be a new long-term floor, just as many predict that $10,000/t is the floor for LCE based on lithium mining economics."
Chris also mentions the "junior miners have begun to position themselves with opportunities mainly in Canada and Australia." I discuss some of these juniors below.
According to Investing News, Macquarie Bank forecasts "a deficit of 885 tonnes is expected next year, with deficits of 3,205 tonnes and 5,340 tonnes expected in 2019 and 2020, respectively."
Regarding the demand side, an addition of one Tesla gigafactory will add about 7,000tpa of cobalt demand. There are currently 14 lithium ion battery megafactories under construction to be ready by 2020.
My table below (not yet to be relied upon for accurate numbers) gives me a guide as to who are the major cobalt producers.
My preliminary cobalt production table (cobalt supply)
| | | |
| --- | --- | --- |
| Cobalt miner (tpa) | 2016 | 2017 (forecast) |
| Chinese (Jinchuan,Huayou Cobalt,Jiangsu Cobalt) | 46,966 | 47,000 |
| China Molybdenum | | 15,909 |
| Freeport McRoRan | 10,944 | ~2,000 |
| Glencore (Mutanda, Minara, Mopani) | ?12,000 | ?17,000 |
| Katanga Mining (plans 22,000tpa in 2018) | | |
| Sherritt International | 6,967 | 7,300 |
| Umicore SA | 6,328 | 6,500 |
| ERG - ENRC (Chambishi) | ?4,317 | ?4,317 |
| Sumitomo (27.5 % Ambatovy Nickel,Madagasca) | 4,418 | 4,500 |
| ICCI | 3,902 | 4,000 |
| Zambia | 3,874 | 4,000 |
| Norilsk Nickel | 3,234 | 3,500 |
| Others-Vale (1,854), S.Africa (1,230), BHP/QNPL | 5,000 | 5,000 |
| TOTAL | ~110,000 | ~120,000 |
NB: Some numbers are still estimates as I intend to improve on this table over time. Happy to get feedback on this to make it more accurate.
Source:Cobalt News and my own research/estimates.
Cobalt miners compared by cobalt resource - "EV component not recently updated"

Source: 24hGOLD
Cobalt market news
Chinese- Huayou Cobalt Co., Ltd, Jiangsu Cobalt Nickel Metal Co., Ltd. and Shenzhen Green Eco-manufacture Hi-tech Co., Ltd.
The above group of Chinese miners produced over 40% of global cobalt output in 2014. I won't be focusing on them as they are mostly not accessible to Western investors.
China Molybdenum (HKSE:3993) (OTC:CMCLF)
The main recent (2016) news for China Moly was their purchase of the 56% equity that Freeport held in the massive Tenke Fungurume copper and cobalt mine in the DRC for US$2.65 billion. Tenke had consolidated recoverable reserves totaling 7.2 billion pounds of copper and 874 million pounds of cobalt. Investors are reminded that China Moly had 57% of its revenue from molybdenum-tungsten related products, prior to its recent large Tenke copper cobalt purchase. China Moly is the second-largest niobium supplier globally, and now a leading cobalt producer.
Freeport-McMoRan Inc (NYSE:FCX)
Freeport sold their share of Tenke cobalt mine in 2016 to China Moly, but still have the massive Grasberg gold-copper mine in Indonesia and other copper-cobalt mines. Freeport's main current news is it has shutdown the Grasberg mine since January 19 due to a dispute with the Indonesian Government. Freeport derives nearly 70 percent of their sales from copper, and their cobalt production will be significantly less since the Tenke sale.
Glencore (LSX:GLEN) (HK:805) (OTC:GLNCF)
On February 15, Investing News reported, "Glencore Spends $960 million on DRC copper and cobalt mines. Glencore bought the remaining stake in the Mutanda mine and increased its interest in the Katanga mine." Glencore "now owns 100 percent of Mutanda Mining and 86.33 percent of Katanga Mining."
This move shows Glencore is very positive on the above DRC copper and cobalt plays, and on the underlying metals. It also leaves Glencore as one of the top global cobalt producers, which will increase once the Katanga operation restarts late 2017 or 2018.
Katanga Mining (TSXV:KAT) (OTCPK:KATFF)
Katanga is primarily a copper miner in the DRC. As per the news mentioned above Glencore have now increased their stake in Katanga from 75% to 86.33%. They are currently spending around $880m to improve their recovery circuit and decrease their costs of production. Katanga have one of the largest cobalt reserves globally (90.9Mtp proved and probable reserves, with good average grades of 4.14% copper and 0.45% cobalt) at their 75% owned KOV open pit and Kamoto underground mine in the DRC. You can read their latest reserve and resources here, or their latest financials which are not good (due to the mine closure) here. Investors can read more in my recent article about Katanga Mining here. The stock has rallied strongly since my article on January 1, but I still see plenty more upside for patient investors.
Lundin Mining (TSX:LUN) (OTCPK:LUNMF)
Lundin's cobalt production from the Tenke mine in 2015 was 3,843 tonnes of cobalt, however late in 2016 Lundin sold their 24% stake in Tenke to BHR Partners for $1.14 billion in cash.
Sherritt International (TX:SS) (OTCPK:SHERF)
Sherritt is primarily a nickel miner with operations in Canada, Cuba and Madagascar (40% of Ambatovy). Sherritt "expects to produce between 7,300 and 7,900 tonnes" of cobalt in 2017. Sherritt has a 50 percent stake in the Moa Joint Venture ((NASDAQ:CUBA)) and a 40 percent stake in the Ambatovy project (Madagascar). Cobalt makes up less than 20% of Sherritt's revenue, and Sherritt produced 6,967 tonnes of cobalt in 2016.
Umicore SA (OTCPK:UMICF)
Belgium specialty metals refiner Umicore is more a refiner than a miner. They refine cobalt for their cobalt and specialty materials division at their facilities in Belgium and China. In 2016 they produced around 6,300 tonnes of cobalt. They also do metal and battery recycling. Umicore recently announced their 2016 full year results, which you can read here.
ERG owned Eurasian Natural Resources Corporation (ENRC)
ENRC is fully owned by ERG (Eurasian Resources Group), a private natural resources company headquartered in Luxembourg. Being private I won't be covering them in future monthly news.
Sumitomo Metal Mining Co. (TYO:5713) (OTCPK:SMMYY)
Sumitomo Metal Mining (NYSE:SMM) is a subsidiary of the Sumitomo Group. SMM is a major smelter and refiner of copper, nickel and gold in Japan, and has a 27.5% stake in the Ambatovy nickel project in Madagascar. Feedstock for the refinery is nickel cobalt mixed sulphide from its Taganito and Coral Bay mines in the Philippines. Right now the Philippines is having a severe environmental crackdown that has resulted in the closure of 23 mines (mostly nickel). Reuters reports that "the nickel mines ordered to shut account for about 50 percent of the country's annual output, which analysts estimate at about 10 percent of world supply." Time will tell if this impacts Sumitomo and their nickel and cobalt output. Of interest is that Sumitomo supply Panasonic (OTCPK:PCRFY) who supply Tesla (NASDAQ:TSLA) so we may see a supply crunch soon as Tesla rapidly ramps up demand for both nickel and cobalt.
Possible short-mid term producers
eCobalt Solutions (TSX:ECS) (OTCQB:ECSIF)
eCobalt Solutions, formerly Formation Metals, 100% own the Idaho cobalt project in the US. In February eCobalt Solutions announced a "bought deal financing" done through Canaccord. They are aiming to sell 15 million shares at CAD 1.00 to raise CAD 15m. eCobalt are a possible future supplier to Tesla, and all going well could be in production by about 2019/2020.
Fortune Minerals (TSX:FT) (OTCQX:FTMDF)
Fortune Minerals 100% own the NICO gold-cobalt-bismuth project in the Northwest Territories of North America. CBC news recently reported on Fortune Minerals quoting "NICO Mine could move ahead within 2 years, claims CEO." And "$600 million still needs to raised, but economics of the project are good, says analyst." The Whati road has been approved and partially funded by the Federal Government, and PWC was recently appointed to deal with raising capital to build the mine. Fortune also recently announced raising CAD 5.7m at CAD 0.25 per share. "The net proceeds from the offering will be used to fund an updated feasibility study for the NICO Cobalt-Gold-Bismuth-Copper project and for general corporate purposes." Fortune are also a possible future supplier to Tesla, and all going well could be in production by about 2019/2020. Investors can read more about Fortune Minerals in my article here.
Ardea Resources (NYSE:ARL) (OTCPK:ARRRF)
Ardea Resources recently floated on the ASX in February 2017 at 0.20. Based on a AUD 0.33 price they have an EV/lbs cobalt equivalent 0.04 (see table below), meaning they are valued cheaply at present as they are an early stage explorer. The KNP Cobalt Zone contains 49.7 Mt at 0.12% cobalt and 0.86% nickel for a total contained cobalt metal of just under 60,000t. The total resource has about 386,000 tonnes of contained cobalt metal, and is according to the company "the developed world's largest cobalt resource." Investors should note the cobalt in the above 386,000 cobalt resource averages a lower grade of 0.048% cobalt. Also note resources are not the same as proven reserves. Their Lewis Ponds zinc gold project has 6.6m tonnes @ 2.4% zinc, and 1.5g/t gold, plus silver, lead, and copper. The company "plans to spend up to A$5 million mainly on drilling over two years on currently defined targets. A focused evaluation of each of the company's four leading projects to assess and rank development priorities will be undertaken." You can read more here. Certainly some potential and one to watch with interest.
EV/Cobalt Equivalent chart comparison

Clean TeQ Holdings [ASX:CLQ] (OTCQX:CTEQF)
To introduce investors to Clean TeQ, I quote from their website. "Clean TeQ Holdings Limited is the owner of the Syerston nickel/cobalt/scandium project in NSW, Australia. Syerston's unique mineral resource, when combined with Clean TeQ's proprietary ion exchange extraction and purification processing technology, positions Clean TeQ to become one of the largest and lowest cost suppliers of key cathode raw materials to the lithium-ion battery market - nickel sulphate and cobalt sulphate." And, "the Syerston project is one of the highest grade and largest nickel and cobalt deposit outside of Africa and one of the largest and highest grade scandium deposits in the world." Interestingly mining legend Robert Friedland owns 20% of the company. The stock is also shown in the comparative table above at a similar price to today's price of AUD 0.73. Investors can view a company presentation here. Another one to watch, especially given the technological edge. The stock has had a great run up 356% in the past year, and has a market cap of AUD 350m.
Equator Resources Ltd (ASX: EQU)
Equator Resources have appointed Paul Matysek as a director. Matysek is considered a guru in the mining industry with an enviable track record. He is currently also connected with Lithium X (TSXV:LIX) (ROCEF) and Nano One Materials (TSXV:NNO) (OTCPK:NNOMF).
Others cobalt miners I will be watching for significant news and covering in future months include:
Barra Resources Ltd [ASX:BAR], BHP (NYSE:BHP), Brixton Metals Corporation [TSXV:BBB] (OTC:BXTMD) , Canadian International Minerals [TSXV:CIN], Cobalt Power Group (TSXV:CPO), CobalTech Mining [TSXV:CSK] (OTCPK:BNCIF), Cobalt Blue [ASX:COB], Conico Ltd [ASX:CNJ], Corazon Mining Ltd [ASX:CZN], Cruz Capital Corp (NYSE:CUZ) (OTCPK:BKTPF), Dragon Energy (ASX:DLE), First Quantum Minerals (TSX:FM) (OTCPK:FQVLF),(OTC:HLPCF), GME Resources Limited [GME], Highlands Pacific [ASX:HIG], (OTC:HLPCF), Hinterland Metals Inc (TSXV:HMI) (OTC:HNLMF), LiCo Energy Metals (TSXV:LIC) (OTCQB:WCTXF), Mincor Resources [ASX:MCR], MMC Norilsk Nickel (OTCPK:NILSY) (LSX:MNOD), PolyMet Mining (TSX:POM), Panoramic Resources [ASX:PAN], and Vale S.A. (NYSE:VALE).
Conclusion
Cobalt spot prices have risen very strongly the past 2 months and are now one of the best performing metals in late 2016, and early 2017. The current mining disputes at Escondida (NYSE:BHP) and Grasberg (Freeport) have reduced global copper output, and also raised concerns regarding future cobalt supply. Added to this nickel mine closures in the Philippines may also potentially disrupt cobalt supply.
My highlight for February was Glencore's move to gain a greater share of their Mutanda and Katanga copper-cobalt mines in the DRC. This signifies to me that Glencore has confidence in the cobalt and copper outlook, as they act to secure a greater market share.
Many forecasters including Macquarie are forecasting a cobalt deficit is coming, and the cobalt spot price has risen accordingly. Chris Berry's view "$20/lb could be a new long-term floor" was also most interesting. Meanwhile the electric vehicle and energy storage booms continue to gain momentum (EVs are still only at 0.85% market share), providing a very strong future tailwind of demand for the cobalt miners that can make it to production.
As usual all comments are welcome.
Editor's Note: This article covers one or more stocks trading at less than $1 per share and/or with less than a $100 million market cap. Please be aware of the risks associated with these stocks.