The EIA reported a storage draw of -89 Bcf, bringing the total storage number to 2.356 Tcf. This compares to the -131 Bcf draw last year and the -158 Bcf draw for the five-year average.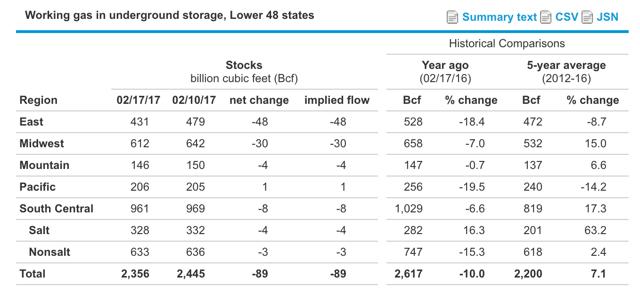 Source: EIA
Going into this report, a Reuters survey of 20 traders and analysts pegged the average at -85 Bcf, with a range between -76 Bcf and -95 Bcf. We expected -87 Bcf and were slightly higher than the consensus. We were off by 2 Bcf on this storage report.

The EIA natural gas storage report surprised on the upside this week as our estimate was slightly higher than the consensus average of -85 Bcf. Most traders and analysts had figures around -80 to -85 Bcf, while outliers brought up the average. Natural gas (NYSEARCA:UNG) prices reacted positively on the back of this storage report. Our total net sum since we reset our last track record is 3 Bcf versus the consensus net sum of 19 Bcf.
Our preliminary estimate last Friday was for a storage draw of -90 Bcf. We revised our forecast lower this week as we readjusted natural gas supplies higher.
US natural gas storage is now 156 Bcf higher than the five-year average. We currently forecast the surplus to continue to increase in the coming weeks. The storage report for Feb. 24 reported next week Thursday will be the most bearish storage report this winter. Current preliminary ranges we've seen peg the storage estimate between +7 injection to -25 draw. We are seeing an injection currently.
As for natural gas fundamentals, we are seeing the structural deficit widen again as power burn starts to pick back-up while US gas supplies are falling on the heel of lower Canadian gas net imports. We update natural gas fundamentals daily to premium subscribers, so if you are interested, you can sign up here. For more info on premium, read this.
Disclosure: I/we have no positions in any stocks mentioned, and no plans to initiate any positions within the next 72 hours.
I wrote this article myself, and it expresses my own opinions. I am not receiving compensation for it (other than from Seeking Alpha). I have no business relationship with any company whose stock is mentioned in this article.