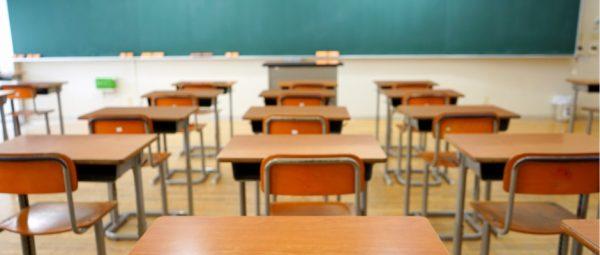 We highlight three key lessons learned, and one that may yet be in store
By Walter Davis, Alternatives Investment Strategist. Posted on Expert Investment Views: Invesco US Blog.
When I joined Invesco in 2014 and started blogging about alternatives, alternative investment strategies were fairly new to individual investors; most of these mutual funds had track records of less than three years. At that time, many people didn't know what to expect from this asset class, which gives investors exposure to a broad range of opportunities outside of traditional, long-only stock and bond holdings.1 Today, with the ability to look back over the past three years, there are three key lessons that investors can take away about alternative investment strategies:
1. What to expect from performance. I've spoken to many investors who thought that alternative mutual funds would outperform equities year in and year out. This expectation ran counter to the fact that on a historical basis, alternative indexes have tended to underperform equities during bull markets and outperform equities during bear markets, as shown in the chart below. As a result, many investors were surprised and disappointed when their alternatives lagged equities over the past few years. I believe history has shown us what to generally expect from alternatives: the potential for underperformance relative to equities in bull markets and outperformance relative to equities in bear markets.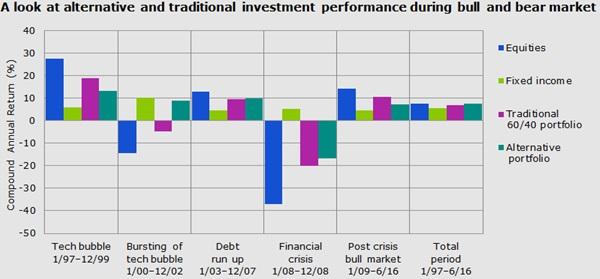 Source: Invesco, January 1997 through June 2016. Alternatives portfolio is represented by a portfolio comprising allocations to each of the following alternatives categories: Inflation-hedging assets, represented by 15% FTSE NAREIT All Equity REIT Index and 5% Bloomberg Commodity Index. The 15%/5% split reflects Invesco's belief that investors tend to invest in strategies with which they are more familiar. Principal preservation strategies, represented by 20% BarclayHedge Equity Market Neutral Index. Portfolio diversification strategies, represented by 12% BarclayHedge Global Macro Index and 8% BarclayHedge Multi-Strategy Index. Multistrategy is underweighted in this example due to its potential overlap with global macro. Equity diversification strategies, represented by 20% BarclayHedge Long/Short Index. Fixed income diversification strategies, represented by 10% S&P/LSTA US Leveraged Loan Index and 10% BarclayHedge Fixed Income Arbitrage Index. The performance of individual alternative investments will differ from that of the index. Traditional 60/40 portfolio is represented by 60% S&P 500 Index and 40% Barclays US Aggregate Bond Index. Equities are represented by the S&P 500. Fixed Income is represented by the Barclays U.S. Aggregate Bond Index. Past performance is not a guarantee of future results.
2. Manager selection is critical. Even within the broad performance expectations outlined above, there is a lot of room for alternatives managers to distinguish themselves from the pack. Over the past three years, we've seen that the dispersion of returns across alternatives managers tends to be much wider than that of traditional managers. This dispersion can easily be seen when looking at the returns within any of the Morningstar alternatives categories. Clearly, there is a large gap between the performance of the top managers in the category and the performance of the bottom managers (there is also a large gap between the performance of the top managers and the Morningstar category average). As a result, manager selection is critical. Fortunately for investors, more and more managers have track records of three years or longer, making it easier to research their options. When evaluating manager performance, I believe it's helpful to look beyond the manager's annualized return and also focus on returns during bull and bear parts of the market cycle, volatility and correlation to traditional asset classes.
3. Fees matter. Alternative mutual funds tend to have higher fees than those charged on traditional equity and fixed income mutual funds. That's because these funds give the manager increased freedom with how to invest (i.e., the ability to invest on a long and short basis and the ability to trade across multiple markets and asset classes). In return, these funds are expected to deliver differentiated returns relative to traditional stocks and bonds. For alternative funds that seek to deliver lower volatility - but in exchange for potentially lower returns - it's particularly important to keep an eye on fees so that they don't overwhelm the bottom line.
What lessons may lie ahead?
In addition to the above, I believe there is one looming lesson that investors may learn in the future:
Delivering performance in a down market is critical. There are several types of alternative investment strategies that are designed to help investors weather the storm when equities are falling. Market neutral, long/short equity, global macro and managed futures are examples of such strategies. In a bear market, these strategies have the potential to outperform equities either by incurring losses well below that of equities or by delivering positive returns. Why? Because they have the ability to take short positions (which are designed to profit when a security falls in price) as well as the ability to invest outside of traditional stock markets. Most mutual funds that implement these strategies have existed only during the past three years, which have been strong for equities.2 As a result, most investors are focused on the performance of alternatives during this bull market period. What investors should also be focused on, in my view, is the potential for an alternative fund to perform well in a down market. To help assess this, investors can reference fund performance during the third quarter of 2015 and first six weeks of 2016, when equities sold off sharply.3 While those sell-offs were relatively short-lived (and while past performance does not guarantee future results), they do provide insight into how a fund could potentially perform during an extended sell-off.
For more information about alternatives
Sources
Alternative investment strategies are investments in which the fund manager is given increased flexibility with how to invest. The manager is often given the ability to trade across multiple markets and asset classes such as stocks, bonds, currencies and commodities, as well as the ability to short markets (i.e., establish positions that profit from an investment declining in value.) Common hedge fund strategies such as global macro, equity long/short, market neutral, managed futures and unconstrained fixed income are all examples of alternative strategies.
Invesco. The three-year return of the S&P 500 Index from December 2013 to December 2016 was 9.02%.
Invesco. S&P 500 Index returns were -6.44% from June 2015 to September 2015, and -8.51% for the first six weeks of 2016.
Important information
Blog header image: maroke/Shutterstock.com
The information provided is for educational purposes only and does not constitute a recommendation of the suitability of any investment strategy for a particular investor. Invesco does not provide tax advice. The tax information contained herein is general and is not exhaustive by nature. Federal and state tax laws are complex and constantly changing. Investors should always consult their own legal or tax professional for information concerning their individual situation. The opinions expressed are those of the authors, are based on current market conditions and are subject to change without notice. These opinions may differ from those of other Invesco investment professionals.
| | | |
| --- | --- | --- |
| NOT FDIC INSURED | MAY LOSE VALUE | NO BANK GUARANTEE |
All data provided by Invesco unless otherwise noted.
Invesco Distributors, Inc. is the US distributor for Invesco Ltd.'s retail products and collective trust funds. Invesco Advisers, Inc. and other affiliated investment advisers mentioned provide investment advisory services and do not sell securities. Invesco Unit Investment Trusts are distributed by the sponsor, Invesco Capital Markets, Inc., and broker-dealers including Invesco Distributors, Inc. Each entity is an indirect, wholly owned subsidiary of Invesco Ltd. PowerShares® is a registered trademark of Invesco PowerShares Capital Management LLC, investment adviser. Invesco PowerShares Capital Management LLC (PowerShares) and Invesco Distributors, Inc., ETF distributor, are indirect, wholly owned subsidiaries of Invesco Ltd.
©2017 Invesco Ltd. All rights reserved.
Alternative strategies: What have the past three years taught investors? by Invesco US