Shopify (NYSE:SHOP), the Canadian e-commerce platform, started off as a retailer for snowboards. It was purposely built because its founder and CEO, Tobi Lütke, couldn't find suitable software for the site, so he built his own.
Since then, it has rapidly evolved into a general e-commerce platform, offering a complete set of solutions to merchants. In terms of business strategy, Shopify offers what's known as a "total solution," not just a product or a service. Its revenue consists of two categories:
Subscription services: A monthly fee for basic online stores generating from $9 to $299 (and significantly more for the larger Shopify Plus customers).
Merchant solutions: Additional payments for additional services (payments, shipping, etc.).
The basic offering already covers everything you need to set up an e-commerce business, but via merchant solutions, additional services can be obtained when needed, like:
Shopify Capital; provides working capital to finance stuff like inventories and marketing
There is a host of additional stuff, from CRM (customer relationship management) to inventory management and business analytics. Shopify often partners with third-party providers (for instance, it has 70 payment gateways, stuff like PayPal (NASDAQ:PYPL), Apple (NASDAQ:AAPL) Pay, banks, credit cards, etc.). It also has an app store where a third-party offers in excess of 1,200 apps.
Growth
The strong growth of the company is a sign that its "total solution" strategy and relentless merchant focus is working. SHOP has been adding merchants at a relentless clip.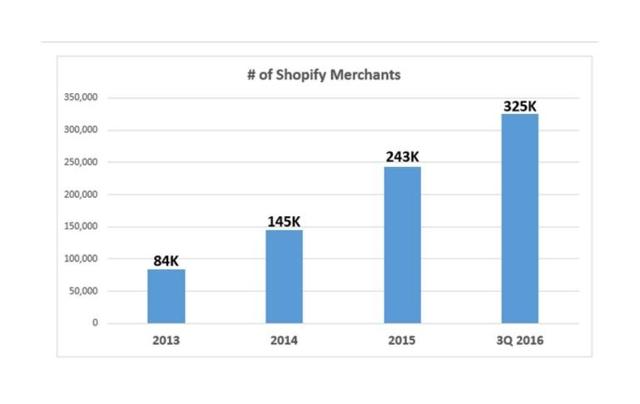 In 2013, the company serviced 84,000 merchants. This has grown to over 375,000 merchants at the end of 2016, 2,500 of which are much bigger customers for the Shopify Plus platform.
The platform amasses great reviews (see here and here for instance). There is a host of competition (3DCart, Wix (NASDAQ:WIX), Volusion, Woo, Etsy (NASDAQ:ETSY), Bigcommerce, etc.). Some of the competition is even free, like WooCommerce, a plug-in for WordPress. But you'll have to pay for stuff (like hosting) that comes bundled with Shopify, so "free" is a relative concept.
Its much more recent Shopify Plus program is also off to a flying start (from the Q4 CC):
Shopify Plus signed over 1,500 new merchants bringing us to 2,500 merchants at the end of 2016. And of course we've been adding since then.
Not only is the number of merchants still growing fast, but also the amount they sell, at least the biggest ones, from the Q4 CC:
If we look at the largest 20-plus shops who've been with Shopify for at least two years, on average these shops collectively sold 130% more this year than last year.
In the third quarter, average revenue per merchant was up 28% per year (per Q3 CC).
Management Philosophy and Strategy
Management is clearly focused on the long-term success of the company, which means building a dominant platform and fending off competition. The way to achieve that is to relentlessly focus on solving problems for merchants.
The following quote from COO Harley Finkelstein perhaps best sums up its business philosophy (from the Q4 CC):
In other words, every time we launch something that lowers friction makes our merchants work easier or their outcome better we have created value. It is this hyper focus on the merchants' entire retail operation that makes Shopify truly unique. My DA origination and deciding on which sales channel sell their products as well as the ever growing to-do list after their business is launched. Merchants have the source store manage inventory. You've have to figure out the most effective way to spend marketing and advertising dollars. We have to learn the best way to engage or retain customers and offer superior experience whether it's in person or online. They also need to know about things like taxes and shipping and charge backs and so much more. It's not easy, early stage entrepreneurs soon discover that there's so much more to commerce than simply adding a buy button to a blog. It's far more complex which to us presents an incredible opportunity.
In order to achieve this, it is building partnerships (with Amazon (NASDAQ:AMZN), Facebook (NASDAQ:FB), payments providers, shipping providers, etc.) in order to expand the range of services and sales channels.
Another feature of this policy is that the company is willing to forego short-term profitability in order to improve on its longer-term prospects and those of its merchants. This means that the company keeps investing heavily in R&D and marketing and sales.
Since there are clearly increasing returns possible (through economies of scale and scope), building the best platform by solving problems for merchants and making the whole experience as frictionless as possible is clearly the right approach.
We think that strong financial metrics follow organizational excellence and a well-executed business strategy, not the other way around. So we, just as the market, are not too worried by heavy investment and losses, as long as we see clear signs that the investments are paying off in terms of growth and customer satisfaction. So far, there is little doubt that the latter is happening.
But the strategy also works in a narrow sense. Because of economies of scale, there is a slow decline of the necessary investments to improve the platform as a percentage of revenue despite remaining elevated on a dollar basis.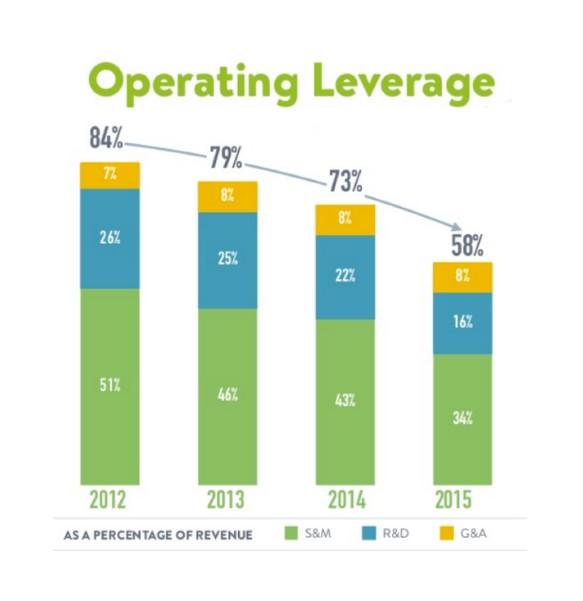 Growth Drivers
E-commerce is still a big growth opportunity as more and more retailers and brands are moving online.
There is also a trend towards multi-channel commerce for which Shopify, with its large partner network, is well placed, for mobile (it was an early mover here), social, online markets and even monetizing ad-hoc events (the "gig economy").
Shopify Plus, the program for large merchants, doubled its monthly revenue in 2016, much of it driven by its Shopify Plus partner program.
Shopify Capital provides working capital to finance inventories or marketing campaigns and the like. It's a recent initiative, but it's high margin, and it's already off to a fast start, growing to $35M in advances at the time of the Q4CC (Feb. 15), up from $30M at the end of Q4 and $15.5M at the end of Q3.
The mobile app, from which you can start and run an entire e-commerce business on your smartphone.
Partners
Amazon is perhaps the most notable of partners as it basically ended its own Webstore in order to partner with Shopify (keep in mind this isn't an exclusive partnership). So it's now a lot easier for Shopify merchants to sell on Amazon even if some 40% were already selling here and on other online markets.
It's an important plank in Shopify's multi-channel strategy. It's also important to note that it doesn't generate direct revenue, and the sales volume generated on Amazon doesn't count as Shopify volume. It's simply adding an important channel for its merchants, underlying its business philosophy to provide the most useful platform for its customers.
Facebook is another important partner, providing the execution part behind many of the Facebook buy buttons you'll come across. It's now also integrated in Facebook Messenger, giving merchants an opportunity to go into dialogue with customers, provide order confirmations and sell directly from the app.
Of course, it has a whole host of other partners providing all kinds of services like payments (Apple Pay, PayPal, etc.), fulfilment, analytics, shipping etc.
There are also partner programs:
The Shopify Partner Program enables customers to refer new clients and earn a percentage (up to 20%) of their revenue, or sell themes or apps and earn much more (70% and 80%, respectively). There are already 11,000+ partners growing the platform and earning money in the process. In Q4, a record number of new partners joined the program and over 11,000 partners referred as new merchants in 2016 (per Q4CC).
The Shopify Affiliate Program is similar; it allows people to earn money from referrals through ads, links and articles (up to $1,500 per customer).
The Shopify Plus Partner program (you find an introduction here) where new Shopify Plus merchants can enlist the expertise of experts on a marketplace.
Finances
2016 figures once again were fantastic (from the company PR):
Total revenue for the full year grew 90% to $389.3M.
Subscription Solutions revenue grew 68% to $188.6M and Merchant Solutions revenue grew 115% to $200.7M.
GMV (gross merchant volume) for 2016 was $15.4 billion, an increase of 99% over 2015.
Operating loss for 2016 was $37.2M, or 10% of revenue, versus $17.8M, or 9% of revenue, for 2015.
Adjusted operating loss for 2016 was 3% of revenue, or $12.1 million (the "adjustment" is mostly stock-based compensation).
Net loss was $35.4M, or $0.42 per share, compared with $18.8M, or $0.30 per share, for 2015.
Adjusted net loss for 2016 was $10.3M, or $0.12 per share, compared with an adjusted net loss of $7.7M, or $0.13 per share, for 2015.
The company had $392.4M of cash, cash equivalents and marketable securities at the end of Q4, up from $190.2M a year ago.
So the company has yet to make profit, although it came close to adjusted operational break-even in Q4 2016, but to some extent that's inflated because of seasonality (and leaving out a whopping amount of stock-based compensation in the order of $15M).
2017 Guidance
The company expects:
Revenue to be in the range of $580M to $600M (from $389.2M last year, a 49-54% growth, quite a slowdown from last year's torrent 90% growth).
Adjusted operating loss in the range of $18M to $22M
Stock-based compensation to amount to $55M, which really is a steep increase from last year ($26M), but since the payroll doubled, this isn't much of a surprise (it's added 1,000 people in 2016 and expect to do the same in 2017).
Concerns and Risks
Shopify enjoys two broad categories of revenues:
Subscription services: A monthly fee for basic online stores generating from $9 to $299 (and significantly more for Shopify Plus customers).
Merchant solutions: Additional payments for additional services (payments, shipping, etc.).
Some margin pressure comes from the fact that the lower margin merchant solutions grows considerably faster than the high-margin subscription services (with margins approaching 80%).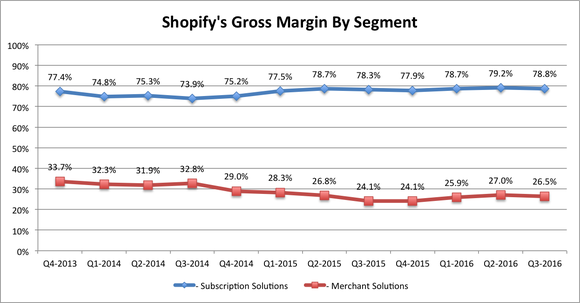 Merchant solutions provided less than a quarter of revenues in 2013; at the end of last year, it was already almost half of revenues. However, the merchant solutions margins are expected to improve because of the success of higher-margin solutions like shipping and capital, and increasing economies of scale in others like payments.
Although it services only 2,500 merchants, the company rakes in much higher subscription fees ($2,000 per month plus a variable part, 0.25% of GMV according to usage for merchants above $10M in GMV).
There is of course a competitive risk. There are numerous e-commerce platforms for retailers to choose from. However, we think this risk is fairly muted, given Shopify's position, but it's always possible a big player with deep pockets embarks on a significant effort to leverage its cash and relationships.
One could think of a player like Alibaba (NYSE:BABA), which seems particularly well placed in the universe of competitors. It has promised to create one million jobs in the US by opening up its vast e-commerce platform to more US small businesses.
On the other hand, when discussing the integration of Amazon, the company notified that this would open the way for other marketplace integrations, perhaps Alibaba can be one of these.
Valuation
Another concern is simply valuation. At the time of writing, the shares are going for $63+, giving the company a market capitalization of $5.65B. That's almost 10 times this year's sales, pretty steep for a company that still makes considerable losses (especially on a GAAP basis).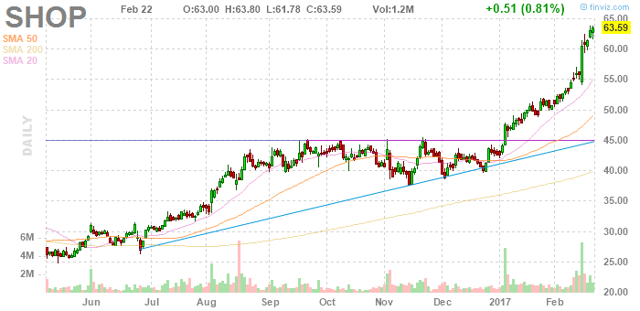 Even EBITDA is still fairly negative (minus $22.72M last year).
We also think the shares are due for a breather. At the time of writing, they are really heavily overbought (an RSI of 90, which is fairly rare).
The company has been compared to Amazon, and indeed it does share some features, like its long-term vision of prioritizing the platform above shorter-term profitability. On the other hand, the company doesn't have a fast-growing profitable segment like Amazon Web Services, and it isn't nearly as dominant as AMZN in e-commerce, needless to say.
We think the shares are a buy, but we would wait for them to cool off a little.
Disclosure: I/we have no positions in any stocks mentioned, and no plans to initiate any positions within the next 72 hours.
I wrote this article myself, and it expresses my own opinions. I am not receiving compensation for it (other than from Seeking Alpha). I have no business relationship with any company whose stock is mentioned in this article.