Bank of America: Leading U.S. Bank Stock Performance
With the Fed indicating a rate rise is likely "fairly soon," solid economic activity data and the dollar still below its recent peak, the macro continues to support U.S. bank stocks, which have enjoyed a strong week.
FIG Ideas' favorites, Bank of America (NYSE:BAC) and Citigroup (NYSE:C), have led the pack this week, with 7.2% and 5.9% gains, respectively. The portfolio also got useful performance from Fifth Third (NASDAQ:FITB) and KeyCorp (NYSE:KEY), respectively up 5.2% and 4.4%.
These four names were also in front in last week's look at the U.S. bank valuation. What they have in common is a very comfortable valuation vs. the peer group, and with the exception of FITB, either par or better EPS growth in prospect for 2018/17. If the 2018 tax rate were cut to 20%, then BAC, Citi and KEY would be on single-digit PEs next year (note that Citi is sub 10x 2018 even without a cut in the tax rate). FIG Ideas portfolio positions are highlighted in the chart below: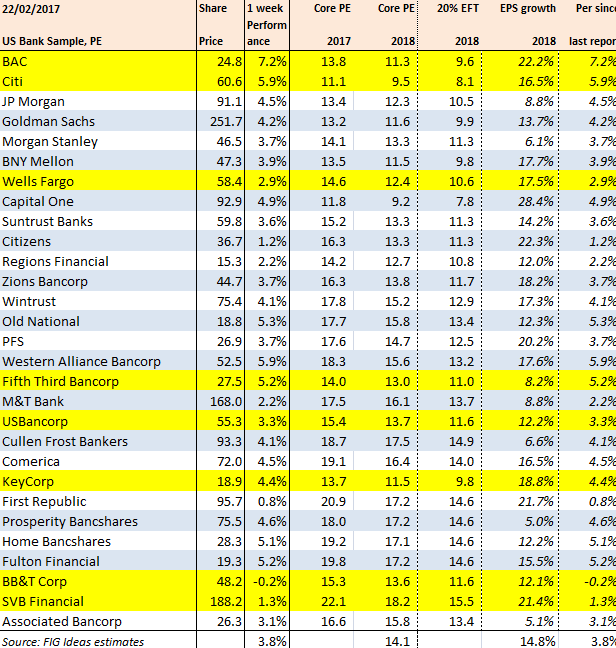 The big question here is whether value is working? Right now, it is, but it's also worked for the most part over the last year as we see in the chart below. Citi is the stock showing weaker performance. This reflects its non-U.S. business exposures, but it has kept up reasonably well with the regional bank ETF KRE and should now move ahead as it emerges into growth from its long restructuring phase. BAC is the orange line in the chart below, which also shows the KRE regional bank ETF as a benchmark.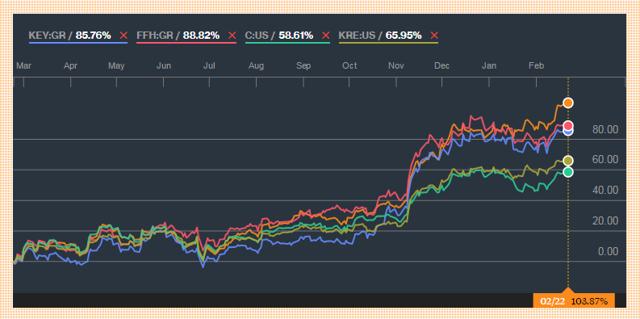 Bloomberg
And these stocks are also now appreciably ahead of KRE on a five-year timescale, again with the exception of Citigroup.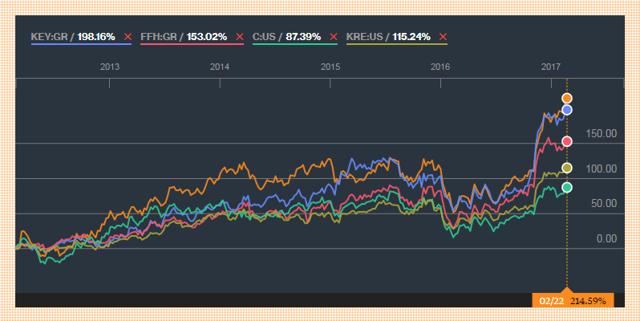 Bloomberg
It's notable that Citi has only fallen behind KRE after early 2016 though it lost its lead over U.S. regionals in early 2014. That was all about Emerging Markets at Citi, with China's debt problems racking up and the devaluation by Argentina in January of that year. EM was again the problem through 2H 2015 as commodity prices collapsed and China slowed, and diluted the Trump's boost to Citi in late 2016.
Will EM exposure continue to weigh on Citi? Not really. Citi is so cheap now that if you pay a typical U.S. multiple for its earnings generated in the U.S., you are getting its EM earnings at just 6-7x PE, much below where many EM banks trade. Some people find this argument incongruous and assume that Citi's EM operations are worth the current multiples of EM listed banks. If this were true, then Citi's U.S. operations would be hugely discounted to U.S. peers, and Citi would be the most attractive bank stock in the world. To my own mind, there is no reason at all that global or U.S. bank investors need to pay the multiples that dedicated (read captive) EM investors are obliged to for the relevant parts of a global or U.S. bank, and I would assume it is the EM divisions that are discounted given the uncertainties faced by those economies especially until we understand Trump's trade policies better.
Conclusion
The value edge of this week's focus stocks is eroding only slowly as they outperform. The last five years argue for patience and some tolerance of volatility in holding bank stocks of this nature. Citi just might be emerging as a performer on value and as investors look beyond its post-crisis rebuilding phase. At some point, we may see some profit taking in these stocks, which will allow you to add. Stay long BAC, C, KEY and FITB.
Disclosure: I am/we are long BAC, C, KEY, USB, WFC, SIVB, BBT.
I wrote this article myself, and it expresses my own opinions. I am not receiving compensation for it (other than from Seeking Alpha). I have no business relationship with any company whose stock is mentioned in this article.