Macroeconomic Factors Influencing Silver
Inflation Considerations
When fears of inflation cause investors to shun fiat currencies, everyone tends to think of the classic inflation hedge: gold. However, they tend to overlook that throughout history, gold has shared its use as sound money with its brother silver. Markets are already factoring in expectations of higher inflation amid the recent CPI numbers of 2.5% YOY, and Trump's planned stimulus.
Inflation tends to "be better for silver than gold prices, and [central banks] look hell-bent on pushing consumer living costs higher," says Adrian Ash, head of research at BullionVault.
Silver is a good way to hedge against risks of inflation, as well as proving to be a good medium of exchange in times of crises. An ounce of silver, or silver rounds may be used to make small daily exchanges, such as buying groceries or gas.
The Gold-Silver Ratio
In the 20th century, the gold-silver ratio has averaged around 47-50. If we look at the last 5 years of the gold-silver ratio in the graph below, we can see that silver has continued to become undervalued compared to gold. The ratio's current value of around 70 will inevitably revert back to the mean, which means that in the long run either the gold price will fall versus silver or that silver will catch up to gold. In a period of high inflation expectations, when both gold and silver are appreciating, it is unlikely for gold to drop in dollar terms to revert to the historical gold-silver ratio, meaning that silver will likely appreciate significantly.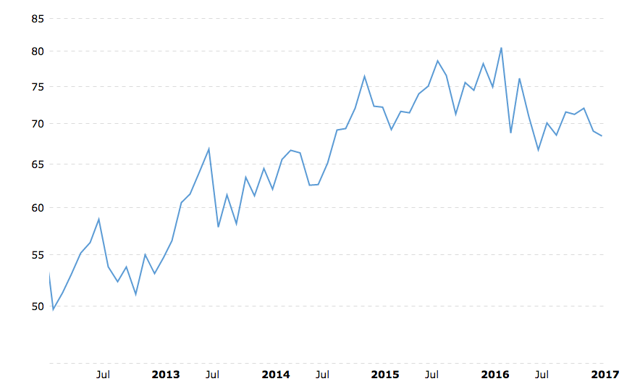 Demand Exceeds Supply
While gold mainly acts as sound money, and may be used for jewelry purposes, silver not only acts as sound money, but also has many industrial uses. Emerging industries such as solar companies will demand more and more silver each year, as they look to produce more photovoltaic cells.
Indeed, the demand for silver is so great that the amount of silver above ground is actually less than that of gold. China has ramped up its silver production over 10x over the last 10 years, and we've seen rises in supply from producers in South America and Australia. However, we can see each year that demand is rising, and that the majority of the silver deficit each year comes from increased demand for silver coins and bars.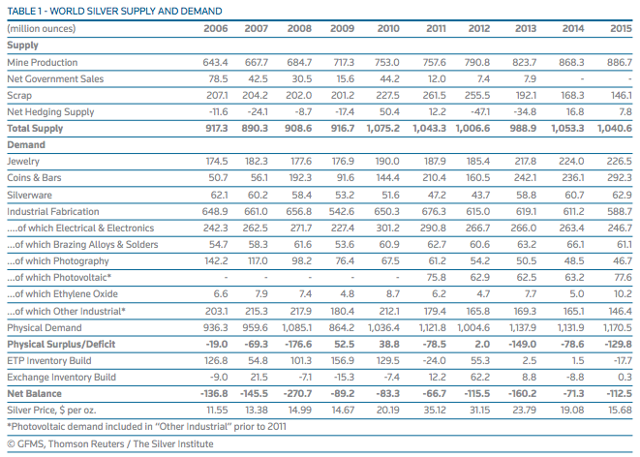 (Source: World Silver Survey 2016)
Even government sales and the pawning of scrap silver has not been enough to quench the demand of the silver market. Indeed, the U.S. Mint consistently runs out of the silver coins that it sells, and 2016 was a record-breaking year for silver sales. The U.S. Mint, being unable to match demand, was again forced to suspend sales before the year was over. 2017 looks to be no different, so look for the silver price to continue its uptrend.
Silver Picks
Silver Wheaton Corp. (NYSE: SLW) is a mining company that specializes in streaming precious metals. A streaming company enters into contracts with mining companies, providing them upfront capital so that the miners can quickly bring mines into production. In return for the risk in investing in the silver mines that the miners discover, silver miners contract some of their silver out at low prices to the streamer that provided them the capital.
As the world's largest silver streamer, SLW gets its silver at about $4.51/oz. Compare that to the current price of ~$18/oz. As silver prices increase further from the fundamentals, SLW will see its profit margins explode. Management forecasts production to increase by a million ounces of silver from 30 million ounces to 31 million ounces for each year for the next 5 years. In its most recent quarter, SLW beat earnings expectations riding the already bullish silver market.
SLW is also a highly liquid company, holding about 126 MM in cash and equivalents while only having around 16 MM in short-term debt. Most of its long-term debt is locked into the mines it streams from, and these will continue to remain profitable, unless the price of silver falls dramatically to below the contract level of $4.51/oz. SLW is also highly-diversified, contracting with over 20 mines and 7 potential new contracts, so that any low production from particular mines each year will not adversely affect SLW's profitability. SLW also streams gold.
SLW also provides a good dividend at 1.13%. Dividends are rare among silver miners.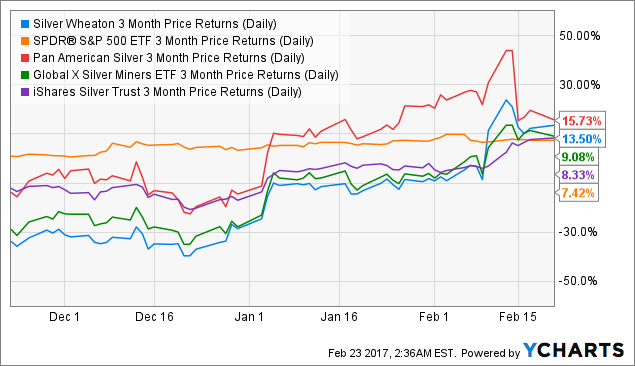 SLW 3 Month Price Returns (Daily) data by YCharts
If we look at the 3-month returns comparing SLW to the S&P, and other silver mining stocks and ETFs, we can see that SLW was outperformed only by Pan American Silver Corp. (NASDAQ: PAAS).
PAAS sells silver mined by its subsidiaries, and estimates that its cost to produce an ounce of silver is around $9.70. After all, PAAS is the parent company of miners, and doesn't get the very low contract prices that a streamer would enjoy. However, PAAS remains profitable at the current silver price. In its most recent earnings release, PAAS suffered a 6.5% drop in its share price, even though it beat expectations on EPS by $0.04.
The huge drop must have been due to the miss on revenues. However, a 6.5% drop seems to be an overreaction by the market. Its earnings for the last 3 months have increased significantly compared to earnings for the last 9 months. In fact, we've seen a huge turnaround for PAAS. If we look at the TTM on Google Finance for PAAS, its net cash from operations is at 214MM, while annual net cash from operations in the previous 3 years were all less.
PAAS, which in previous years has documented net losses annually, has finally managed to obtain a positive net income on its TTM, which has come about through increased operating activities, and significant reductions in its operating expenses from 904MM to 590MM.
PAAS has an expected future dividend of 0.39% yield for this year, although last year it had to drastically lower its dividend to become profitable. Already, the first dividend payment of 2017 from PAAS has exceeded each of the quarterly payments in 2016. While this may be a boon for investors looking for dividend yields, I think they would be better off holding SLW. PAAS, in turn, would be better off reinvesting the money it currently distributes as dividends into further reducing its costs of mining silver. There's definitely high potential for PAAS to take off with a silver rally.
For investors who want exposure to the price of silver, a company with great fundamentals, and more potential return than a silver ETF, SLW is a great pick up here. Investors looking to maximize returns with small-cap stocks while accepting potentially high short-term volatility exposure to silver would do well to add PAAS to their portfolio.
Disclosure: I/we have no positions in any stocks mentioned, but may initiate a long position in SLW, PAAS over the next 72 hours.
I wrote this article myself, and it expresses my own opinions. I am not receiving compensation for it (other than from Seeking Alpha). I have no business relationship with any company whose stock is mentioned in this article.
Additional disclosure: I am invested in gold.

This article is based on public information that I assume to be true and correct. My assumptions and forecast may be wrong. This investment may not be suitable for all investors. Always consider your specific investment goals and styles before investing money.