In this article, I will make an attempt to predict Salesforce's (NYSE:CRM) EPS and revenue for the fourth quarter, which will be reported on February 28th. I will show why I believe that Salesforce will once again live up to its expectations.
Before I begin my analysis, I would like to point out Salesforce's history of outperforming the consensus as well as outperforming its own guidance. In the last couple of years, I cannot find a quarter where they performed lower than was expected of them in terms of both revenue and EPS. They almost always see a small beat in one area and are in-line with estimates in the others. The following pictures show the recent history of Salesforce's Wall Street Estimates (grey), company guidance (red) and actual results (green) for both EPS and revenue (Source: Estimize.com).
Revenue: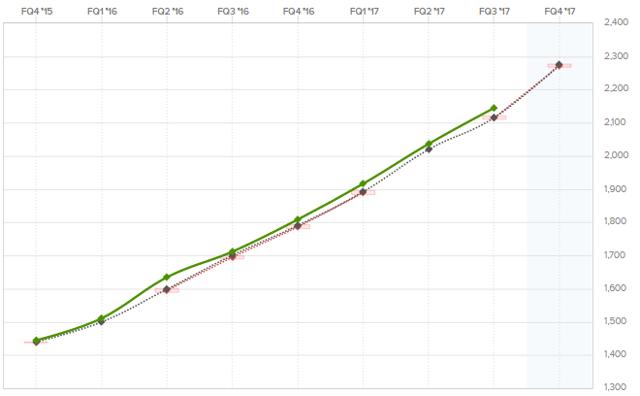 EPS: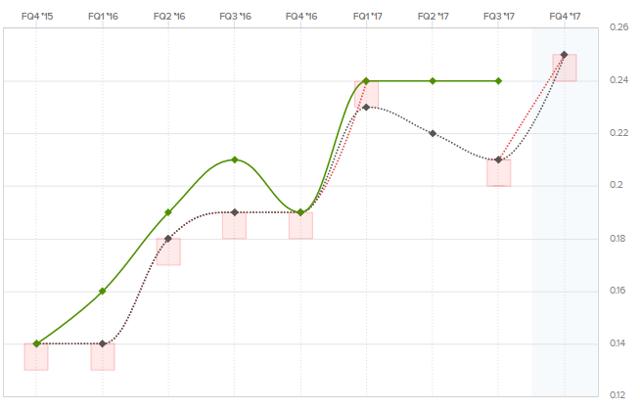 As you can see, revenue has steadily been reported just slightly above expectations and shows a consistent uptrend. The seasonality is a bit more evident in the EPS reporting, noted on the chart above. But what the EPS chart does show is that management almost always gives an EPS guidance within a small spread between the low-end and the high-end Wall Street consensus.
Therefore, it is safe to assume that both Wall Street analysts and the company itself record fairly conservative estimates. This creates the environment wherein a company can outperform expectations consistently and makes it easier to predict other earnings beats, but be aware that this could also result in chaos among investors when the company eventually misses earnings.
Company guidance and Wall Street consensus
During Salesforce's most recent earnings release, management gave a guidance for Non-GAAP EPS and revenue. It said that it expected revenue for the fourth quarter to be realized between $2.267bln and $2.277bln. This would be a year-over-year increase of about 25%. EPS was guided to come in at $0.25. The share count to calculate this with is 724mln.
Wall Street currently expects $2.276bln worth of revenue on top of an EPS of $0.25.
Fourth quarter revenue
So far Salesforce has seen increased year-over-year revenue growth numbers for each of its quarters with the most impressive one coming from this year's first quarter at 27.15%.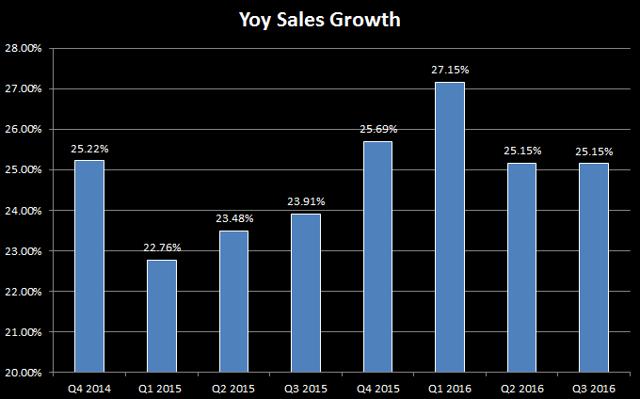 Source: Salesforce
As you can see, thus far the average increase in year-over-year growth percentages have been well above 1% in each of the three reported quarters. But management currently guides for 0.7% a slower growth rate than last year, or a very small increase of 0.3%. Maybe this is still because of the somewhat underwhelming second quarter due to economic weakness (although it was still by all means a very decent quarter). Perhaps management is trying to keep expectations down. But I do not think this would be necessary considering the results of the most recent quarter were outstanding. Also, management's tone after the third quarter earnings release was very positive:
Listen, Q3 was an outstanding quarter. We had excellent execution from the entire team and all of our key geographies and industries. We're really, really thrilled with the results. We also delivered very strong performance in large deals this quarter. Not only did we close a record number of seven figure plus transactions in Q3, but the value of those transactions grew significantly.

We had outstanding execution in the third quarter, closing a record number of large transactions as more and more companies look to Salesforce as their trusted advisor to redefine their customer strategies," said Keith Block, vice chairman, president and COO, Salesforce. "No other enterprise software company is delivering customer success at this scale - and certainly not at this pace.
Therefore I believe the guidance for the fourth quarter revenue is, once again conservative and that Salesforce will slightly outperform its own guidance, like it does most of the time. Considering third quarter successes, management's history of conservative revenue guidance, and Salesforce's recent growth trends I expect revenue to come in above the company's own high-end guidance. Considering all of this a year-over-year growth rate near 27% makes more sense, this would result in revenue of $2.299bln in the fourth quarter, about $22mln higher than expected.
Net Margin
This time I will try to estimate EPS by going straight to the net margin.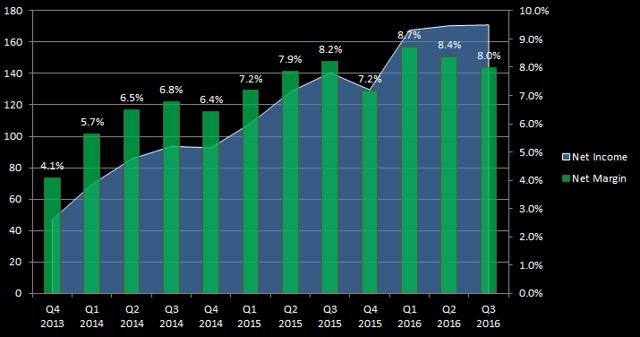 Source: Salesforce
While the upcoming period is usually one of Salesforce's best performing quarters (in terms of revenue), the opposite is true when it comes to its net margin. While the overall net margin this year has been up quite a bit, except for a small decline during the third quarter, the fourth quarter usually has the lowest net margin.
According to management's EPS and revenue guidance for the fourth quarter, it expects net margin to come in at 7.7%-7.9%. This would seem to fit in the usual fourth quarter trend. Because there is not really any indication that would result in unforeseen costs, I will take the middle of this net margin in my calculation. This results in an EPS of $0.25, meeting Wall Street's expectation.
Conclusion
I expect revenue to once again outperform consensus and guidance by a small margin. At the same time I expect the EPS number to come in at the high-end of company guidance.
Understand that this is merely my estimate of this company's earnings and that an earnings beat doesn't necessarily mean that share prices will go up. Especially with a growth company like salesforce that beats estimates on a regular basis.
Disclosure: I/we have no positions in any stocks mentioned, and no plans to initiate any positions within the next 72 hours.
I wrote this article myself, and it expresses my own opinions. I am not receiving compensation for it (other than from Seeking Alpha). I have no business relationship with any company whose stock is mentioned in this article.