Philip Morris (NYSE:PM) has presented at the Consumer Analyst Group of New York (CAGNY) on Thursday, where the company has, among other things, announced a boost to its 2017 guidance. This is very welcome positive news for the company's owners.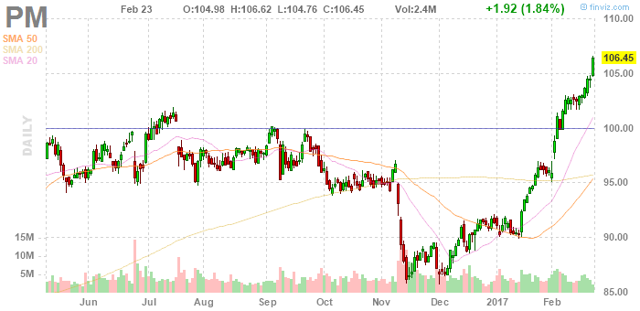 Shares are trading at $106, well above the lows seen in November and December, and a couple of points higher than the former highs seen last summer.
The share price gains we have seen over the last weeks come after a couple of positive news for the company: Fourth quarter results were better than expected and currency rates are finally becoming less of a headwind: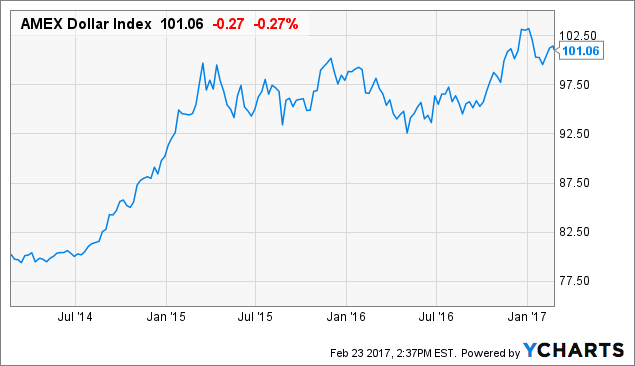 The dollar has risen a lot in 2014, but after rising above 100 in early 2015 the AMEX dollar index hasn't increased much further over the last two years. After peaking at 103 around new years, the dollar index has dropped by two percentage points since.
The next positive for Philip Morris' shares, which was responsible for Thursday's breakout above $105, was the increase to the company's guidance for the current year:
In its fourth quarter earnings call Philip Morris had announced that EPS would likely come in between $4.70 and $4.85, at CAGNY the company announced that earnings would more likely come in at a range of $4.80 to $4.95. The midpoint of this year's EPS guidance has thus been increased by a little over two percent, which is a big plus for growth starved Philip Morris.
At the midpoint this means a forecast of 8.7% EPS growth this year, including a small negative forex impact. Excluding currency headwinds, earnings per share are forecasted to increase by 10.5% this year (midpoint of guidance) -- a very sizeable growth rate for a consumer giant such as Philip Morris.
With dividend payments of $1.04 per share per quarter this means that Philip Morris will pay out $4.16 of its forecasted $4.87 in EPS this year, which means a dividend payout ratio of 85% -- still slightly above the target payout ratio, but well below the levels we have seen recently: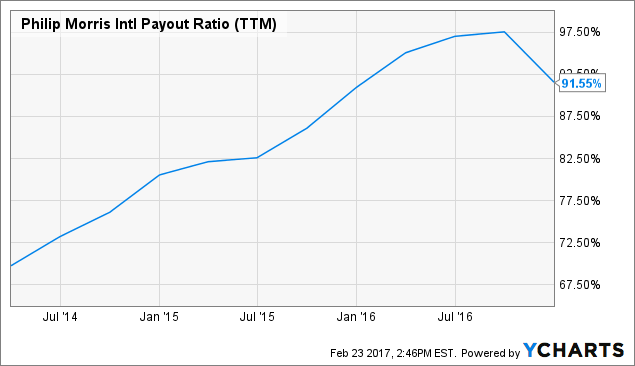 Philip Morris' payout ratio has topped at 98% in 2016 and fallen slightly since, with more EPS growth going forward the payout ratio is poised to drop below 90% even if Philip Morris increases its dividend by a couple of percentage points this year.
If Philip Morris increases its dividend by 5% in September (to $1.09 per share per quarter), the dividend payout ratio would still come in much lower than in the last year, at 87%. I thus believe that the increase in Philip Morris' 2017 guidance could mean a more sizeable dividend increase for the current year in comparison to the small 2% dividend increases we have seen in 2016 and 2015.
With currency headwinds waning and the growth from Philip Morris RRP portfolio hitting the top and bottom line, I believe that the dividend growth outlook is much better than it was over the last couple of years for the company's owners in 2017 and beyond: After all analysts believe that the company will be able to grow its earnings per share by 9.7% a year for the next five years. If that happens, Philip Morris could raise its dividend by 6.5% a year and hit a dividend payout ratio of 80% in 2021 -- mid to high single digit dividend growth (from a high base of 4.0%) whilst the payout ratio is declining sounds like a good combination for dividend growth investors.
Takeaway
Philip Morris' shares have hit a new high this week, after the company increased its guidance for the current year. With strong EPS growth forecasted for 2017 dividend growth investors could be looking at a more sizeable dividend increase this year (as well as in the next couple of years), as currency headwinds wane and the investments into RRPs are starting to pay off for Philip Morris and the company's owners.
Disclosure: I/we have no positions in any stocks mentioned, and no plans to initiate any positions within the next 72 hours.
I wrote this article myself, and it expresses my own opinions. I am not receiving compensation for it (other than from Seeking Alpha). I have no business relationship with any company whose stock is mentioned in this article.