Investment thesis
Trinity Industries, Inc. (NYSE:TRN) has plenty of exposure to railroads, a sector that could be a beneficiary of the new administration's spending program of $1 trillion in infrastructure over the next 10 years. My research shows that Trinity's shares trade at overvalued territory but I don't suggest shorting.
Business overview
Trinity is a diversified industrial company that owns market-leading businesses providing products and services to the energy, transportation, chemical, and construction sectors. Trinity reports its financial results in five principal business segments: the Rail Group, the Railcar Leasing and Management Services Group, the Inland Barge Group, the Construction Products Group and the Energy Equipment Group.
Operation segments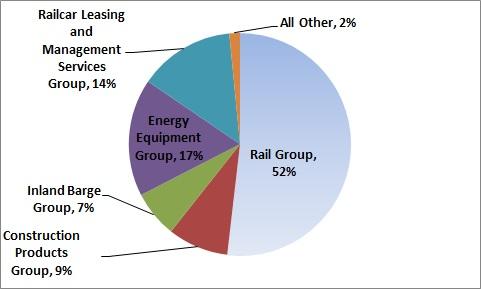 Source: author's calculations; gross revenues before eliminations, 2016 10-K
A quick glance at the graph above shows that more than half of Trinity's revenue came from rail-related services.
Financials

Source: morningstar.com; author's calculations
Return on equity can be a very deceiving metric, as can be seen in the table above. Trinity appears to be a fairly good company with strong returns on equity of 18%. But due to the capital intensive nature of the business, the vast majority of its earnings need to be reinvested back into the business. In this case, a better metric would be the free cash flow margin (defined as FCF/Revenue (%)). I define a good quality company as one that is able to generate a free cash flow margin above 5%. In the case of Trinity, its normalized FCF margin is very small, at 1.6%.
Over the last decade, Trinity has grown its line at 3.6% CAGR. And it has a normalized $82m free cash flow. Also, it pays a steady and growing dividend.
Relative valuation

Source: morningstar.com
My favorite valuation metric is the P/S ratio. I like it because it is quite a clean metric. I like to compare what investors have been willing to pay for a stock over the past five years and what they are willing to pay for it now. In the past five years, investors were happy to pay 0.8x sales. Currently, investors are asked to pay only 0.9x sales, which leads me to believe that Trinity's shares are close to fair value already.
DCF Valuation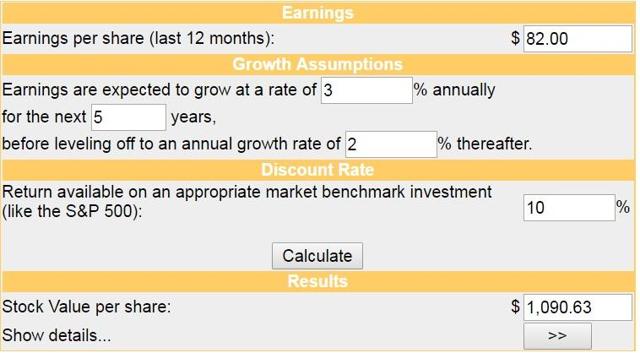 Source: moneychimp.com
The DCF calculation actually shows that there is no margin of safety. I performed a quick and dirty DCF with a normalized $82m of FCF, with 3% growth over the next five years (which is on par with the last decade), before leveling off at 2% (which is in line with inflation). I then discounted this FCF back to the present time at 10%. I used 10% because there is a lot of uncertainty on how Trinity's management will perform in this highly competitive environment. This brings the present value to just over $1B; this before any adjustment for debt levels or the lawsuit against Trinity. With the market cap at roughly $4B, this shows that Trinity's shares are overvalued.
Competition
Trinity has plenty of competitors. However, the competitor I am most interested in is L.B. Foster (NASDAQ:FSTR). Foster, just like Trinity, is not a pure play rail group and it is also somewhat diversified. Foster still has 50% of its revenue exposed to the same industry as Trinity, but it has the necessary margin of safety at the current price.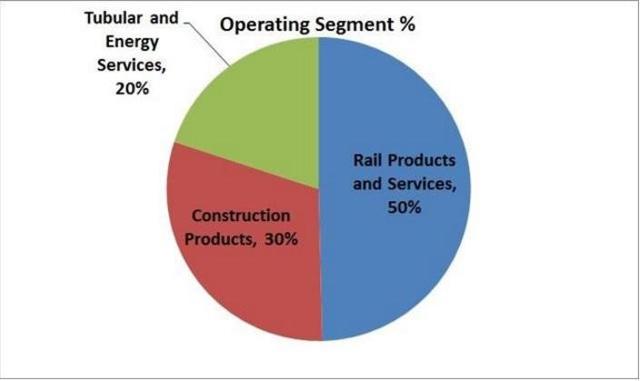 Source: author's calculations
Foster has hit a temporary rough patch in the past two years and has seen its shares decline by more than 70%. Investors that are interested in seeking exposure to some of the new administration's spending program, but don't fancy paying a hefty price tag for this exposure could do well to consider Foster. (Disclosure: I'm long Foster).

Source: morningstar.com
You can see from the P/S ratio that Foster is also out of favor with investors. But interestingly whereas in the past five years investors were only willing to pay 5.8x cash flow for Trinity, investors were very happy to pay nearly 13x cash flow for Foster. But currently, investors are only willing to pay 2.5x cash flow on Foster. Reinforcing my previous article on Foster that it is out of favor and undervalued.
Conclusion
There is a lot of hope already priced in to Trinity's shares. Currently, Trinity's shares trade 70% higher than a year ago. This appreciation has largely removed the necessary margin of safety that investors demand before considering investing in a public company. Therefore, I have recommended that investors consider its peer, Foster, or look elsewhere altogether.
Thank you so much for reading my article. If you have enjoyed reading this article, please click "Follow" to get more articles of mine in real time.
Disclosure: I am/we are long FSTR.
I wrote this article myself, and it expresses my own opinions. I am not receiving compensation for it (other than from Seeking Alpha). I have no business relationship with any company whose stock is mentioned in this article.