It's been 12 months since Activision Blizzard (NASDAQ:ATVI) closed its $5.9 billion acquisition of Candy Crush Saga company King. Since sufficient time has passed, we can appropriately judge whether the stated rationale behind the deal still make sense.
But first, a quick refresh on the numbers.
Announced in November of 2015, and closed in February of 2016, Activision Blizzard acquired King in an all-cash deal priced at $18 per share.
As stated in the deal announcement, this was a 20 percent premium over King's October 30th, 2015, closing price and a 26 percent premium over its enterprise value.
It was, however, a 20 percent discount to King's IPO (March 2014) price of $22.50. Infamously, post-IPO, the share price remained underwater.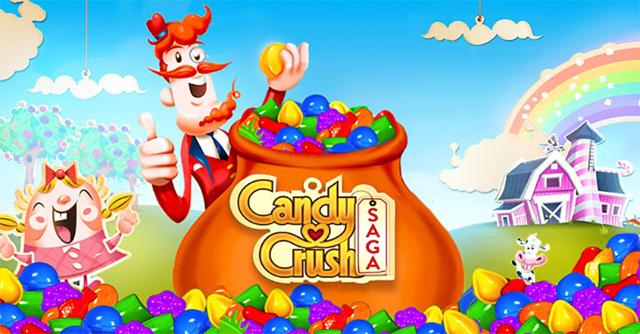 To fund the deal, Activision Blizzard used $3.6 billion of offshore cash and extended its existing credit agreement by $2.3 billion.
As to the rationale, as originally stated, according to Activision Blizzard CEO Bobby Kotick, the "combined revenues and profits solidify our position as the largest, most profitable standalone company in interactive entertainment".
More specifically, Activision Blizzard stated the deal would be "accretive to 2016 estimated non-GAAP revenues and earnings per share by approximately 30%".
And this made sense at the end of 2015. Activision Blizzard's GAAP revenue for FY15 was $4.66 billion, with net income of $892 million. King's FY15 GAAP revenue and profit were $2.0 billion and $517 million, respectively.
In gross math terms, then, for FY15, the deal would have been 30 percent (revenue) and 37 percent (profit) accretive.
Joining the dots
Looking at the performance of the two combined companies in 2016 in terms of comparing with their 2015 numbers is problematic. King is no longer a separate company, and Activision Blizzard, obviously, doesn't break out King's GAAP numbers.
This makes comparisons between King's historic 2012-2015 numbers and Activision Blizzard's 2016 numbers for King difficult. We have to be aware of the disconnect.
Indeed, this situation is made harder by the inter-quarter transaction date, which resulted in Activision Blizzard not posting a complete three months' worth of performance for King in FY16 Q1.
As stated, these were $207 million of "segment net revenue" and $67 million in terms of "segment income", both being non-GAAP metrics.
One (crude) way of attempting to join the two datasets is by linearly extrapolating these figures (38 days worth) across the complete 91-day leap-year Q1 period. This results in $496 million in net revenue and $160 million in income.
Comparing this with King's previous non-GAAP bookings and adjusted EBITDA, there's still a disconnect - revenue looks too high and income too low - but this is to be expected.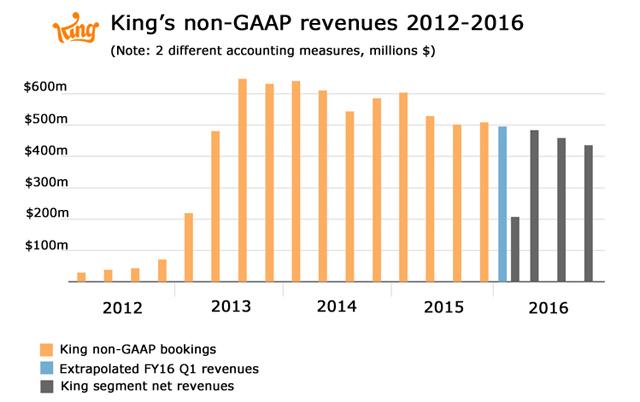 (Source: Chart created by author based on data supplied by company 10-Q filings)
What is clear, however, is King's revenues peaked in the period H2 FY13 to H1 FY14. Its FY15 revenue was down 12 percent year-on-year, and apart from a two-quarter rebound in Q4 FY14 and Q1 FY15, has been in decline since.
Activision Blizzard bought a declining asset so the fact that according to its own segment net revenue metric, King's sales have declined a further 5 percent quarter-on-quarter for the past two quarters shouldn't be a surprise.
It's been a similar trend when it comes to the active player base. As measured in terms of monthly active users (MAUs), King's total peaked at 550 million in Q1 FY15.
According to Activision Blizzard's metrics (and also noting another disconnect at Q1 FY16), King now has 355 million MAUs, or an average of 405 million for the period of ownership in 2016.
That compares 50 million MAUs for Activision's games and 36 million for Blizzard's games, so despite the decline, the $5.9 billion acquisition has extended its combined reach into audiences new to Activision and Blizzard.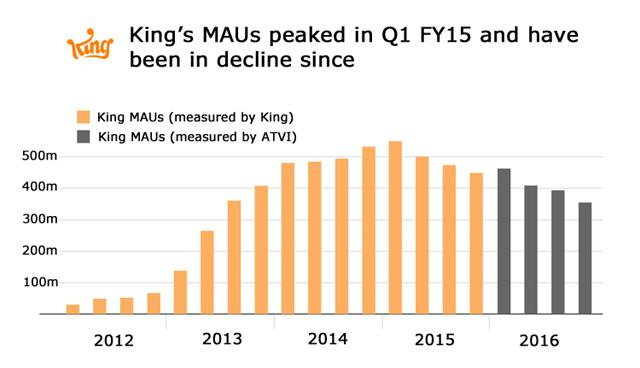 (Source: Chart created by author based on data supplied by company 10-Q filings)
In terms of how Activision Blizzard has rationalized the situation, it's not focused on, what could be considered, gross metrics. Instead it noted the time spent by daily active users of King games is now 34 minutes a day, which for FY16 Q4 was up both quarter-on-quarter and year-on-year.
Similarly, it noted the gross booking total per paying user for King's games was up quarter-on-quarter and year-on-year to record levels, as was the mobile gross booking total for the Candy Crush games.
The Triforce
One way the King acquisition has helped ATVI develop as a company can be seen when we compare the balance of segment revenues for Activision Blizzard in FY15 with FY16.
In FY15, the Q1 and Q2 periods accounted for 15 and 16 percent of annual revenues, respectively, compared to 46 percent for the Q4 holiday season, which is when Activision's biggest game of the year, Call of Duty (whichever version), is released.
Yet in FY16, Q4 only accounted for 36 percent of revenue, with Q2 and Q3 both accounting for 25 percent.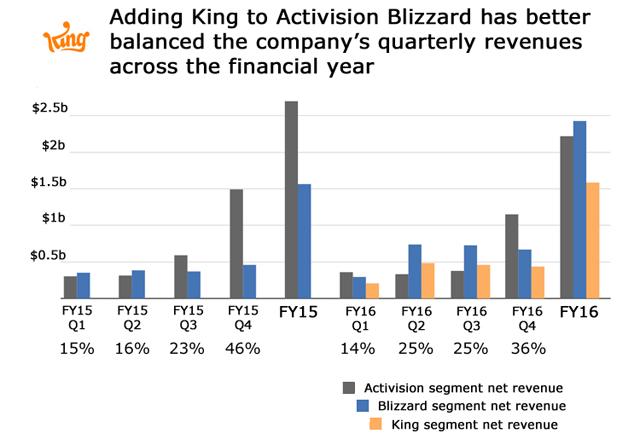 (Source: Chart created by author based on data supplied by company 10-Q filings)
Of course, this is not just about the addition of King.
Blizzard had an very impressive Q2, Q3 and Q4, thanks to the success of Overwatch (released in May of 2016), while Q4 was down year-on-year for Activision because of the relative failure of Call of Duty Infinite Warfare.
All of these changes (including King) resulted in a more balanced year for Activision Blizzard. Indeed, even without the addition of King, the success of Overwatch would have seen the company posting strong year-on-year growth.
But a very good year for Activision Blizzard (excluding King) shouldn't take away from the ways in which King, despite its declining metrics, has also been a good deal.
Certainly, the force of arguments at the time that Activision Blizzard overpaid for King has been silenced over the past 12 months. And compared to similar mobile game M&As, the ratios are well within range.

(Source: Table created by author based on data supplied by company 10-Q filings)
Even in terms of the nuts and bolts of paying for the deal, Activision Blizzard has already paid back over $1.5 billion of debt in 2016, and will pay back $500 million more in 2017. On top of this, it has announced a two-year $2 billion stock repurchase, and an increased dividend.
The reason is that, in FY16, Activision Blizzard generated a record $2.2 billion in operating cash flow, up from $1.3 billion in FY15. Over $500 million of this would have been was generated by King, which provided $676 million of operating cash flow in FY15.
Small wonder Activision Blizzard's share price is up almost 50 percent year-on-year.

As for the headline justification of how positive King was in terms of being accretive to 2016 non-GAAP revenues, Activision and Blizzard together generated $4.6 billion, with King adding $1.6 billion. That's 25 percent accretive.
In terms of segment income from operations, King generated $537 million, with Activision and Blizzard's total income from operations being $1.8 billion. That's 23 percent accretive.
Both are under the quoted "approximately 30 percent" mark, although it should be noted again that King's Q1 total isn't a complete quarter. Assuming linear extrapolation would lift the totals to 29 percent and 25 percent, respectively, which seems acceptable in the context of Blizzard's surprising 2016 performance.
In its stated context, then, the deal has been a success.
Indeed, one year later, the most surprising - even ironic - aspect of Activision Blizzard's $5.9 billion King acquisition is how little attention it's generated.
Of course, this may change if King's decline continues in 2017, especially given market sentiment about 2017 being a "down year" for Activision Blizzard.
Disclosure: I/we have no positions in any stocks mentioned, and no plans to initiate any positions within the next 72 hours.
I wrote this article myself, and it expresses my own opinions. I am not receiving compensation for it (other than from Seeking Alpha). I have no business relationship with any company whose stock is mentioned in this article.