Home Depot (NYSE:HD) reported fourth quarter and full year results that beat estimates this week, and the company also hiked its dividend by almost 30%. Management further announced a new dividend policy and strong guidance for the current year, which sent shares higher: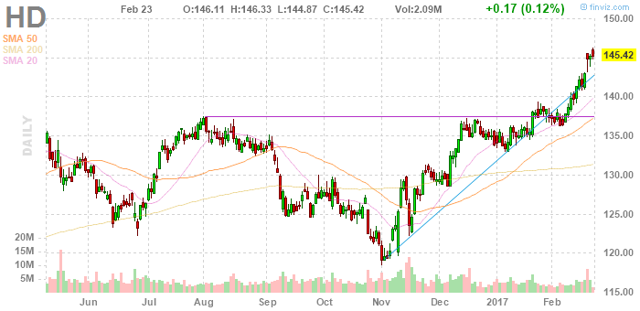 Home Depot trades a little above $145 per share, which is more than 20% above the 52 week low.
Home Depot's revenues grew 5.8% in the fourth quarter, almost completely due to higher comp sales. Gross margin was relatively stable, but higher sales per square foot of selling space meant that Home Depot was able to keep SG&A expenses almost flat yoy, which led to a huge increase in the company's operating income:
A 5.5% gross profit increase translated to a 14.8% operating profit increase thanks to total operating expenses increasing by just 0.4%. A slightly lower tax rate and a lower share count allowed for earnings per share growth at an even higher level, with diluted EPS growing 23.1% to $1.44.
The Home Depot business model thus is working very well still: Growing comps and thus also revenues and gross profit whilst keeping the store count (and thus also SG&A expenses) relatively stable translates to operating income growth in the high single to low double digits, and thanks to the high cash flows that are not needed for new store openings, the company can reduce the share count by a meaningful amount each year, which boosts earnings per share growth.
It is likely that Home Depot will be able to continue on this track this year and beyond: The company guides for comp sales growth of 4.6%, an operating margin growth of 30 base points (2%) and share buybacks totaling $5 billion (enough to repurchase roughly 3% of the company's share count). In combination with a couple of new store openings and a little higher operating leverage, this should lead to EPS growth of roughly 10%. Not surprisingly, the EPS forecast of $7.13 would represent a 10.5% increase over 2016's level.
When we look at these numbers, we have to account for the fact that management is usually conservative with its forward guidance. At the beginning of 2016 management guided for EPS of $6.15; the actual number was $6.45. The company beat management's guidance by 5% in 2016. If Home Depot does so again in 2017, actual EPS results could be closer to $7.50.
Some people say Home Depot will not be able to go on like it has much longer due to the fact that the company's debt pile has increased significantly over the last years, but when we take a closer look we see that is not a problem at all: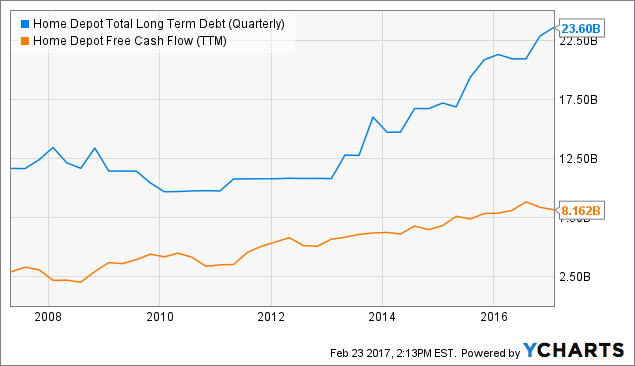 Over the last ten years Home Depot's total long-term debt has risen by a little over 100% to $23.6 billion, but free cash flows have grown by over 180% over the same time (to $8.2 billion) -- Home Depot's debt to free cash flow ratio is much lower now than it was ten years ago, which means that the company's debt levels in absolute terms may have increased, but its leverage has actually declined over that time frame. Home Depot should thus easily be able to increase its debt levels further as long as cash flows and earnings are growing at a faster pace (as it has been over the last ten years).
Home Depot announced a dividend increase by 29% to $0.89 per share per quarter this week, which brings the dividend yield to 2.5% -- the dividend yield hasn't been this high for the last five years, and the new dividend yield of 2.5% is also high relative to the broad market's dividend yield of just 1.9%. Based on forecasted EPS of $7.13 for the current year, Home Depot plans to pay out 49.9% of EPS this year, which is still below the new dividend payout guidance the company announced this week as well; Home Depot wants to pay out about 55% of earnings to its owners in the form of dividends going forward. Since the payout ratio is a couple of percentage points below that mark (even when we assume that management's likely conservative guidance will not be beaten), we can assume that the next dividend increase will be sizeable as well. Home Depot is forecasted to grow its EPS by 13% annually over the next five years. If that happens, 2018's EPS should come in around $8.06 -- 55% of that would mean dividend payments of $4.43 in 2018, which would mean that Home Depot would have to increase its per share dividend by another 24% next year.
It is possible that Home Depot raises its dividend payout ratio slowly, by one or two percentage points a year. In that case it would take longer to get to the new 55% payout ratio target, but even in that case investors can count on significant double-digit dividend raises for the foreseeable future (the dividend would have to be grown by more than 13% annually to raise the payout ratio at all).
There's another positive catalyst that could benefit the company going forward: Home Depot's tax rate is rather high at 35%; a corporate tax rate cut would be highly beneficial for the company. If tax rates would be lowered to 25%, Home Depot would see a direct 15% increase in net earnings. A tax rate of 20% would mean an even bigger hike of 23% for Home Depot's bottom line. This would also boost earnings per share (and would thus result in higher dividend increases) and would unlock more cash flows for share repurchases or other uses.
Takeaway
Home Depot's fourth quarter was a big success. Through comp sales growth, margin expansion and share repurchases, the company was able to grow EPS by more than 20%. The outlook is good as well, since those factors will continue to increase the company's earnings per share going forward.
With a massive dividend increase that brought Home Depot's dividend yield well above the market average, Home Depot's shares are attractive for dividend investors, especially since the dividend growth outlook remains very strong.
Even without a positive catalyst such as a corporate tax reform, Home Depot's shares are looking good; a tax rate reduction would make them highly attractive.
Disclosure: I am/we are long HD.
I wrote this article myself, and it expresses my own opinions. I am not receiving compensation for it (other than from Seeking Alpha). I have no business relationship with any company whose stock is mentioned in this article.