The Record Breaking Warm U.S. Winter and End to California Drought
Historical floods in California; 110 degree heat in Australia; improving crop prospects for Argentina soybeans and the warmest February in history for the U.S. pressuring natural gas 25% the last month. These are all tell-tale signs that El Nino, not La Nina has driven global weather. El Nino, never really completely went away. You can see how we have been forecasting the best ski season in many years for the west and the end of the California drought for months, here.
Almost every weather forecaster called for a cold U.S. winter this year and this cannot be and further from the truth - the exact opposite. While we can at least partly blame this challenging winter forecast on global warming, the warm Atlantic ocean (+AMO) and a record breaking positive quasi-biennial oscillation (QBO) are equally to blame. A positive QBO has to do with stratospheric winds more than 20 miles above the earth. A positive value means winds blow west to east and can often prevent any sustained blocking over the N. Pole that would normally force down cold weather. These factors have all created a mini-snow drought over the Midwest.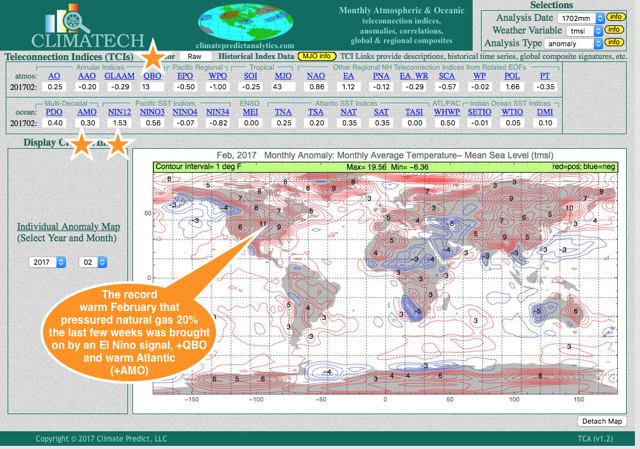 Our sophisticated long range forecast program Climatech - above - shows the incredible February global warmth.
Spring Weather Hints at Cooler Weather and Wet, Snowy. What about Natural Gas?
There are some indications from our program that a cooler-than-normal spring would occur. If so, then natural gas prices (NYSEARCA:UNG) could find a bottom, otherwise, we have been bearish for clients the last few weeks. It's probably a bit late to take advantage of the recent down move in prices. However, if El Nino does form, the odds of a normal to cool summer could ensue and the hurricane season feeble again. That does not bode well for natural gas in the longer term picture. The triple inverse natural gas ETF (NYSEARCA:DGAZ) is up nearly 70% on the warm February.
So which March-April periods had major rallies in natural gas on cold weather? 1999; 2002 and especially 2013 in which prices rallied more than 50% from the February lows on the coldest spring on record. The atmosphere is quite different presently than it was back then.
When one looks at the natural gas equity sector, it is no wonder that stocks such as Cabot Oil & Gas (NYSE:COG); Antero Resources Corp. (NYSE:AR); and Phillips 66 (NYSE:PSX) have greatly lagged the S&P 500. Phillips 66 is among the largest players in the energy sector and natural gas is a significant part of its operation. So weather patterns have a huge influence on profits.
Bloomberg Commodity Index Up Over A Year Ago, But Not Because of Weather
The big movers in the commodity sector of late have been gold (NYSEARCA:GLD), cotton (NYSEARCA:BAL) and the crude oil (NYSEARCA:OIL) market. The crude oil market is reacting positively to a stronger stock market and OPEC's push for full compliance with oil cuts. Gold has surprised many traders rallying in the face of expected interest rate rises. However, much of the rally, I believe, is due to continued uncertainty over the Trump presidency as well as technical indicators and inflationary fears. Cotton too, for now, has nothing to do with the weather. The 110 degree in Australia (#9 cotton producer in the world), is probably not a factor due to ample irrigation.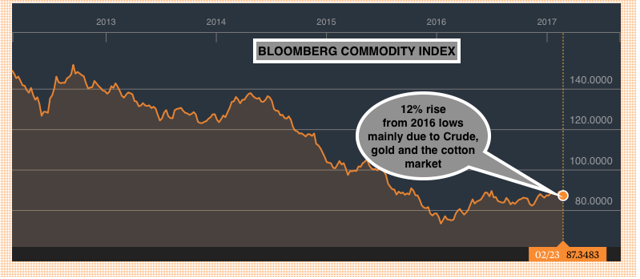 If you want to hear a recent Bloomberg interview of mine with respect to how weather is affecting certain commodities, please listen here.
In the meantime, we have been bearish the Soybean market (NYSEARCA:SOYB) due to a huge crop coming out of South American and generally ideal weather. The spike back to $10.80 a month or so ago in prices was due to flooding and planting delays in Argentina. The odds of a drought this summer in the Midwest is probably unlikely given the chances for a weak El Nino.
Cocoa prices (NYSEARCA:NIB) have taken it on the chin for months on a rebound in global cocoa production we discussed eight months ago. Seasonally, demand kicks in this time of the year and prices often stage a spring rally. If the waters stay warm south of West Africa and in the Indian Ocean, this would offset any chance that a weak El Nino would have in causing crop problems this spring and summer.
Sugar prices (NYSEARCA:CANE) continue to be strong on worries that an Indian sugar crop of only 22.5 million tons this year would require India to import sugar. Back to back years of a global sugar deficit, brought on by the strong El Nino two years ago has been partly responsible for the move up. If El Nino does not officially form, given that Thailand's drought is not over and the potential exists for a rebound in production later this year, sugar is another commodity whose upside may also be limited.
The U.S. wheat crop (NYSEARCA:WEAT) usually does well after very warm winters and weak El Nino's. A potential spring freeze scare could develop in a couple months, but unless crops are hurt by a dry spring either in the U.S., Russia and Europe, the long-term bear market may continue.
The key point to all of this is that the weather has not and may continue to keep a lid on many commodities. Given the demise of the California drought and record new snowpack in some areas, it is also possible a year or so from now, prices for vegetables, almonds, etc. (which have seen such a price strike from five years of California drought) could come down which would be good news for the American consumer. It's the non-weather related commodities that continue to shine.
One potential weather problem might be a cool wet spring that could limit plantings of some crops like corn and cotton if this was to happen and possibly cause a reaction in the market later this spring.
Jim Roemer, bestweatherinc.com
Disclosure: I/we have no positions in any stocks mentioned, and no plans to initiate any positions within the next 72 hours.
I wrote this article myself, and it expresses my own opinions. I am not receiving compensation for it (other than from Seeking Alpha). I have no business relationship with any company whose stock is mentioned in this article.