There are several qualities to look for in a good S&P 500 index fund, and these qualities are inter-related. The first is scale. A large asset base makes it easier for the portfolio manager to buy all of the stocks in the index at their exact weight. With operating costs mostly fixed, large scale also results in a lower expense ratio. The second factor we like to see is a fund sponsor with a commitment to index funds rather than a firm that has one or two token index funds perhaps to complete a line-up of fund offerings for a 401(k) plan or to go into an insurance product. Indexing is largely about having systems in place to efficiently handle things like an index rebalance or corporate actions. These systems are scalable across funds, so look for a firm that has a successful family of index funds. Look for a low expense ratio. The performance goal for any index fund is to match the return of the index less expenses, so the lower that expense ratio, the better the relative returns of the fund.
For example, the Vanguard S&P 500 ETF (NYSEARCA:VOO), which charges just 0.05%, lagged the S&P 500 by 4 basis points, while the Rydex S&P 500, which charges 1.55%, lagged the index by 187 basis points. The relationship between relative performance and the expense ratio is more of a mechanical relationship than you would find with an actively managed fund. Finally, we look for an experienced management team. Even index funds have a human manager who must make decisions on corporate actions, when to buy stocks during a rebalance, how much cash to hold and to establish a securities lending program. Frequent turnover in management is a red flag.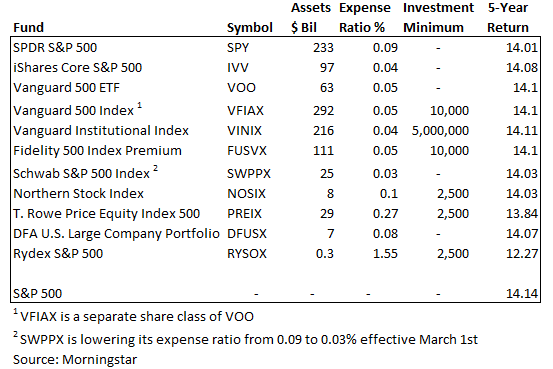 ETFs Vs. Mutual Funds: Structure Matters
Running an S&P 500 index fund is fairly straightforward, you just buy all the stocks in the index at precisely their index weight. One challenge is handling inflows and outflows to the fund. Here is where ETFs have an advantage. Because of their in-kind creation and redemption mechanism, ETFs rarely have to buy or sell individual stocks. Retail investors buy and sell the fund on the exchange and not directly with the fund company, like they do with a mutual fund. Authorized participants deal with the ETF directly, but they deliver or take the underlying shares in the ETF and typically do not transact in cash. Another challenge for index fund providers is managing the fund to minimize taxes. Here again, ETFs have an advantage. They keep track of tax lots, and when there is a redemption from the ETF, they deliver tax lots with the lowest cost basis, thus raising their cost basis and minimizing the chances of incurring a capital gain. Index ETFs can have capital gain distributions, but they are less likely.
There are three S&P 500 ETFs: the SPDR S&P 500 ETF (NYSEARCA:SPY), the iShares Core S&P 500 (NYSEARCA:IVV), and the Vanguard S&P 500. Each of these is somewhat unique and offers benefits and drawbacks. As the first U.S. ETF, SPY has the most assets and the most trading volume of any ETF. In fact, it is the most heavily traded equity security on the planet with over $20 billion traded in an average day. If you need to drop a large market order for the S&P 500, SPY is the ETF to use. It also has the most liquid options market, with options on SPY accounting for half of all options volume. Bid-ask spreads on SPY are often less than 1 basis point. However, SPY is organized as a unit investment trust rather than an open-end fund. The unit investment trust structure prevents SPY from engaging in securities lending, reinvesting dividends or buying investments not in the index such as index futures. These are all techniques used by index fund managers to improve performance. While some see these restraints on manager discretion as a positive, SPY has lagged the index by more than its expense ratio over time. SPY also has a one-month lag between its dividend ex-date and its pay-date.
VOO is the only S&P 500 fund that has both open-end ETF share classes of the same fund. As separate share class of the Vanguard 500 Index Fund, investors in VOO share the same tax burden at the fund level as investors in the Vanguard 500 index mutual fund share classes. Vanguard has a patent on this structure, but it could be a drawback if there were massive redemptions out of the mutual fund, leaving the ETF investors with a large tax bill. Although this has happened on a small scale in other funds, we find this scenario unlikely to occur in VOO for several reasons. First of all, Vanguard investors tend to be buy-and-hold investors. Secondly, when investors panic sell, it is usually after a steep market drop, in which case capital gains would be less pronounced. I think that the benefits of the dual share class structure in terms of increased scale far outweigh the risks. But if investors are concerned about tax spillover effects in VOO, then they should consider IVV. When combined with its open-end share classes, VOO has $292 billion in assets, making it the largest S&P 500 fund.
Don't Forget These Mutual Funds
While ETFs have come to dominate index investing, they are not the only game in town. There are several worthwhile S&P 500 index mutual funds. While they are not our first choice, they are acceptable options in retirement plans or for those investing small amounts and faced with paying trading commissions. We already discussed the Vanguard 500 Index (MUTF:VFIAX). Long-time manager Michael Buek recently stepped down from this fund, but he was replaced by Donald Butler, who has extensive index fund management experience. In fact, Butler has been running the Vanguard Institutional Index (MUTF:VINIX) fund for more than 16 years. Note that VINIX does not have an ETF share class, and with its high investment minimum, it is intended for institutional investors.
Although it may come as a surprise to followers of their active funds, Fidelity is one of the largest providers of index funds. The Fidelity 500 Index Premium (MUTF:FUSVX) is a worthy competitor to VFIAX. They both charge the same 0.05% expense ratio at a $10,000 minimum investment. However, FUSVX does not have an ETF share class, so it lacks that tax management option. It also keeps a higher cash balance invested in index futures and has more securities out on loan than VFIAX. Schwab is another index fund pioneer. I recently wrote about Schwab's ETF line-up.
And given the quality of those ETFs, it is easy to forget about Schwab's index funds. Although they are separate share classes, the same team overseas both Schwab's index mutual funds and ETFs. The Schwab S&P 500 Index (MUTF:SWPPX) is appealing for its new low cost and no investment minimum. This makes it ideal for savers just starting out.
The DFA U.S. Large Company Portfolio (MUTF:DFUSX) is unique from the other funds on this list. Whereas most index funds are obsessed with minimizing tracking error, DFA is willing to accept some tracking error in exchange for better returns. In practice, DFA is able to trade patiently and buy a new index addition after it enters the index, rather than buying it on the close of the day it gets added. During the past 15 years, it has lagged the S&P 500 by just 0.03%.
Honorable Mentions
While their expense ratios are higher, both the T. Rowe Price Equity Index 500 (MUTF:PREIX) and the Northern Stock Index (MUTF:NOSIX) have scale. While these aren't our first choice, they could be adequate offerings in a 401(k) plan with few other worthy choices.
Conclusion
Investors have a lot of great choices when it comes to picking an S&P 500 index fund. Look for a fund with a large asset base, a low expense ratio, and an experienced management team. Because of Vanguard's commitment to indexing, the fund's scale and its structure, we prefer VOO.
Disclosure: I/we have no positions in any stocks mentioned, and no plans to initiate any positions within the next 72 hours.
I wrote this article myself, and it expresses my own opinions. I am not receiving compensation for it (other than from Seeking Alpha). I have no business relationship with any company whose stock is mentioned in this article.