Hi-Crush Partners (NYSE:HCLP) reported a 25% sequential increase in frac sand volumes sold in the fourth quarter of 2016. The company supplies frac sand, which is used as a proppant to enhance recovery of oil and gas in unconventional wells.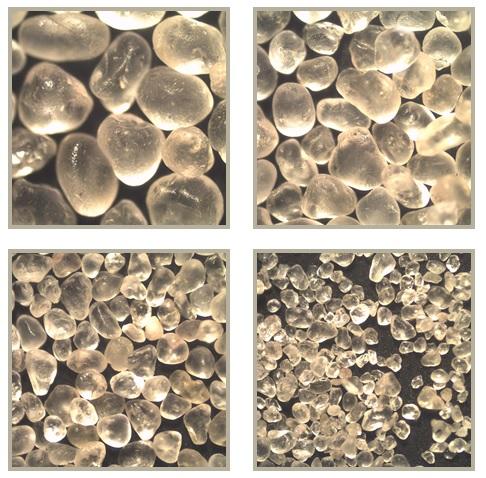 Source: HCLP
Improving industry fundamentals
The positive changes emerging in the US oil and gas production sector will drive demand for frac sand. One such factor is the inventory for DUCs (drilled but uncompleted wells). The DUCs inventory has been again increasing entering 2017. This is shown in the graph below. This should increase the demand for frac sand when these wells are completed.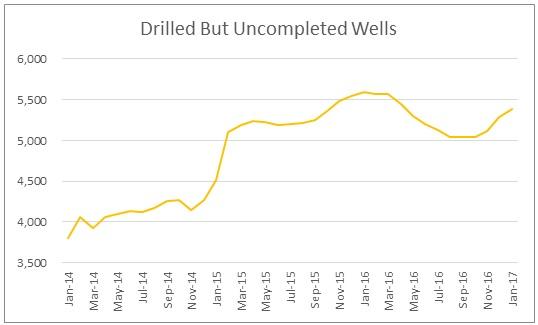 Source: EIA
Also, the U.S. rig counts are moving upward, which will push up the demand for frac sand.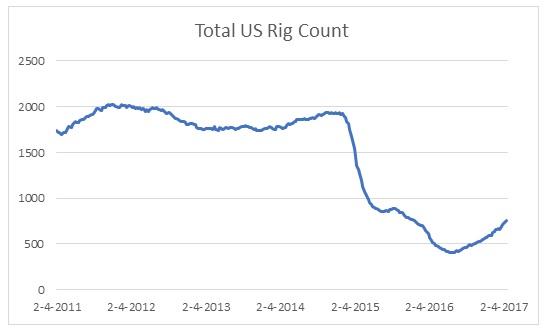 Source: Baker Hughes
As the right chart in the below slide shows, 23% increase in total U.S. rig counts increased HCLP's frac sand volumes by 25% in the fourth quarter of 2016.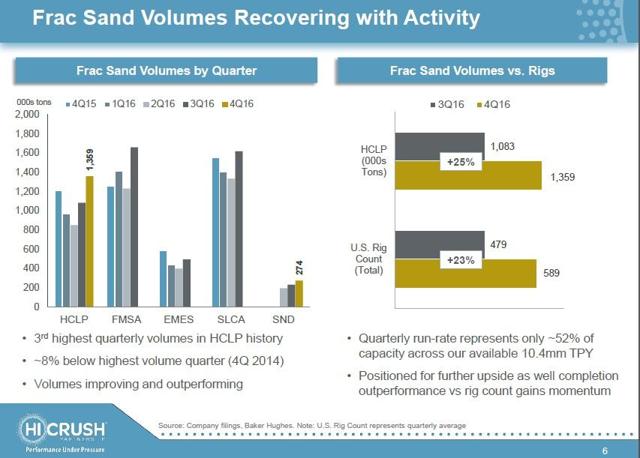 Source: HCLP presentation
Discussing the positive catalysts, Hi-Crush Partners CEO Robert Rasmus noted the following during the company's fourth quarter earnings call:
Concurrent with mine restarts in the spring, the trajectory of price increases may slow a bit during the second quarter but quickly pick up again as the industry adds more rigs, completes more wells and continues using more sand in each well. The industry is using record levels of sand on a per stage and per well basis and there is limited inventory of low cost supply currently idled. So we expect demand to still exceed supply and pricing to continue on a steeper upward trajectory.
Based on the discussion above, I think it is fair enough to say that the demand for frac sand should go up. Now the key question is when will the eventual recovery translate into profitable enough operations for a distribution resumption.
The answer to this question is a little difficult but I believe that for those looking for an exposure to the segment, this could be reasonable enough time. This is because the fundamentals are just about improving, volumes are increasing, and if this continues, the company should soon get back to profit.
Robert Rasmus noted:
As WIP inventories are exhausted due to strong demand throughout the cold weather season, current levels of demand coupled with expected growth will quickly fill underutilized capacity in the second quarter. At some point it will make sense to restart idled low-cost capacity. We are making preparations to restart the sponsor's Whitehall facility in late March or early April and ramp Augusta up to full utilization when we start excavating in the spring. We are performing the required maintenance and are nearly finished with hiring more than 100 employees needed to run all four facilities at full capacity in the second quarter.
Relating to distribution resumption, CFO Laura Fulton said:
With continued improvement in volumes and pricing, though, we can see a resumption of the distribution sooner, rather than later.
Competitive edge
Founded in 2012, Hi-Crush Partners has gained substantial market-share in less than five years (refer the left chart in the slide above). HCLP did this through close partnerships with key customers, focus on maintaining a low-cost structure, and strategic distribution network.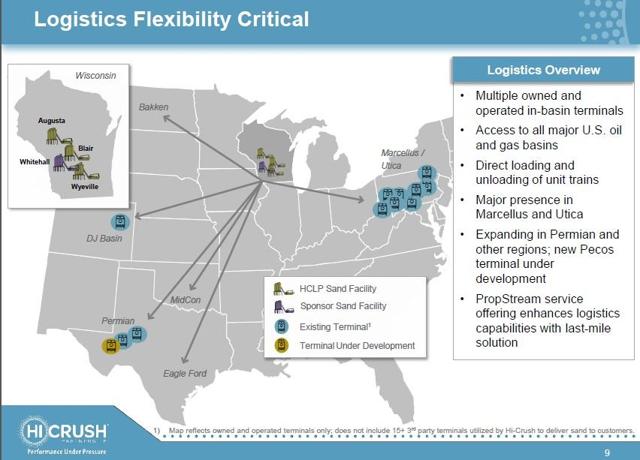 Source: HCLP presentation
Hi-Crush Partners has been successful in managing its railcar fleet in a way that resulted in significant savings. This is captured in the slide below: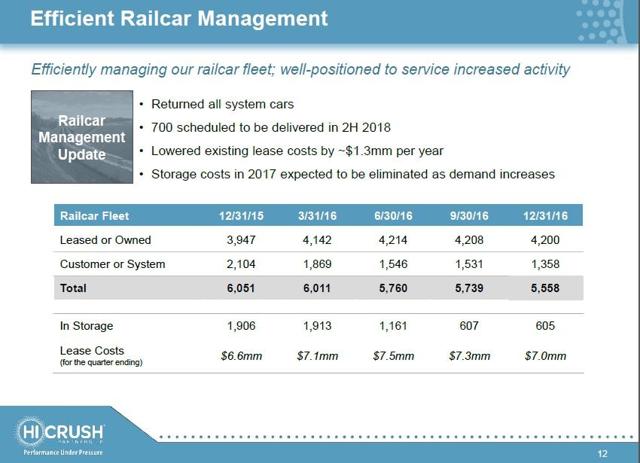 Source: HCLP presentation
The company's strong results for the fourth quarter of 2016 are summarized below: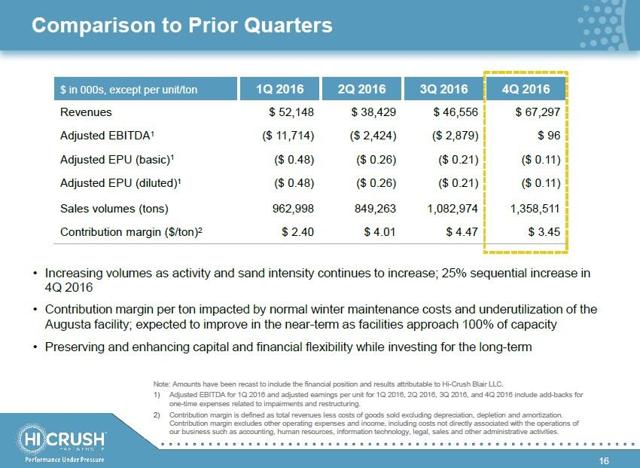 Source: HCLP presentation
HCLP or SLCA?
At first, U.S. Silica Holdings (NYSE:SLCA) looks better option considering its longer history, size, as well as dividend payment. But with a yield of just 0.4%, dividend does not remain a differentiator. It is difficult to compare HCLP and SLCA based on EV/EBITDA multiples as HCLP reported positive EBITDA (of just $0.1 million) for the first time since the fourth quarter of 2015.
However, Hi-Crush Partners is trading at a price/sales ratio of 5.3 compared to 6.9 for SLCA. That's one positive for HCLP.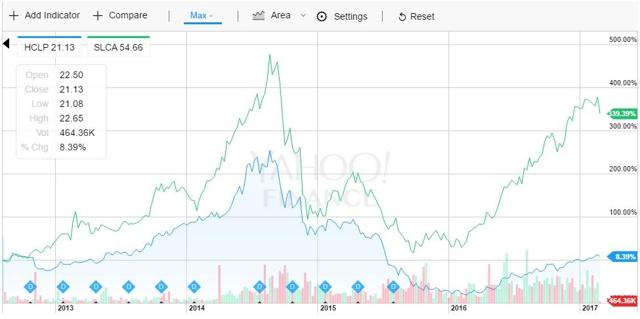 Source: Yahoo Finance
Looking at the comparative stock performance in the chart above, it does seem that SLCA has regained most of its fall from its peak in August 2014. However, HCLP still has a lot of catching up to do.
Considering its competitive edge and its focus on low-cost supply from mine site to well site Hi-Crush Partners looks better placed to continue capturing market share. Moreover, its stock seems to currently have more space to run compared to SLCA.
Disclosure: I/we have no positions in any stocks mentioned, and no plans to initiate any positions within the next 72 hours.
I wrote this article myself, and it expresses my own opinions. I am not receiving compensation for it (other than from Seeking Alpha). I have no business relationship with any company whose stock is mentioned in this article.