Exxon Mobil's (NYSE:XOM) dividend payout ratio had reached a new high of 159 percent at the end of 2016, leading some investors and analysts to raise concerns that the management should cut back on its generous payouts and instead focus on reducing the debt levels. While debt reduction is always appreciated, it must be asked whether cutting the dividend now is the best option. This article offers a different, forward-looking perspective on this crucial matter.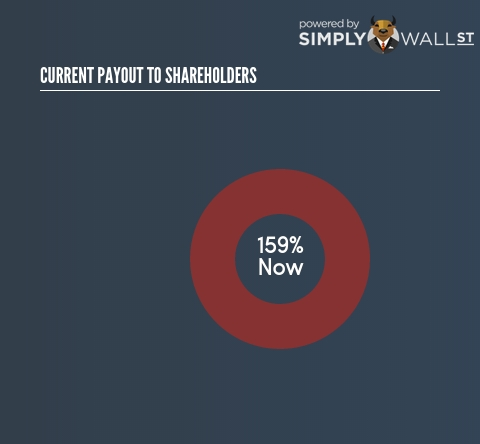 For 2016, Exxon Mobil paid $12,453 million in dividends while earning $7,840 million in net income. This translates into a payout ratio of 159 percent (= $12,453/$7,840). Raising eyebrows is the fact that the company doled out $3,133 million in dividend payments while earning $1,680 million in Q4. This resulted in a staggering dividend payout ratio of 186 percent in Q4.
To make it simpler to understand, I would like to quote the definition of payout ratio from Investopedia.com:
Payout ratio is the proportion of earnings paid out as dividends to shareholders, typically expressed as a percentage. The payout ratio can also be expressed as dividends paid out as a proportion of cash flow. The payout ratio is a key financial metric used to determine the sustainability of a company's dividend payments. A lower payout ratio is generally preferable to a higher payout ratio, with a ratio greater than 100% indicating the company is paying out more in dividends than it makes in net income.
This validates some investors' concerns that the company is unnecessarily taking on more debt to finance its dividend payments.
So, is the management making a mistake in generously rewarding its shareholders when the energy markets are still in recovery mode? Or is the management more confident about the future prospects than the average investor?
Exxon Mobil is a dividend income investor's dream stock to own at attractive yields. In my previous article titled "Exxon Mobil - This Offer Might Not Last," I had contended that investors would be wise to create long positions in XOM since the dividend yield of 3.63 percent is at the high end of the multi-year range. The management clearly knows and understands very well that the stock is a stable source of dividend income for millions of investors and that it would be "deeply disturbing" to cut or not grow its dividends. As a result of this shareholder-friendly approach, Exxon Mobil's dividend payments to shareholders have grown at an average annual rate of 6.4 percent over the last 34 years. For an extensive review of the company's historical dividend distributions, please visit Exxon Mobil Dividend Information.
At this moment, many of you must be wondering if maintaining this enviable track record is worth taking on more debt. Yes, it is. Especially when the market expectations are that the future dividend payouts will be covered by net profits and the payout ratio will drop to 64 percent in the next three years.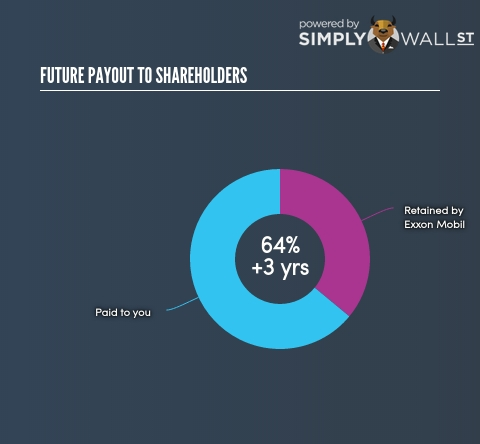 The consensus analyst estimates for dividend per share payments and earnings per share suggest that the current dividend payout ratio will not be available in the next three years.
Analysts are also expecting XOM's revenue, cash flow, and profit to increase by over 50 percent in the next two years.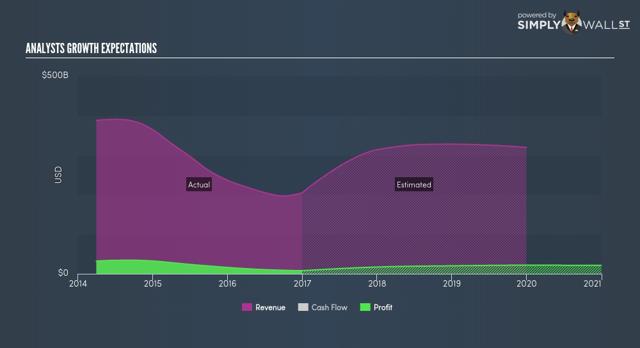 XOM also seems to have hit its earnings bottom. At least, that's what the estimates suggest. While XOM earned $1.88 in 2016 EPS, as many as 17 analysts estimate the 2017 EPS at $4.20 and 14 analysts estimate the 2018 EPS at $4.93. XOM is done with depressed earnings.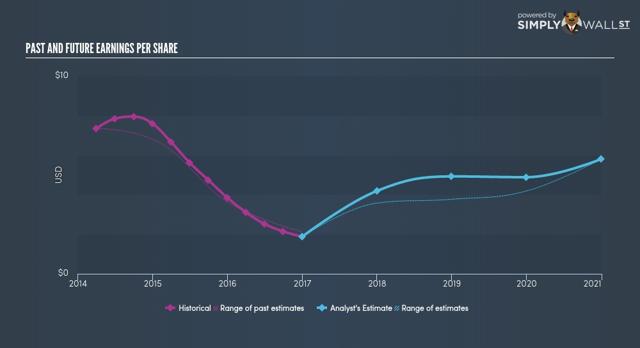 Conclusion
Cutting dividends now only because the payout ratio has temporarily reached 159 percent is insensible given that the annual earnings estimates are far higher in the next couple of years. The company's revenue, cash flow, and profit are expected to jump more than 50 percent in 2 years. As a result of these expected positive developments, the payout ratio is forecast to come down to much reasonable 64 percent in three years. I am expecting significant debt reduction in the coming years as the earnings bottom is in and XOM has only higher to go from here.
When the market is expected to improve in the forthcoming quarters, it makes little sense to temporarily cut down on dividends (to lower payout ratio) only to be raised again in the medium-term. It is, in a way, equivalent to selling a cyclical stock which momentarily has a high PE in its trough and is about to rebound. It is unintelligent in my opinion. There is no good reason to break the solid, enviable dividend growth track that XOM has built over the last 34 years. So, investors should better utilize the juicy yield now and sit tight. It's really this simple with this giant.
Note: I cover several stocks in different sectors as well as the S&P 500, crude oil, gold and silver, the U.S. dollar, etc. If you liked this update and would like to read more of such informative articles, please consider hitting the "Follow" button above. Thank you for reading.
Disclosure: I/we have no positions in any stocks mentioned, and no plans to initiate any positions within the next 72 hours.
I wrote this article myself, and it expresses my own opinions. I am not receiving compensation for it (other than from Seeking Alpha). I have no business relationship with any company whose stock is mentioned in this article.