Every week after the EIA releases their Weekly Petroleum Status Report I download the updated files, consolidate them, and ultimately link them to a simple excel dashboard file which you can download for free at Excel-Data-Junkies.com. Open it up to follow along below, then let's discuss it in the comments section below. For a methodology review take a look the intro " Data Download".
Headline: Total Petroleum Stocks Down 11.0 Million Barrels
One week after posting an 11M bbl stock build we post an 11.0M bbl stock decrease. Why does it feel like I've already seen this movie? A 22M bbl week over week swing deserves some analysis, fortunately this one is real simple. Consumption was up 12M bbls and net imports were down about 10M bbls. Crude Oil imports, at 42.5M bbls were the lowest in my data set going back to 2001 and nearly 20M bbls under where they were just 2 weeks ago. The increase in consumption was driven primarily by distillates and "other" and is a positive development for bulls but it really just gets us back to about where we should have been anyway. Not surprisingly oil (NYSEARCA:USO) was up about $1 on the news and holding steady at about $54.50.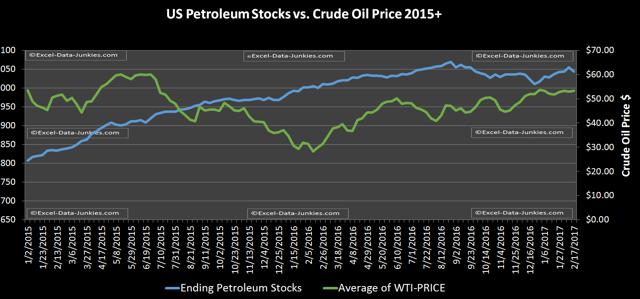 OPEC Imports:
I know the headline is stocks down 11M bbls but the biggest news of the report in my opinion comes from imports. As noted above they were the lowest in the dataset going all the way back to 2001 which is interesting but even more important were the OPEC numbers.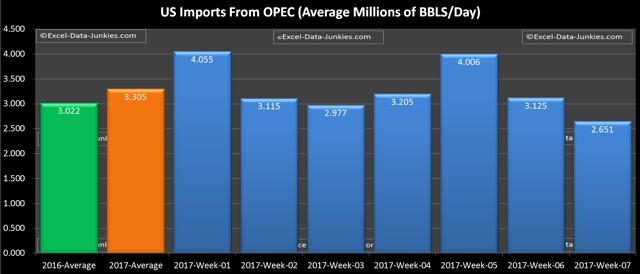 Since the beginning of the year I have been tracking the weekly imports from OPEC hoping to catch the first glimpse of the cuts they assured us were coming our way. What I have been looking for was about a 400k bbl/d reduction under the 2016 average of 3.0M bbl/d but through six weeks all we saw was surging imports from OPEC. Week seven, at 2.65M bbl/d gives us the lowest OPEC import# of the year and the second week in a row of decline. It's way too early to declare victory but if you are a bull looking for evidence of the OPEC cuts in US import numbers this is exactly what you wanted to see. One week may not mean much, especially if a huge number next week wipes it out, but if we can see OPEC imports stabilize at about this level for another 4-5 weeks it's going to be hard to argue that OPEC hasn't followed through and done exactly what they said they would. We could still argue about whether it was too little or too late, but clear evidence of a functional OPEC might just put a solid $50 floor on the price of oil even if inventories stay around record high's.
For The Bulls:
The bulls needed a win and they got it with the first bullish weekly report since Christmas. Two things…they got an inventory draw big enough to blunt the recent trend and far more importantly we finally start to see a glimmer of evidence that the OPEC production cuts are starting to hit US shores. To be fair, it's just a glimmer and it could be snuffed out by next week's report, but this is what the bulls have been saying for months would happen and sure enough it did.
For The Bears:
Don't expect the bears to let the first bullish report in 8 weeks blow out their flame. US production is rising and anyone interested in hedging over $50 has had more than enough time to lock in these prices and ramp up their 2017 drilling programs. Add to that weak demand and even if OPEC can keep US exports under 3M bbl/d for a few weeks in a row it still won't be enough to matter.
Gut Feeling:
I can't reiterate enough how important it is that we see clear evidence of OPEC's cuts in the US import numbers over the next month or so. Even if the bears are right and they are too little too late,it will put the market on notice that when OPEC says they are going to do something they can be trusted to follow through. An OPEC that can honor this cut might just be bold enough to try another one in the summer. Following that, an oil market with a strong and focused cartel at it's core might just be bold enough to start dreaming about $100 oil again. An OPEC fail on the other hand could put us on the fat track to retesting the 2016 lows.
Disclosure: I/we have no positions in any stocks mentioned, and no plans to initiate any positions within the next 72 hours.
I wrote this article myself, and it expresses my own opinions. I am not receiving compensation for it (other than from Seeking Alpha). I have no business relationship with any company whose stock is mentioned in this article.