The Chinese water torture on Greece keeps going. The latest meeting between the IMF and Germany only managed to kick the can down the road without touching the "hot potato". However, this development in accordance with the risky political horizon in Europe opens the window of opportunity for Greek equities to outperform their German peers. The relative valuation of German versus the Greek stocks is near all-time highs. Should political stresses escalate in Europe and the risk of euro disintegration pick up, German shares will be disproportionately hit. On the other hand, should the global reflationary dynamics intensify, the political pressure for a debt relief will assist Greek equities to recover. A Greek debt restructuring is increasingly seen as the cost that should be paid by Germany for accumulating historically high surpluses. From the looks of it, German shares might have more to lose or less to gain in relation to their Greek counterparts whichever scenario prevails. This opens a window of opportunity for a spread trade of a short position on German equities (NYSEARCA:EWG) coupled with a long position on Greek equities (NYSEARCA:GREK). This trade has a nice risk-reward profile and is positioned to benefit from the escalation of a euro-wide political crisis or from a genuine reflationary rebound.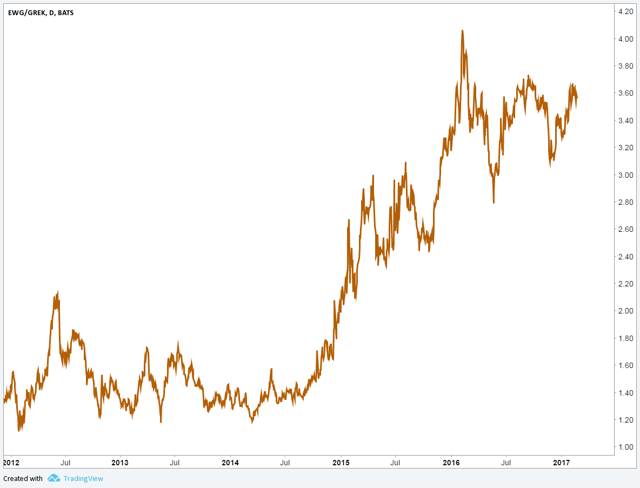 Source: Tradingview.com
The Greek Debt "Can" Kicked Down The Road
The Greek debt crisis made headlines again this year. Short-term Greek bonds sold-off, making their spread with long-term bonds deeply negative. Currently, the spread between 2-year and 10-year Greek government bonds is around minus 90 basis points. It has been as high as 200 basis points in early February. This creates an inverted Greek yield curve, where short-term maturities are considered more risky than long-term maturities. This is a highly perverse situation, which by the way is not the first time it is taking place. Every time the Greek debt problem was coming to the fore, the yield curve was steeply inverting. This time though there is a differentiating factor which could turn things around; the German elections.
Germany does not have the political luxury to let an "accident" happen with the Greek case. Sooner or later a temporary "patch" to the debt servicing "hemorrhage" will be find and agreed among the involved funding parties. A hint of such a solution, albeit quite painful for the Greeks, was given after the latest meeting between IMF Managing Director Christine Lagarde and German Chancellor Angel Merkel. IMF took a step back in order to facilitate Ms. Merkel's efforts to prepare the political ground for the upcoming elections this autumn. Debt restructuring will have to wait for another time, let alone an equally necessary haircut.
However, Greek stocks have already priced in all these dire developments, with the MSCI Greece index bogged down close enough to all-time lows.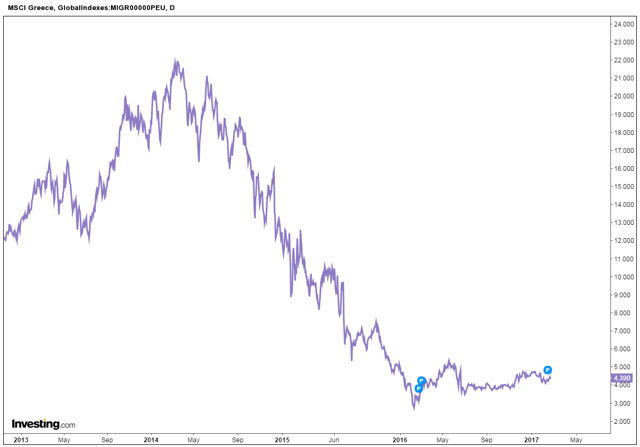 Source: Investing.com
On the other hand, the MSCI Germany Index is recovering towards its all-time highs, assisted by an economy running on all cylinders. Germany is getting overheating characteristics in some respects. Price pressures both in consumer and producer level consistently beat estimates, and the job market witnesses the tightest circumstances in decades. Trade surpluses are growing in tandem with an ultra-cheap currency in trade weighted terms. Manufacturing and services PMIs continue to surpass analysts' expectations with ease. Equally importantly, the recent Q4 GDP report revealed that domestic demand was the main driving factor of German growth. Budget surplus reached the highest size, in absolute numbers, since the reunification. The export-oriented German economy seems to be doing equally well at home.
If the reflationary scenario extends itself and the global business cycle is prolonged with the assistance of the Great Fiscal Rotation, then sooner or later Germany will confront increasing voices for a genuine Greek solution. It is well known that the sheer size of the Greek debt coupled with the disastrous economic policy imposed by Greece's financial backers makes the case of a combination of a rescheduling and a haircut absolutely necessary. There is literally no other viable solution for Greece and the eurozone itself. Should Germany continue to enjoy ever higher trade surpluses and robust domestic demand, it will ultimately have to pay some of the cost in form of a meaningful Greek debt restructuring. As soon as Greek equities start to sense that these voices become more vocal and global in scale, they will experience a new wave of investment inflows from abroad. After all, the Greek equity market is quite illiquid by itself and strongly dependent on such inflows of new money in order to get some decent upward momentum.
The Case Of A Political "Accident" In Europe
If this possibility sounds too remote for the moment, then the risk of a political accident in Europe, in regards to the French elections especially, could bring another development; a sell-off of German equities. Any thought of a euro-area breakup means that German stocks must be repriced in Deutsche marks. In fact, the recent nervousness about France's political fate has ignited such a reaction contrary to the "whatever it takes" dogma of the ECB. The premium of French over German long-term bonds climbed to more than three-year highs. Also, 10-year bund yields reversed their ascent since late January. More ominously, all these yield developments play out despite the fact that the ECB is still active in its bond buying program. Is this reflective of renewed fears of euro disintegration or something else?
Should German assets be repriced in a hard currency, investors will flock into bunds and dump German equities. Still, only one leg of this repricing process seems to have started; the bidding of German bunds. A new Deutsche mark would literally destroy the German trade machine which has generated all these incredible surpluses and surprising economic resilience. Bunds would price in a new recession, as Germany would lose the edge of the cheap euro. This would lead to a downtrend in long-term yields. In fact, short-term German yields have already succumbed to a new downtrend, since two-year bund yields dropped to a new all-time low of -0.92%.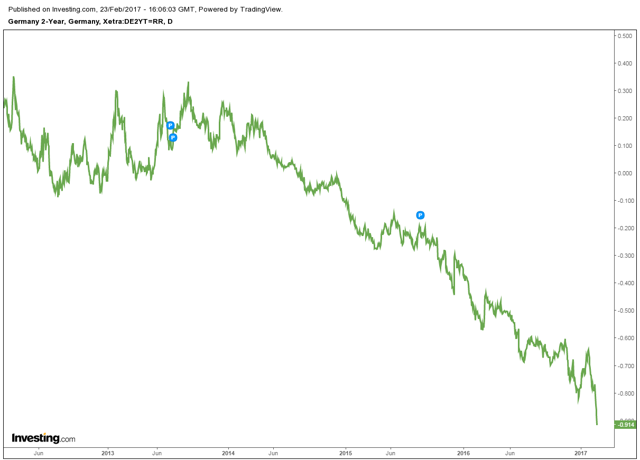 Source: Investing.com
German equities, on the other hand, would be beaten hard, since the exports "machine" would be destroyed, creating a negative feedback loop into the economy itself. None of these thoughts have at any degree affected German equities at the moment. If this thought process was going to start, German stocks would be hit hard and peripheral stock markets would benefit. Peripheral equity markets, like the Greek one, could theoretically benefit from a new, freely floating currency regime in Europe, while peripheral bond markets would be hit hard.
Having said all these, an asymmetric situation arises between German and Greek stocks. If no new major political "accidents" happen in Europe this year and the reflationary trend accelerates, Greek equities have more room to appreciate than their German counterparts. If, on the other hand, the risk of European disintegration arises later this year, German stocks will most certainly suffer more than their Greek peers. This shows that the ratio of German over Greek equities, currently standing close to its all-time high levels, could turn down again. The ratio seems to have much more downside with respect to its upside, offering a decent risk-reward investment case. A spread trade comprising of a short position on German equities coupled with an equally sized long position on Greek equities could capture this interesting risk-reward opportunity.
Greece has long served as eurozone's scapegoat with Germany being the steadfast "shepherd". Maybe the time has come for Germany to pay its share on the excessive surpluses it has amassed over the years. Who knows? Time will tell…
Disclosure: I/we have no positions in any stocks mentioned, and no plans to initiate any positions within the next 72 hours.
I wrote this article myself, and it expresses my own opinions. I am not receiving compensation for it (other than from Seeking Alpha). I have no business relationship with any company whose stock is mentioned in this article.
Additional disclosure: The views expressed in this article are solely those of the author, provided solely for informative purposes and in no case constitute investment advice.