(Note: This write-up is part of our weekly flagship report, "What Changed This Week." The idea was first posted on February 14, and the trade alert was announced on February 7. You can sign up for premium here. For more info on premium, read this.)
Raging River (OTC:RRENF) is one of the best positioned E&P companies in Canada with all of its acreages focused in the Viking light oil play. The company sports a net debt to fund flows from operation of 0.87x and forecasted 2017 FFO of 0.57x. Raging River is expected to grow organically at 13% a year for the foreseeable future even if WTI remains at $55 to $60 till 2025. Coupled with attractive economics, Raging River also has one of the best management teams to run it and the company is led by the well-respected, Neil Roszell.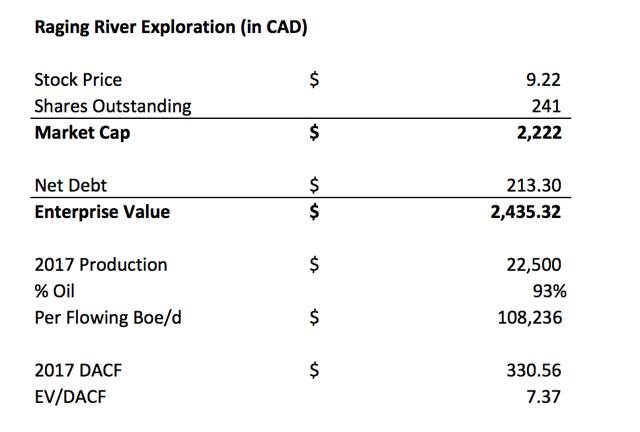 At an EV/DACF of 7.37x, Raging River is not the cheapest E&P company we've analyzed, but the premium acreage, coupled with the elite management team, gives Raging River the usual premium it deserves. At 9x EV/DACF, we think Raging River should be trading at C$11.50 or 25% higher than the current trading price, while investors also receive optionality if oil prices move higher.
We believe given our oil price outlook of $70 WTI by Q3 2017, Raging River has upside all the way to C$14+. The leading acreage position also makes Raging River a highly attractive acquisition target giving the acquirer access to one of the premier light oil plays in Canada.
With the low net debt relative to cash flow and depressed oil prices, Raging River presents a relatively lower risk bet amongst its energy peers, while investors obtain oil upside optionality and the potential for the company to be acquired down the road.
What Makes Raging River Successful?
We believe after analyzing numerous E&P companies, Raging River's secret to success isn't a secret at all.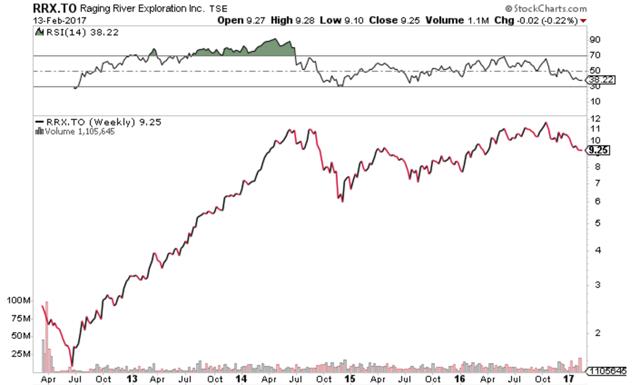 How do you run an E&P company that's practically ignored the oil price sell-off?
Simple, you keep expectations in check and run the business with low leverage.
Raging River's message to investors since inception was very clear: the company will NEVER have debt to DACF over 1x. The management team led by Neil Roszell delivered on that promise, and despite issuing equity at times to keep debt in check, investors had faith in Neil to operate the company through any downturn.
The Theory of Reflexivity comes to mind when we look at a company like Raging River. Investors' expectations reinforced the idea that management was prudent, and the result was a higher stock price. Neil could then use that to its advantage to keep the debt in check no matter where oil prices were. The virtuous cycle would then be self-reinforcing and giving Neil an acquisition currency that would be attractive in any market situation.
There's a saying we like to use at HFI Research, "The strong gets only stronger during downturns." Raging River and others like Peyto (OTCPK:PEYUF) come to mind when a commodity price sell-off takes place.
Another important thing that makes Raging more successful than others is Neil's ability to manage expectations. Every time we have a conversation with Ingram and ask him about what he likes most about Neil, "It's his ability to always under-promise and over-deliver. Setting expectations right is more important than the performance itself."
These key ingredients will likely continue to fuel Raging River's success.
Acreage
Raging River operates in the Viking light oil play in Saskatchewan, Canada.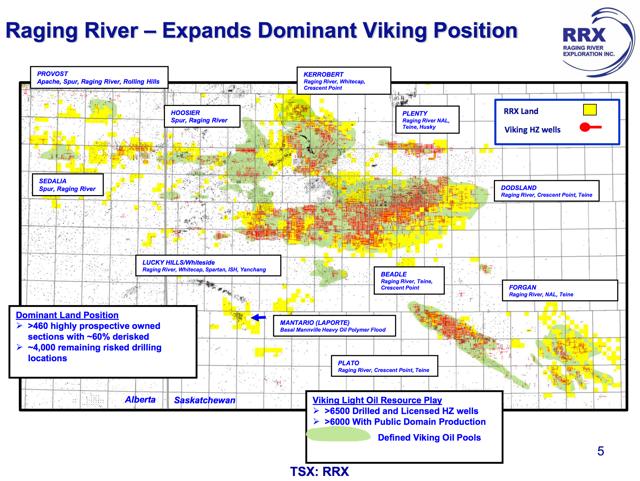 Besides Raging River, there are also other notable high-quality E&Ps that drill I the region like Crescent Point (NYSE:CPG), Husky (OTCPK:HUSKF), Whitecap (OTCPK:SPGYF), Spartan (OTCPK:PTORF) and others. The focus on Viking is attributed to two key characteristics that are usually attributed to higher quality plays: low decline rates and prolific well results.
It's not exactly rocket science in the field of understanding an E&P company's assets. We look at the financials to validate the underlying assumptions rather than the other way around. A company can lie about how prolific its wells are, but it won't be able to hide it in the cash flow statement. It's going to be either black and white whether or not a company can make money at $50 WTI.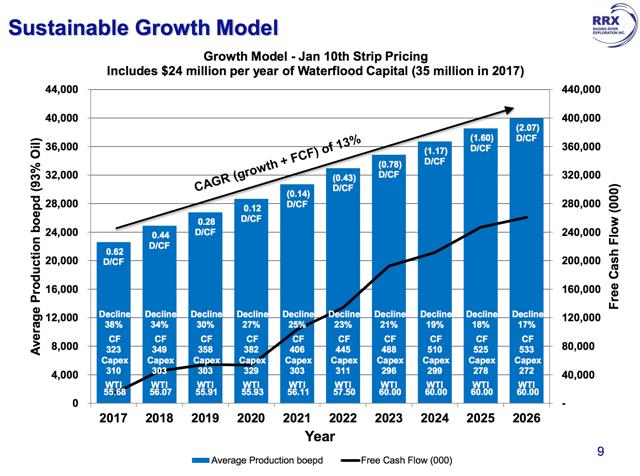 Looking at RRX's internal cash flow model, one can see that the corporate decline rates are kept in check despite 13% CAGR in production year over year. This is important to remember because the first year well decline rates are usually around 65% to 75%, and RRX's decline rate is towards the lower-end coming in around 66%.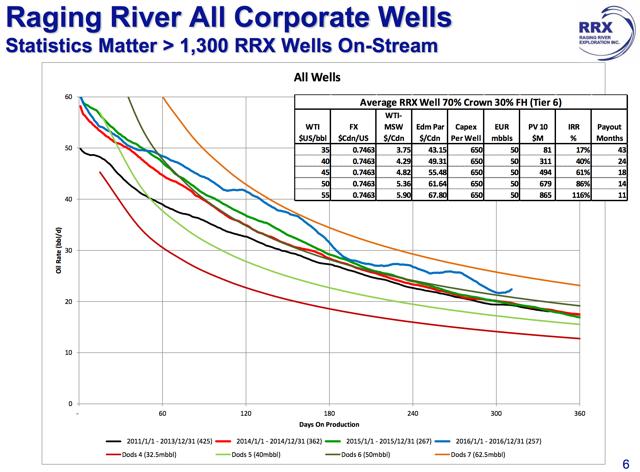 This is important to keep in mind when assessing an E&P company because high initial decline could result in more capex being spent just to REPLACE the production that's in decline. You will also see this take place through the capex guidance.
This is not the case with RRX as the company is expected to grow production this year and stay within cash flow.
Another key element to RRX's drilling success is the company's maneuver to use waterflooding to increase oil production from the oil reservoirs. Remember that Viking was formerly an abandoned conventional oil play in Canada. Producers thought that Viking's recoverable oil reservoir was depleted until technological improvements made it possible again to enhance recovery namely horizontal drilling. Waterflooding was also used with horizontal drilling to enhance EUR of the reservoir.
Here's a video of how waterflooding works.
Here's how the internal figures for RRX would look if it didn't waterflood its production: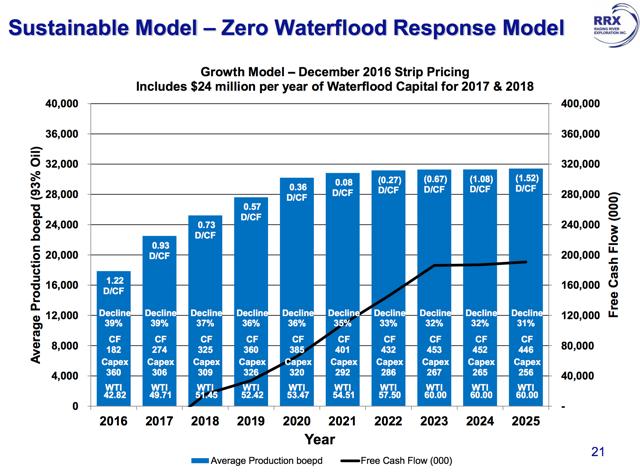 Decline rates noticeably increase, and as we said earlier about how important decline rate is, RRX wouldn't be nearly as profitable (notice discrepancies in oil prices).
Waterflood is an important strategy RRX pursues as it highlighted in its IR presentation.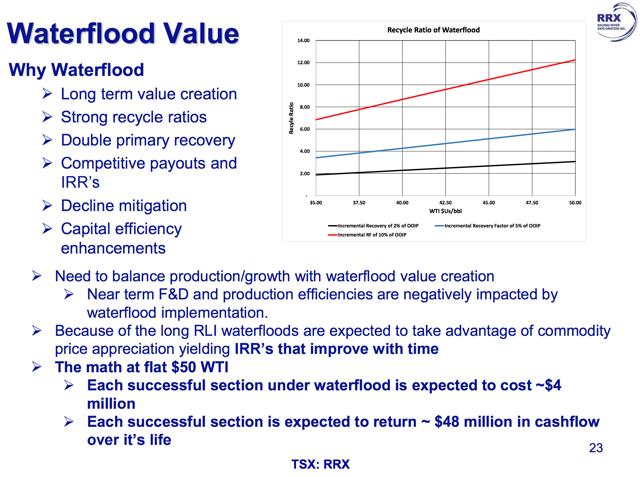 We think the management is doing the right thing by allocating capital into waterflooding.
Price Forecast
Raging River's premium status and premium valuation give it an acquisition currency most peers don't have. Neil used it to its full advantage during this downturn by buying up additional Viking production at a bargain. In our price forecast, we use its historic premium of 9x EV/DACF to arrive at a price target of C$11.50 while a rise in WTI to $70 would make RRX trade up to C$14.00+.
In addition, we believe Raging River is built to be sold as its concentrated acreage in the premier Viking light oil play will make it attractive to an oil major diversifying away from long-lead conventional oil production plays.
If oil prices improve to $70 WTI, Raging River's 2018 DACF would be C$420 million+, and a buyer could pay 11x multiple for the name. The implied share price is C$18.25 per share or nearly double today's price.
We think Neil, under those circumstances, would be willing to sell Raging River.
Disclosure: I am/we are long RRX.TO, RRENF.
I wrote this article myself, and it expresses my own opinions. I am not receiving compensation for it (other than from Seeking Alpha). I have no business relationship with any company whose stock is mentioned in this article.
Additional disclosure: Raging River trades on TSX.
Editor's Note: This article discusses one or more securities that do not trade on a major U.S. exchange. Please be aware of the risks associated with these stocks.