Cisco Systems Inc. (NASDAQ:CSCO) just announced its Q2 2017 earnings. With an increase in dividend announced at the same time, CSCO is still trading at a good discount to the present value of its dividend stream and would make a worthy addition to a dividend growth portfolio.
What did I think of CSCO the last time?
I first wrote about the company back on my 55th birthday, January 16th, in this article. My main concern at the time was that the switching and routing segments would be under pressure. CSCO was looking for software and recurring revenues to counter any weakness in the hardware areas.
What new information do we have now?
On February 15th, CSCO reported earnings for Q2 2017. While it beat expectations on both revenue and EPS, both metrics were down from a year ago. The two biggest hardware segments, switching and routing, did see significant declines. Software and recurring revenue mitigated that decline, but did not fully offset it. One thing of note is that cash and cash equivalents increased by $800 million. Since CSCO has often grown by acquisition, the accumulation of cash points to management positioning the company to do that. The recently announced acquisition of AppDynamics looks to me to be just the start of such a plan. Since some 75% of the revenue from AppDynamics is subscription-based, this should be helpful to CSCO's goal of increasing revenue from that.
Reading the transcript of the earnings conference call, I noticed several interesting pieces of information. The collaboration segment includes not only hardware, but also some subscription-based services. Towards the end of Q2, CSCO introduced a new version of Cisco Spark Board, which enables various videoconferencing features. This segment grew its revenue by 4% this quarter.
An area CSCO emphasized as important was reoccurring and subscription-based revenue. One item on the balance sheet to look at to see how the company is doing in this area is deferred revenue. This is money that customers have paid, but because CSCO hasn't yet delivered what the customer paid for, it can't yet be recognized as revenue. Subscription and support fees contribute to this number (these fees get divided between revenue in the quarter they are paid and deferred revenue, which, as time passes, will be recognized as revenue).
I see from the earnings report that deferred revenue is up 13%. Deferred revenue from the product segments attributable to software or subscriptions (meaning this wasn't due to products not yet shipped) grew 51%. I think this bodes well for growing revenue in the future and for growing the base of subscription and reoccurring revenue. My reading of this number is that actual cash paid to CSCO by customers increased, even if the amount that could be recognized as revenue declined. I can't be entirely sure of that, because I didn't see a breakdown of how much of the current revenue was deferred revenue from an earlier quarter being recognized.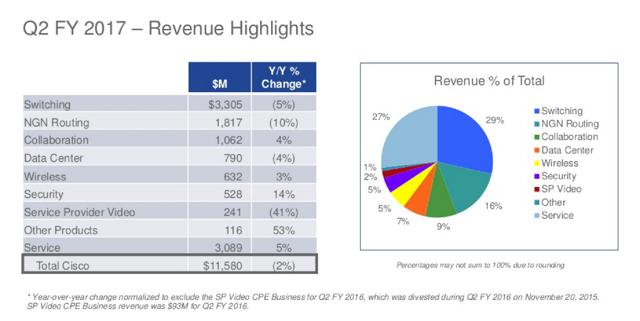 The slide above gives some additional detail on Q2 revenues, and it is from the CSCO website, where the latest presentation is displayed.
What does Simply Wall St say?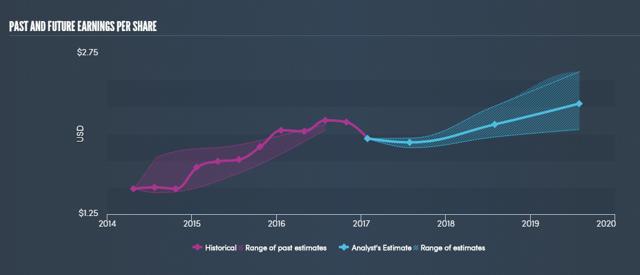 Simply Wall St has some good information on CSCO. Above is a graph showing historical earnings and analysts' projections of future earnings. Earnings and earnings growth drive dividend growth, so this forecast backs up my thinking that dividend growth will slow for the company over the next few years.
I took my own advice and bought some shares
In my last article, I saw CSCO as a buy. I had the cash available, and so I did buy shares. I first bought shares on February 14th, when I spent $2,004 (including commissions) to buy CSCO shares.

On February 21st, I bought another $2,504 (including commissions) worth of shares.

Both times, I used my broker's automatic investment option. This option allows me to buy shares by dollar amount (with fractional shares) instead of by share (with fractional dollar amounts). I also get a $3 discount on commission charges. I now own just over 136 shares of CSCO at an average price of $33.04.
What's a good price for CSCO?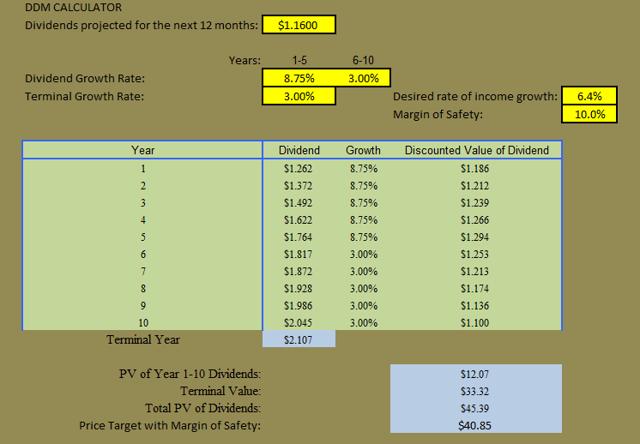 To figure out a good price, I do a DDM calculation using my Excel®-based DDM calculator (pictured above; you can see the web-based calculator I based it on here and read a discussion on how the formulas were developed here). Looking at the CCC List, I see that CSCO has been pretty aggressive in growing its dividend ever since it started paying one. I am pretty sure it can't keep that pace up, and the slowing growth rate is proof of that. To get a dividend growth rate, I used analysts' projections for EPS in 2020 and picked a dividend growth rate that yielded a payout ratio of ~65%.
Given that these earnings projections don't take into account the acquisition of AppDynamics, I am confident CSCO can meet or beat them. Using the new dividend with an 8.75% growth rate (which is lower than what I used last time), I calculate the present value of the dividend stream to be $45.39. However, because the company is reporting both EPS and revenue that is less than what it was a year ago, I want an additional 10% discount for a good margin of safety. So, my target price (the price I want to pay, not a prediction of future price) is $40.85. The stock closed on Wednesday at $34.02, so at that price, CSCO is a buy.
Can options help?
To write a cash secured put, I will want a strike price below $34 and a premium above the monthly prorated dividend of $0.10 plus commission charges.
The March 17th expiration date offers an interesting put contract with a premium of $0.42. With a delta indicating a 30% chance of getting the shares, the strike price is below market price, and it offers more than 4 times my required minimum to hold the cash. It's an even better deal since the contract will expire in only 22 days.
To write a covered call, I want to sell a contract with a strike price that is above my target price. Going out to next January moves the premium up to $0.45, which is about the minimum I would want for such a contract.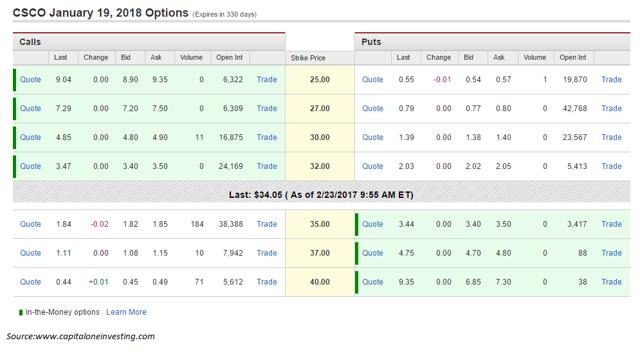 I tend to like shorter-duration contracts than that. Also, the company hasn't yet reported on what impact AppDynamics will have on its earnings. There is also a good chance that CSCO will purchase more companies, which could have a significant impact on the share price. The delta on this contract indicates a 20% chance that shares will be called away, so investors must decide if the reward is worth that level of risk.
What to watch for going forward
Going forward, I will want to see continued growth in both the Service and Collaboration segments, and a slowing (or better yet, a reversal) of the declines in Switching and Routing. I want to see a continuation of growth in subscription and recurring revenues. To keep an eye on those two areas, I will want to see that deferred revenue does not decline, and instead, sees an increase. I want to see growth in the portion of deferred revenue that is attributed to subscription and software services.
Conclusion
CSCO is a good, solid company that is establishing a track record of growing dividends. The 3 cent increase in dividends just announced is welcome. While the company certainly is facing pressure on the hardware front from its competitors, I think it is doing well at moving to getting more revenues from subscriptions and, thus, a better growth path for the future.
Note: I hope you all got something out of this article. I do appreciate the time you took reading it. If you are one of those who follow me here, I appreciate it; if you'd like to include yourself amongst those individuals, please hit the "Follow" button next to my name as well as following other contributors whose work you enjoy. As always, please leave any feedback and questions you may have in the comments below.
Disclaimer: This article is intended to provide information to interested parties. As I have no knowledge of individual investor circumstances, goals, and/or portfolio concentration or diversification, readers are expected to complete their own due diligence before purchasing any stocks mentioned or recommended. The price I call fair valued is not a prediction of future price but only the price at which I consider the stock to be of value for its dividends.
Disclosure: I am/we are long CSCO.
I wrote this article myself, and it expresses my own opinions. I am not receiving compensation for it (other than from Seeking Alpha). I have no business relationship with any company whose stock is mentioned in this article.
Additional disclosure: Simply Wall St provides me a complimentary subscription. I include information from their site when it helps me make the case in my article.